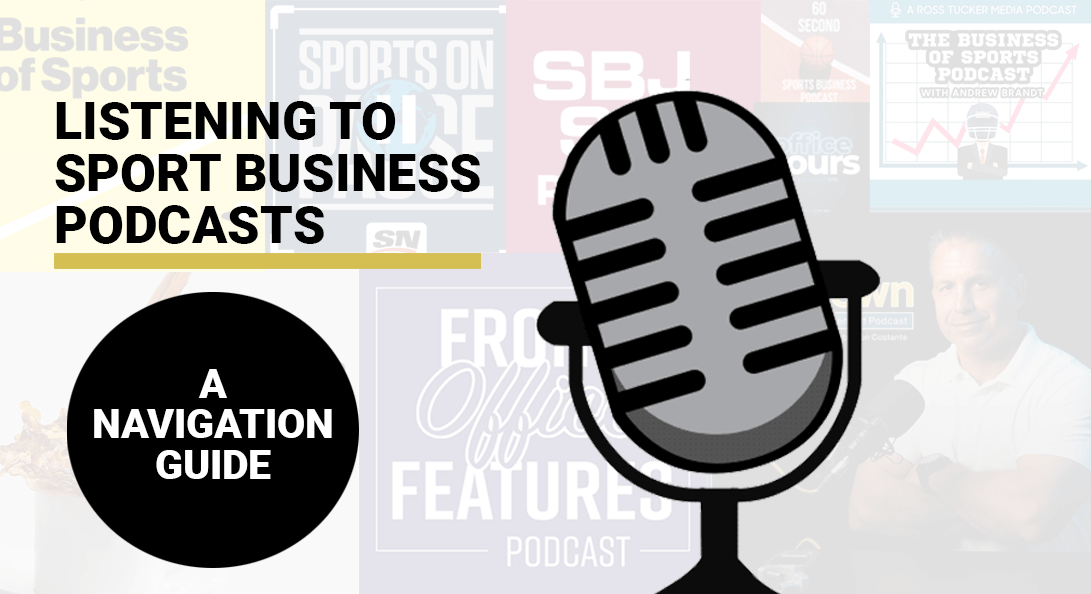 Sport Business Podcasts: So Many To Choose From!
There are soooo many sport business podcasts to choose from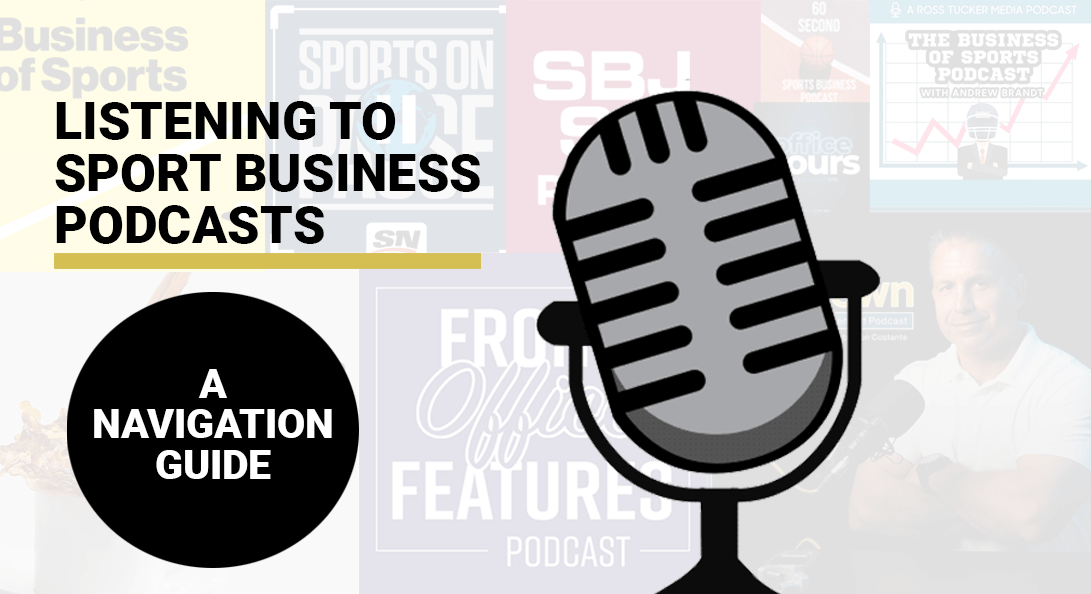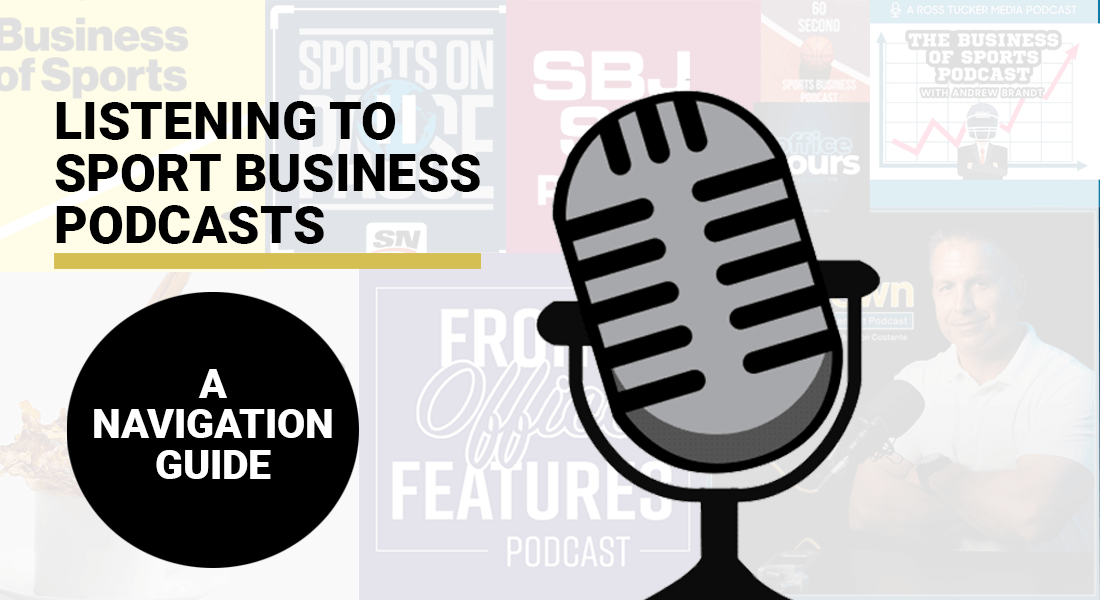 SO MANY SPORT BUSINESS PODCASTS TO CHOOSE FROM. WHICH ONE DO I LISTEN TO?
In the 1990s with the explosion of grunge, pop-punk, and nu-metal music, it seemed like everyone was in a band. Nowadays, it seems like everyone is making a podcast. In essence, they are making a niche radio show from the comfort of their own home. Sport business is one of those niches.
Let's face it. Sport industry themed podcasts are being created in high numbers. There are soooo many to choose from. One thing is for certain. Many successful people working in the sport business industry are listening to them. Take the Director of Game Entertainment & Events for the Saskatchewan Roughriders Football Club for example. When we interviewed him last year, Russell Kovshoff told us he listens to game day presentation podcasts as often as he can as a way to generate ideas and stay sharp.
But which sport business podcast should I listen to? Great question! A simple search on the Spotify and Apple store will likely not help you. As you can see from the step-by-step for an Apple podcast search, for "sport business podcasts," the results are confusing.
There are just soooo many sport business podcasts to choose from that the search algorithms on the platforms themselves can't quite keep up.
So how do you choose a sport business podcast to listen to when Spotify and Apple have made it super easy for anyone with a microphone to upload their show? Why are there so many sport business podcasts to choose from?
All great questions. For the purpose of keeping this article clean, we've organized why so many sport business podcasts have been created in the past three to six months.
COVID-19
The COVID-19 lockdown left millions of people around the world stuck at home with little to do. Many people have been without work and school for the last three months, and the restrictions on their life could continue further.
A lack of sports caused many fans to find alternatives with viewers forced to watch re-runs of classic events. For sports writers, journalists, and content producers, it left them equally frustrated. Without sports, how were they to do their jobs? Podcasts were the answer and the COVID-19 pandemic led to an array of sports-related shows cropping up from amateur to professional pundits.
Technological advancements
Modern technology has made it possible for many of these individuals to produce sport-related content in spite of no games being played. One of the avenues traveled by many sports fans was podcasting, which for little to no investment gave individuals a platform to speak about sports before and (even more so) during the COVID-19 lockdown.
Although podcasting is ubiquitous in modern life, it is still a relatively new technology. With the rise of iPods in the early 2000s, podcasting – previously known as audioblogging – took off with professional sports journalists and sports fans around the globe recording and releasing shows.
The COVID-19 lockdowns gave podcasters a captive audience. Without anywhere to go or be, and sports put on an indefinite hiatus, fans turned to podcasts for entertainment. Podcasts large and small have pumped out additional content with many hoping to capture new fans.
Big sports networks enter the game
Podcasts have evolved over the years since birth. No longer are most podcasts just a person in their bedroom recording a show on their computer. Podcasts are produced by major sports networks from TSN to ESPN. The level of production is incredible but even sports fans with absolutely zero training in sports media or journalism are able to create high-quality shows. Technology has made producing shows much easier than ever before.
Sportsnet Tim & Sid are great example of that. And during the COVID-19 pandemic, they've been able to record their shows remotely.
Despite show quality being of a high level, it doesn't mean all sports podcasts are good. In fact, many shows turn into monologues about sports or feature guests debating inane topics that no one cares about. Of course, there are some gems especially those sports podcasts that can offer insightful interviews with people in the world of sports.
But which sport business podcast do I choose and how do I find it? We're getting to that!
Social media
Each of these points ties back to the first one. But none more than this one! Social media has given people a platform to showcase their podcasts.
According to Sports Fluent (formerly known as The Sport Psyche Podcast) host Anthony K, he got into podcasting as it allowed him to share his thoughts and opinions. While Anthony hoped he would elicit positive reactions from sports fans, in some cases, only negative responses come from listeners. Podcasters put themselves in front of the public a very different way than classic sports talk radio hosts. Social media has made it easy for podcasts hosts to be contacted. It is also social media in which many shows are promoted.
Podcasters believing in potential to profit
The rise in sports podcasts over the last three months shows that there is a market for further content on the NBA, NFL, NHL, Premier League, and other sports. With the ability to podcast from home – or anywhere for that matter – there is no reason for anyone interested in sports and with something to say to create their own show. Unfortunately, the time provided by the lockdown will end at some point and not all podcasts will survive.
Podcasting is a time-consuming endeavour and depending on a podcaster's level, can pay little to nothing. Many podcasters simply do it for the love of the game, so to speak.
Posting content to YouTube does offer podcasters the chance to earn money and many of the world's top podcasts post content regularly. Many small-time podcasts post content via YouTube with each view resulting in earnings.
Booking the Territory, a podcast created by three 40-somethings who talk about wrestling from yesteryear, has also created merchandise for listeners to purchase. Not only does this build a fanbase but it brings fans closer to the content producers.
Patreon furthers the production of content as the website allows shows to post exclusive content that podcast fans must pay for to hear. It is a way in which listeners directly support the content producer.
If a podcaster is one of the few lucky ones, such as Joe Rogan, then they can expect lucrative deals. Forbes announced in May that Rogan's podcast had signed an exclusive contract with Spotify that would earn him and his crew $100 million over the length of the deal.
As an upcoming interviewee working in public relations for a professional sport team says this about the future of sport business podcasts:
"More people are becoming more selective with the advent of podcasting, but now everyone on the planet either hosts or appears on a podcast. It's a tough industry to crack."
Find The Best Sport Business Podcast For You
Our advice on which sport business podcast to choose comes with this advice.
Finding the right sport business podcast is a matter of knowing what you are looking for. Are you looking for a podcast that delves into the on-field/court/ice operations side of the industry? Or are you looking for a podcast on the latest and greatest technologies that event managers are using to entertain ever-evolving fans?
There are thousands of podcasts out there. Remember, podcasts are niche! Some are more niche than others. And in the sport business industry, there are podcasts that generally cover all areas, and there are others that focus exclusively on one area.
Being an engaging and fun host is one part of the equation when choosing a sport business podcast.
The term expert is subjective. Determine the credibility of the hosts by examining past experiences.
Hosts with limited industry experience can have still have a great sport business podcast, especially if they bring on guests who are true leaders from their sport business niche.
They key is to ensure that you are getting the insight you want with the focus on the person being interviewed.
One of our favorite sport business podcasts is The Rundown Podcast with Don Costante. That's because Don Costante is the Senior Director of Event Presentation & Production with the Kansas City Royals with decades of experience across multiple professional sport leagues. He also features guests from the NBA, MLB, NFL, and many other sports organizations to talk about the show's niche: sport and event management.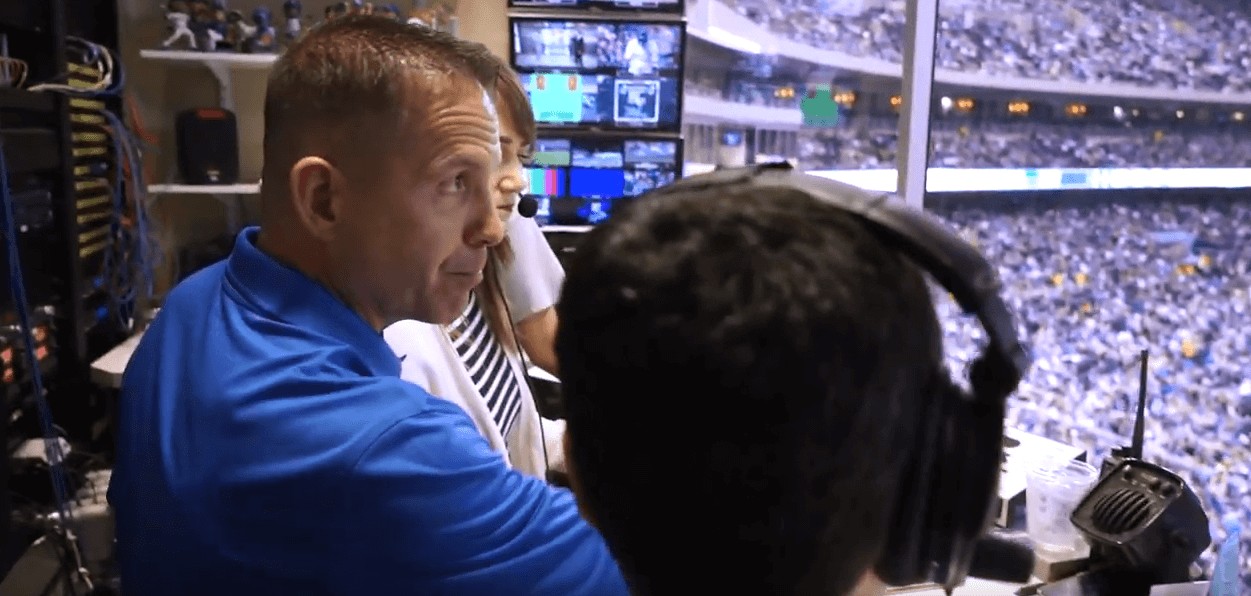 Still, the addition of interviewing athletes, coaches, and talking heads from the sports world does not equate to a great podcast.
So, before giving you a rundown of our own on sport business podcasts, we are advising you choose one that suits your needs. After all, podcast episodes are generally lengthy. Your time is precious.
The bottom line: Choose a sport business podcasts that suits your interest. Aspiring sport professionals should listen to podcasts to become aware of trends and be able to speak to others about their interests. In the same vein, current industry professionals should listen to sport business podcasts to stay relevant and in tune with trends and ideas.
Find The Best Sport Business Podcast For You
Here is a non-exhaustive list of podcasts by sport business area and trends. Are we missing any? Given the niche nature of podcasts, I am sure there are some missing from this list. If you have one you'd like to add, we'll review it for consideration on this list. Here are a handful of sport business podcasts of note:
Event Management
The Rundown: Sports & Event Management Podcast


This likely comes as no surprise! Don Costante, an expert specializing in Sport and Event Management created The Rundown to give listeners the opportunity to hear from the best in the Sport and Event Management industry.

So far, Costante has recorded several episodes. He's had on high profile guests including well-known emcee Chris Miles, Atlanta Braves' VP of Fan Experience Scott Cunningham, Houston Texans' Director of Marketing Jackie Maldonado, Vice President of Programming, Production, Broadcasting and Game Operations for the Detroit Pistons, Diane Gonzalez-Ferranti, and Walt Disney Company & Ace Productions executive Tracy Allen.

The Event Tech Podcast

This is not a directly sport-related event management podcast, but it does offer busy podcast listeners the ability to keep up with the latest event tech trends and news.
Amateur Sport
The 7% Podcast

Student-athletes are the heart and soul of collegiate sports; however, they are often overlooked. Host Andrew Capirchio interviews current and former collegiate athletes in an effort to share their untold stories.

Walk-on Redshirts: A College Football Podcast

In this podcast, "3-average Joe's" (as they call themselves) discuss beloved college football and everything in between.

The Sports Prodigies Podcast

In this up-and-coming podcast, co-hosts Aidan and Jeremy bring on young athletes, interviewing them about their journey through collegiate athletics.
Fitness & Health
Inside The Mind


Adam Carter, host of the Inside the Mind podcast, is a behaviour analyst that interviews athletes and coaches to discuss the importance of the mental side of sports. From dealing with pressure, to playing with confidence, and learning from mistakes, the effect of the mental game on an athlete's performance can't be underestimated.

HealthyGamerGG


HealthyGameGG, derived from its Twitch stream and founded by Dr. Kanojia is dedicated to empowering gamers about gamer-specific mental health.

The Athletes Podcast

As a way to stay busy as a recent Sport Management grad created The Athletes Podcast. Ranging from interviewing amateur athletes, nutrition experts, fitness trainers, bodybuilders, etc., The Athletes Podcast discusses all things health and fitness!
Sports Media
Sports Media with Richard Deitsch

Lisa Wilson, Chad Finn and Bob Costas are just a few of the guests featured on this sports media focused podcast. This podcast interviews reporters and prominent journalists about their work.

Beyond The Headlines


Sports Reporter Renee Washington covers the latest soccer, basketball and football news each week. Beyond sports, she highlights individuals making a positive impact in their community and even invites a musical guest each week

SportTokz


A podcast created by two Ryerson University School of Media professors, Professor Laurel Walzak and Professor Joe Recupero. They chat with guests, particularly of sports media people from Canada about the current sports climate.
Professional Sport
ESPN 30 For 30


From the makers of the acclaimed 30 for 30 film series, the 30 for 30 podcast covers sports and beyond. Following the same direction as the film series, the podcast shares untold insight about the world's most coveted sports stories. It also gives you unparalled access to some of the biggest professional sport leagues, issues and trends. Think The Last Dance in audio form.

OD on Sports

In this one-woman-show, die-hard sports fan and host Annie O'Donnell shares her thoughts and opinions on current events and hot topics in professional sports. Need tips for navigation through the crazy, emotional, fun life of being a sports fan? OD on Sports is for you!

Office Hours

Front Office Sports CEO, Adam White features interviews with leaders in the sports industry on his podcast, Office Hours. Adam and his guests discuss the changing landscape of the sports industry each week as well as his 3 core topics: what is on their mind, what they are excited about, and what big ideas/theories they have to share.
Gender in Sport
Hear Her Sports

A podcast based around interviewing female athletes. As a former professional athlete herself, host Elizabeth Emery aims to share stories of women in sports who are breaking barriers, empowering others and paving the way.

The TIRED Women in Sport Podcast


With the global popularity of women's sports, GiveMeSport brings you "The Tired Women In Sports podcast – which discusses trending sport topics on and off the field of play, in our homes and also around the world. It will also cover sports lifestyle weekly TOP fives must-haves, events and hot gossip.

Girl At The Game

A podcast by women, for everyone! Co-hosts Gabrielle Starr and Alexandra Francisco discuss both sports news and share guest interviews.

The Gist Of It

From a female perspective, hosts Ellen Hyslop and Stephanie Rotz discuss current stories, issues and trends in the sports world.

Pride Sports Report


Former SPMA contributor Anthony Clark began a podcast aimed at making sports more inclusive for the LGBT+ community. We're looking forward to more on this under-discussed perspective!
Sales & Marketing
Sports Geek


Sports Geek is a digital marketing agency helping sports leagues, teams and athletes improve digitally. Digital, they indeed are too, as they have a podcast to match. By the way, they've been in the sport business podcast game for a while. Around 4 years! Hosted by Sean Callanan, this well-ranked (4.9 out of 5, 97 Ratings on Apple) sport business podcast focuses on bringing listeners best practices from the sport marketing world.

Makers of Sport

Launched in 2014, the Makers of Sport podcast hosts conversations about branding, design, technology, start-ups and creativity in the sports industry. Host Adam Martin, a sports design and branding veteran of 15 years, chats with designers, art directors, marketers, photographers, writers, filmmakers, animators, developers and more to discuss design in sports. With such an interesting concept, it's no surprise this podcast was featured in Apple's New & Noteworthy in 2015!

Front Office Features


Industry professionals such as Rob Crain, Senior Vice President of Sales & Marketing for the Pawtucket Red Sox and Chris Valente, Director of Sales for Fenway Sports Management are even getting in on the game.

Many sport management students across the world have lost their internships due to COVID-19. In light of lost internships, Front Office Features hosted by Rob and Chris, have tailored their episodes to helping students break into the sports industry. Although the goal of their podcast is to gain insight from industry professionals, they are creating new content to attract young sports professionals in different ways.

Sports, Sales & Coffee

In an effort to empower sports business professionals, the Sports, Sales & Coffee Podcast offers advice and tips for hitting sales goals and dominating the sports industry.

Sports Marketing Huddle

Bringing you all things marketing in the world of sports! Host Rob Cressy discusses marketing innovations in professional sports while also bringing on guests to shed knowledge and offer advice to his listeners.
Mentorship
Living Sport Podcast


Living Sport Podcast interviews YOUNG PROFESSIONALS in the sport industry to assist young people will their common hurdles upon entering the industry. We also mix in professionals in the sport industry as well. We touch on travel as that want Living Sport does, we see the world through sport!

Success is a Choice

Hosted by Jamy Bechler, Success is a Choice podcast features some of the most successful people across various industries (including professional/college sports, educators, entertainers, millionaire business people and thought-leaders. Previous SPMA interviewee, Nate Bain has appeared as a guest on their pod!

Sports Business Classroom


Hosted by Sergio Millas, Vice President Digital Media at HallPass Media, the goal of this program is to share inspiring stories featuring the journeys of successful sports business professionals. Previous SPMA interviewee, Beau Estes has appeared as a guest on their pod! They also aim to provide aspiring professionals know-how to help them find a job in the sport industry on this sport business podcast. Note: there's a heavy basketball influence on this sport business podcast.

Sports Leadership Podcast


This sport business podcast focuses on leadership and social media, particularly as they relate to American collegiate sports. Hosted by Fieldhouse Media/Fieldhouse Leadership founder Kevin DeShazo and Mark Hodgkin, Product Manager for College Sports at NeuLion, this sport business podcasts boasts a 4.9 out of 5 rating (out of 27 Ratings), and could also fit under sport pubic relations.

On The Board Sports

Keeping YOU on the board! On The Board Sports, a podcast hosted by Will Chiarucci and Shawn Thomas keeps you up-to-date with the latest sports topics. Each episode, a new sports industry professional is brought on to discuss not only their career but what's going on in the sports realm.

Sports As A Job

Co-hosts Kolby Castillo and Olivia Puttin have a mission to show young sports professionals that they control their own path. Emanating in the past few months, Sports As A Job podcast invites sports industry professionals of all professions to shed insight about their career. We like this one! It's authentic and Kolby isn't afraid to ask his guests questions he genuinely wants answers to.

WorkInSports Podcast

The WorkInSports Podcast, hosted by Brian Clapp features interviews from experts in the NCAA, NFL, NBA, MLB, NHL, MLS and more giving insider advice on careers within the sports industry.
Public Relations
Crime in Sports


If you're a true-crime lover, Crime in Sports is the podcast for you! Comedic hosts James Pietragallo and Jimmie Whisman use their dark humour to discuss the most famous acts of crime committed by professional athletes. PR sportspeople take notice!
Feel Good Podcasts
Sports Chat With Vince Capano


This niche podcast, focused in the Canadian market, is making a splash in the sports industry. Host Vince Capano chats with sports industry professionals in the hopes that their knowledge will benefit aspiring sports industry individuals.

From The Stands

This weekly podcast hosted by Ryan Colpitts, interviews both athletes and those who cover athletes aka sports reporters. As a Special Olympics athlete and the Athlete Leadership Coordinator at Special Olympics Ontario, Ryan has begun interviewing Special Olympics athletes as a way to keep them engaged through COVID-19.

Sports Bliss with Rob and Kris


Co-hosts Rob and Kris chat about sports and sports-related events with a comedic take. Based out of Orlando, they especially love the UCF Knights, Florida Gators, Orlando Magic and Orlando City SC!

One-on-One with Wan and Only Sports Podcast


Not only does host Theo Wan want his audience to learn from his guests' experience, he uses the stories of those in the sports world to inspire others to pursue a career in the industry! Each week, Theo invites a new sports industry professional or athlete on his podcast to share their journey. 9 episodes in, Wan has hosted guests that include the mental skills coach for the Utica Comets of the American Hockey League and the Guelph Storm of the Ontario Hockey League and Orion Edwards, a brakeman for the Team Canada bobsleigh team.

Behind Sport

🗣 Telling Sport Stories 🕵️‍♂️ Exploring behind the scenes of the sport industry. In this brand new podcast, Host Ryan Deane discusses the latest in sport with guests working in the sports industry from a wide variety of roles and organizations. His latest guest is the Head of Football Development at Solihull Moors FC, Myles Cooper. And previous guests provide a European sporting lens that is much needed.
  The Big Network Podcasts
Bloomberg Business of Sport


Straight from their Apple description: "From media and technology to finance and real estate, leagues and teams across the globe have matured into far more than just back-page entertainment. The show explains the money behind the final score."

Any Sport Business Journal Podcast


SBJ Morning Buzzcast, SBJ First Look, SBJ Unpacks, SBJ Presents, and Conquering Geek Culture are part of the repertoire of podcasts in the Sport Business Journal's lineup.

Any Sportsnet Podcast

Sports On Pause, 31 Thoughts: The Podcast, Tim & Sid, Hockey Central, At The Letters, Free Association, Tape to Tape, A Kick In The Grass, Writers Bloc, Good Show, The Program, Boomer In The Morning, The Joey Vendetta Show, The Scott Rintoul Show, and Lead Off are all great TV shows/radio shows adapted into podcasts. Some are more sport business oriented than others. But keep in mind – these are not independently owned podcasts. That authenticity and amateur feel is something podcast listens tend to crave. We'll let you be the judge of whether of not these satisfy your cravings for a sport business podcast!
Find The Best Sport Business Podcast For Your Career
The rise in podcasts due to the COVID-19 pandemic could end with many individuals going back to life before the disease's outbreak. The number of shows being produced currently is astonishing. Social media is exploring with accounts promoting a variety of podcasts. We tried to parse through some of those podcasts offering a little bit of perspective on sport business. Ultimately, it's your decision on what you want to listen to.
Since we are still in a global pandemic, many are still in at least modified isolation. Therefore, we still think these 10 essential tools will help to ensure that you are making the most of your time off are important. Listening to a sport business podcast that aligns with any one of those tips is recommended.
In a nutshell, the supply of sport business podcasts is outdoing the demand. There are more than 800,000 podcasts available to stream or download across countless platforms. It is our hope, that with this non-exhaustive list, you can find one that fits your sport business career objectives!