Trevor Georgie is the President & General Manager of the Saint John Sea Dogs. When he was hired as President in 2016, he was actually the youngest in the Canadian Hockey League (CHL). That says something about this man. Also, prior to getting this position in 2016 with the Saint John Sea Dogs, Trevor Georgie gained a ton of sport property, client and agency experience.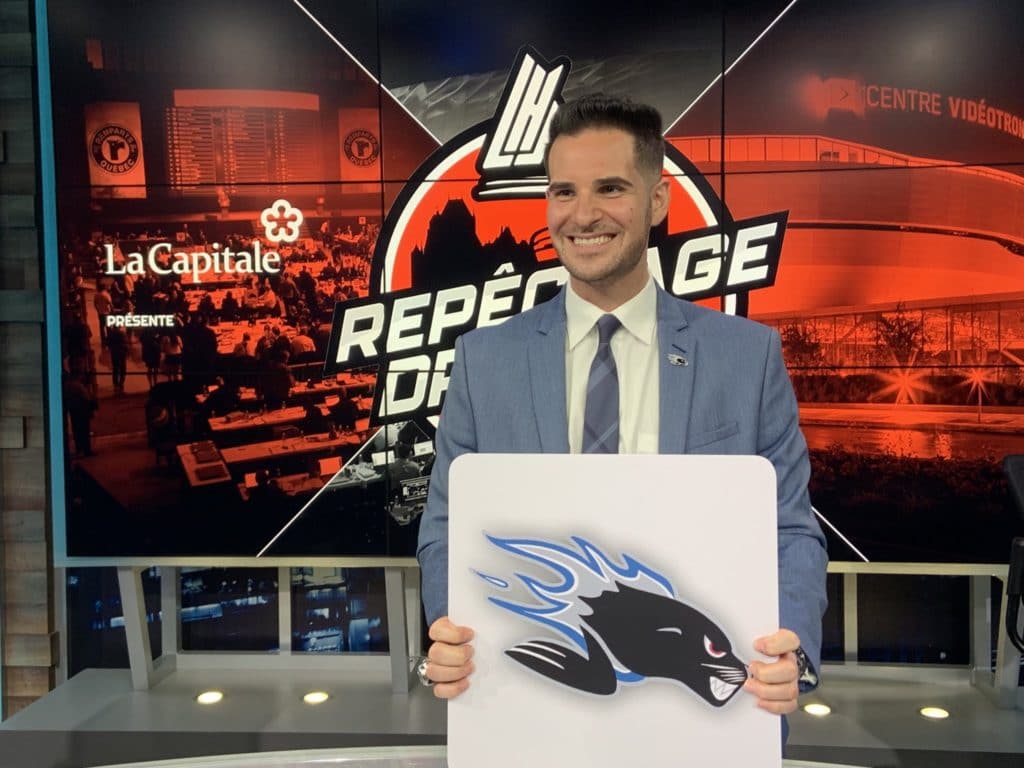 One thing is for sure about Trevor Georgie. He's the same humble, warm, cordial, friendly, open, and honest man I knew in high school. There's something to be said about people that move into high positions like the President & GM of the Saint John Sea Dogs, and remain the same warm-hearted person they were in high school. It was with tremendous pleasure that I caught up with my friend Trevor on behalf of SPMA. Our talk was long. It's been a long time since Trevor and I talked. We chatted about his role with the Sea Dogs, working in sports, favourite quotes, and more. From reading or skimming through this piece, you'll gain a ton of insight from Trevor. Enjoy.
Please note: This interview was conducted via phone. Editing changes were made to make it easier to read while maintaining the voice of the interview.
What are the Saint John Sea Dogs?
The Sea Dogs are one of 60 CHL teams, and we play in Saint John, New Brunswick. The CHL is divided up into three leagues and we are part of the Quebec Major Junior Hockey League (QMJHL). Although we are one of the youngest franchises in the country going into just our 15th season, we are one of the winningest teams in the period. We have won three President Cups (QMJHL League Championships) and one Memorial Cup during that time. Junior hockey is a cycle as you draft, develop, and then try to win when your nucleus is at maturity.

At the end of that cycle, your players move on to the next stage in their life whether it be pro hockey, pursuing more education, or starting their careers. We have a single team owner, Scott McCain, who deserves all the credit for our success. He understands the cycle, he is exceptionally patient, and he lets us develop our young talent. He is a proud New Brunswicker and loves his hockey. The Sea Dogs are an important part of the community fabric here.
Tell us a little bit about your role as the President and General Manager of the Saint John's Sea Dogs
As President and General Manager, I oversee a team that takes care of the hockey side and the business side.
It's a pretty unique role. Most organizations wouldn't have a President that would be directly involved in the hockey side. And most organizations wouldn't have a General Manager that would be directly involved in the business side. But It's a role that works really well for us. And it's a role that our owner, Scott McCain, has been a big ambassador for.
I think it could be a model that works for most teams in the future. On the hockey side, you're generating revenue through team performance as more fans support a winning team. You're also spending quite a bit of money so it's important to understand both sides of the business and how hard it is in today's environment to generate that dollar that you plan on spending. You become very well-rounded by balancing both: understanding season tickets, marketing, communications, sponsorships, lease agreements, signing free agents, facilitating trades, player recruitment, scouting, and overseeing hockey operations. This role really gives you the most holistic view on all things surrounding the hockey business.
Are there any other teams that use this same leadership model?
As far as I know, there aren't. There are a lot of teams that have the GM/Coach role, but usually, there's a separation of church and state between hockey and business. Our vision for the organization is very progressive. There is a lot that our hockey operations has learned from a business perspective. And there's a lot that our business side has learned from the hockey perspective.
Our goal is to have an organization that has no fences between hockey operations and business operations. An organization where our marketing folks can hang out and chat in the coaches' office about hockey and our coaching staff and scouts can come up with different marketing ideas as well. It's been great. There's a lot of good cross-pollination.
Yesterday, our Head Scout and Assistant GM texted me photos of ideas for team uniforms and scout jackets for next season. He's our Head Scout. He sees 400 hockey games a year, but with the lines always being open between hockey and business, he also feels comfortable reaching out saying, "Hey, I saw this, and it looks really cool. I think you could sell a lot of jerseys or a lot of jackets if you did it this way."
It's a really neat, a really unique model. It's an inclusive model. Our manager of marketing and creative services will sometimes pitch ideas about different approaches and content we can use to help recruit players to come and join the Sea Dogs. He might suggest a highlight pack or really compelling video package to really get that emotional tie. Our CFO Rick Walsh and I will often discuss hockey operations together. He brings a very leveled, "black and white" approach. He's a great sounding board for both business and hockey.
I think it's great. I love hearing everyone's ideas and we're a very collaborative group. We hang out together, we work together, we spend time together off hours. There's no division between hockey and business: we're all one team.
It all comes down to people. I have a great team and I'm really lucky, I have a team that's passionate, that works hard. I'm biased, but I think we have the hardest working team in the country. So, I'm really lucky. I'm really lucky.
What does a typical day look like for you?
Honestly, during the season and offseason, there's a big distinction.
I think a lot of folks that don't work in the sports industry or hockey industry assume that during the summertime we have four months off and it's like summer vacation.
It's not like that at all. It's one of the busiest times. It's just a different busy. During the season you're really focused on execution, the day-to-day. You're focused on short-term goals. You're playing games. You're focused on wins. You're focused on day-to-day ticket sales. You're focused on sponsorship activation. You're focused on the game presentation. You're focused on maintaining your player relationships.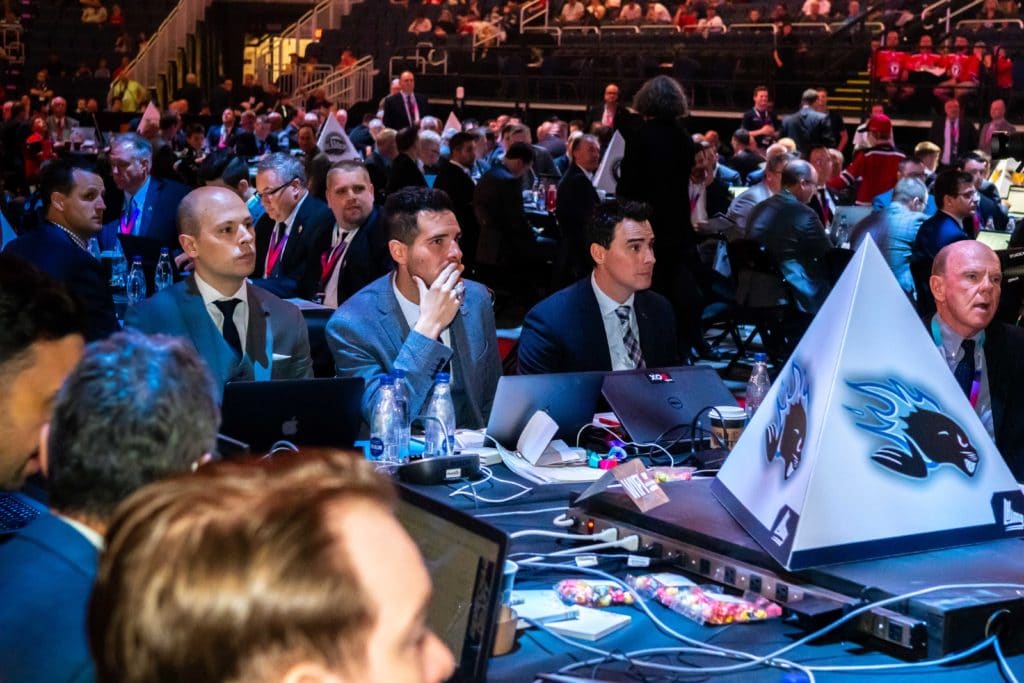 But if you don't have a good offseason–if you don't work as hard in the offseason on the middle to longer-term strategy part and planning for the regular season–you'll be in a whole lot of trouble for the regular season. The off-season is where you build your base. Once the regular season starts, there really is no time for long-term strategy. There really is no time for a deep dive into long term goals and long term planning. So we work as hard in the off-seasons as we do during the regular season to be most prepared for the year ahead and set us up for long-term success of the franchise.
I'll give you an example. Today, we dealt with everything from working through a number of media requests to discussing our new lease with the city–we have extended our lease by five years. We've been working with a number of agents, a few on trade scenarios and one on a free agent situation. I've had multiple phone calls with Scott, our owner. We've been working through a very large contract for a naming rights partner that's going to be coming on board, hopefully in the next few weeks. There are various projects that our team has been working on in terms of marketing and activation for next season. My phone has been glued to my ear since I woke up and I'll fall asleep with it in my hand, I'm sure.
That's a normal day: you're working on many different files. That's the excitement of it all. You don't know what each day will hold. You have an idea, but it's never exactly as planned.
What is the best thing about your position?
There are two things in general.
I'm a workaholic. Scott will often tell me I need to take vacations. He will call me and say "You need to slow down. You need to take some time." But when it's something you're passionate about, literally every day is a good day. Some days are better than others, but there are no bad days. When you're passionate about it, it's like a hobby, and you can do your hobby 24/7.
That's what's so great. Every day is a great day.
There are challenges: legal battles and political battles and difficult negotiations and there are disappointments. All those things. But every day is a great day.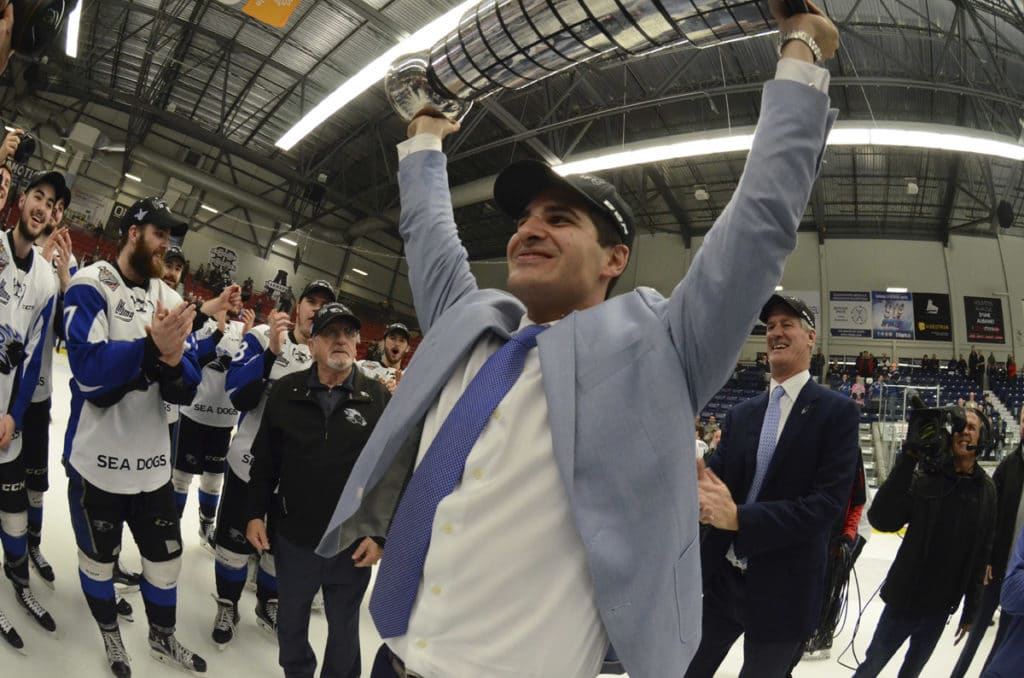 I'd say the thing that really makes me smile is seeing the growth and the evolution of the people that I've gotten to work with. Richard Peddie, who was CEO of Maple Leafs Sports and Entertainment, is a mentor of mine. He's always said that he evaluates his career, not just on MLSE's success, but on how many people that worked for him went on to become presidents of companies.
I'm too young in my career to have had multiple people that I've worked with become presidents of companies [laughs]. But seeing how well people develop; seeing the steps our Head Scout and Assistant GM, Anthony Stella, has made, seeing our young coaches grow; seeing the work that our front office has done, with our young staff like Andree who runs ticketing and John who runs marketing, watching them grow; seeing the steps they've taken and seeing them evolve into rock stars in front of your eyes is probably the most fulfilling thing.
Who or what has had the biggest impact on your career?
I've had a few incredible mentors. I think that mentors give you the chance to make mistakes along the way, but they also share information, which allows you to not make some of the same mistakes they did. Richard Peddie is, first off, an absolutely incredible visionary and what he did with Maple Leafs Sports and Entertainment is incredible. I spoke with him yesterday via email. He still takes a great interest in my career.
The biggest thing he taught me was the importance of vision and values: the vision is where you want to go and the values help you define what type of people are going to help you get there. The values also allow us to make consistent decisions and everybody knows that they have to align with our values. If you don't know where you're going and you don't have the right people, you're not going to be going anywhere. He's been instrumental for me.
After that, I certainly think of people like Richard Michaeloff and Preben Ganzhorn.
Our team owner, Scott McCain is certainly a mentor. He is absolutely incredible. He comes from a very successful and prestigious Canadian family, the McCain Foods family. He's been a business leader for 40 years. And he treats me, not only very fairly, but really he treats me like a son. He is fair with me, but hard on me and gives me very candid advice. He is a shrewd businessman but he is also one of the most warm-hearted people I know and when you work with someone that treats you like family, you would go through a wall for them. He has taught me a lot about business and the importance of people.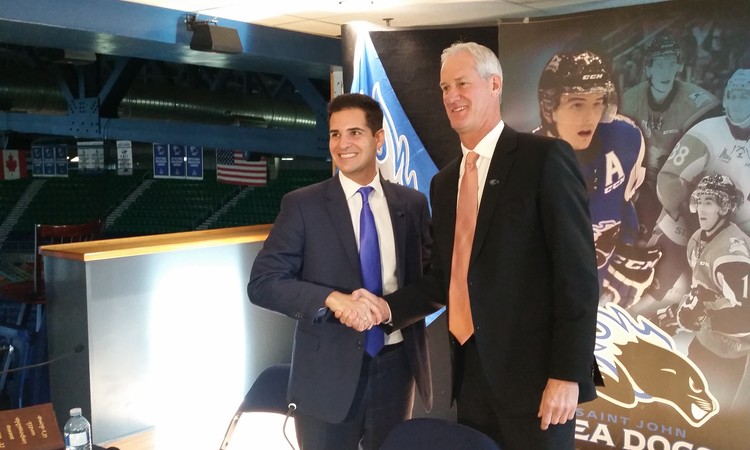 Scott has an incredible profile and clout in the business world but he can walk into a room, have a beer with you, and crack a few jokes, just like anyone. He makes everyone he talks to feel like they're the most important person, which is a pretty special ability. His EQ is off the charts.
There are a lot of great people along the way, with Richard Peddie, Richard Michaeloff, Preben, and now Scott. I've been very fortunate. They'll all be sitting there at my wedding one day, for sure. They're just really good people and they have taught me a lot. I think I'm always surprised by their willingness to share their time with me. These are really important people who've done incredible things and they're always willing to share their time and be supportive, which is pretty special.
What are the three essential skills someone needs if they're going to succeed in sport business?
1

Hard Work

Hard work, absolutely. Hard work can trump so many things. I do not know more than–or even the same amount as–most people, but I will work hard. I will work as hard as I can, I will learn and I'll put in the effort. For a young person if you're smart and you work hard, doors will just open. And I think that's been the biggest thing I've seen. If you work hard, you can achieve really incredible things, even beyond your expectations. You don't need 40 years of experience because you can gain years on people by putting in harder, longer, and smarter days.
2

Passion & Excellence

You should always want to be excellent. You should be striving every day to be excellent, and asking "what does excellence look like?" You should always be thinking about reaching that level of excellence. We ask that of our players and we should be asking that of ourselves. And you need to be passionate to drive yourself to that. Passion is a huge one because, without passion, you simply won't get as far as you'd like because you may give up on things easier or not put in the required time or commit to excellence. Also, without passion, I don't think you have the same ability to motivate and influence others and allow them to reach their potential.
3

People Skills

The third one, I call it the platinum rule, is "treat people better than you expect to be treated". It's a small industry. The sports world is a small world. You should treat people not only fairly, but even better than you would expect to be treated. As long as you do those three things, I think doors will always be open for you.
What are some of the biggest challenges you faced starting your sports business career?
I remember working at the bank. At that time I was the youngest financial manager at Bank of Montreal, I had started when I was 17. I was doing it mostly because my dad had been in banking for a long time and he loved it, and I thought that it would be a good path for me. While working there, I remember watching the press conference when the Leafs announced Brian Burke as their new GM, and saying "I want to go do that. What am I doing here?"
It took some courage. I quit my job and went to pursue an MBA at the University of Windsor where Richard (Peddie) went to school. My first opportunity to work with a sports team was working for the owner of the Windsor Spitfires, doing some volunteer corporate consulting projects. I got paid a grand total of zero. After that, I moved to Florida and finished my MBA there and worked as an intern for the Gators. And I got paid a grand total of zero.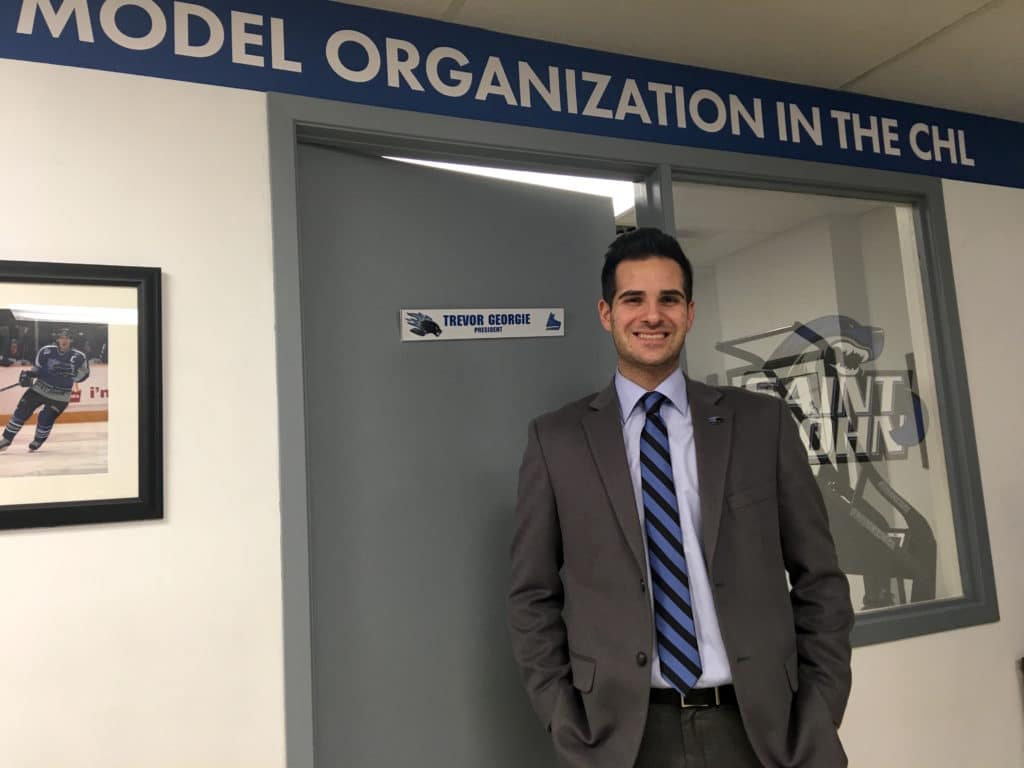 Early on I needed the courage to jump into the industry, and at the same time, the resilience to stick with it. I saw other friends that were changing industries, not willing to work for free, not willing to roll up their sleeves and roll t-shirts for six months and not willing to make those sacrifices. That's a big piece – sacrifice.
I also think there's the age component early on. If you're young, driven and you work hard, it can be threatening to some folks. And that's constantly something that you have to manage. You still have to be yourself, but you certainly have to be mindful of it.
Were you surprised by the amount of work you had to do for free when you were getting started in your career in sport?
I'm not motivated by money. I remember sitting there at the Florida Gators, in the NCAA, rolling t-shirts or posters for four hours straight. Friends back home working in big finance jobs were saying "You have an MBA. I can't believe you're doing that." You must know that you're not too big for any job. The money didn't matter to me because I could see the end goal was worth it.
I got my dream job at 27. So yeah, the early twenties were tough. The pay wasn't great. But I think of what I learned with the Florida Gators, and what I learned at Maple Leaf Sports and Entertainment in those early years, I should've been paying them for the learning and the education I got there because they were great experiences. So it depends on how you look at things.
What are your future expectations, goals and missions in your career?
My goal one day it would be to lead a professional hockey team. I've had some opportunities over the last three and a half years to transition to Pro teams. But I'm very committed to completing our rebuild here in Saint John, hopefully hosting the Memorial Cup one day and winning another championship.
My goal certainly is to lead a professional sports team. I believe that one day that will come. I'll work hard for the next 40 years of my career to get there. And if I don't get there, that's okay too because I am proud of what I have done and how I have gone about it, and am going to keep learning and enjoying this amazing ride.
What don't they teach you in school, with regards to working in the sports industry?
There's a lot. It's really important to come in knowing what you don't know. For me, I am obsessed with hockey but I never played professionally, and I was made General Manager of our team. So, I leaned on the people around me who had lots of hockey experience for their opinions. At the same time, I learned that I have many transferable skills. I am strategic, I make calm and calculated decisions, I have a background in contract negotiation, and lots of experience in relationship management. So, I play to my strengths such as player recruitment, which we have been very successful with, and I surround myself with others who have complementary expertise.
t's important to know what you know and it's even more important to know what you don't know. But you certainly don't know everything, so be a really good listener.
I'd say the other thing is understanding the informal organization. Organizations and industries are formal. They have the structure: you have this person that reports to that person. But there's so much more interpersonal dynamic and complexities to the informal organization: who has influence and how does that impact your day to day or how does that impact your ability to deliver on a strategy?
The more information and knowledge you have on how the industry or the organization works informally, the stronger sports executive you'll be one day. And they don't teach you that.
Do you live by any quotations, and could and could just share them with us?
First Quote
"Every day is a great, some days better than others." There are no bad days.
Second Quote
I love the platinum rule: "Treat others better than you expect to be treated."
Those are two that I think are really important. I live by those, they are important for sure.
Who do you think we should interview for SPMA next?
1

Chris Overholtz

I like Chris Overholt and think he has a very interesting career path. He has experience with MLSE and the NFL and used to be the Chairman and CEO of the Canadian Olympic Committee. He's now running an e-sports franchise, in Toronto. Very accomplished and very interesting career path.
2

Scott McCain

Scott McCain, our owner. He is absolutely incredible. Charismatic, interesting, generous with his time, and candid – he would be excellent. He is part of one of the greatest food empires in the world and he brings great perspective, and unique perspective as owner of a hockey team. I think team ownership is very interesting and he is as candid as they come.
3

Hockey Agents

Interestingly enough, I would recommend one of the many hockey agents we work with. When I became GM I was warned by so many in the industry about the difficulty of working with agents. However, going into my fifth season now, I think that agents are some of the best people that I get to work with.

Sure, we negotiate with each other and we certainly don't always agree, but they work hard and they advocate for their players. I rather build bridges than fences and many of them have become good friends. Each agency offers a different value proposition.

Some are big, some are small, some have one employee and others have hundreds. Regardless of size, each one of them can relate to the grind of starting off small, getting their first "big" client, and growing their business and reputation.
---
Interview by Sam Bougha
Posted August 27, 2019 in Industry Profiles