As a former varsity athlete, I always hoped we'd get more fans and media attention. With Most Valuable Player (MVP) awards given out last week at Durham College, I thought it'd be nice to sit down with an award winner who also has a background in sport management. One of those students is Tyler Krabi, who shone as an OCAA men's volleyball player this past season. Here's a transcript of the interview.
Q: How does it feel to win MVP for Men's Volleyball of a college varsity team?
A: It feels really good to win MVP. But we had a down season, going just 2-16. However, it was nice to win the MVP award. I wasn't a highly scouted recruit in my first year. I was actually a 14-man walk on. To fast forward four years and see how I've evolved is special. So for the past 2 years I've been team captain And now I just won MVP so it feels good! The feeling of winning the MVP is pretty close to when we beat #1 ranked Fanshawe in the OCAA Volleyball Semi-Finals 2 years ago, in addition to the silver medal.
I also want to mention that wasn't a surprise when it was announced. I had conversations with the new head coach leading up to the banquet and he kind of led me on to believe I was going to win it.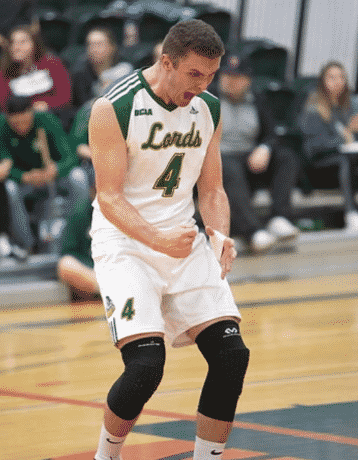 Q: Is there anyone who reached out to congratulate you?
A: Family for sure reached out and congratulated me and some old friends from high school too! They messaged me and said, "you are kind of a big deal now, congrats haha". A really cool reach out was from my old high school volleyball coach. His message was about how proud he is of me for all the hard work I put in. Actually, he told me that he never thought I would win MVP for a varsity-level team. So it was funny to hear that in a good way.
Q: What do you think of the fan support at your home games this year?
A: I think there was less than other years. I am convinced that our poor record had something to do with that. But we did get support in a different way as we ran a Movember campaign that we ended up raising over $2,000 for a great cause. All the funds raised came from our family, friends and fans. So we had less support in attendance, but we have our devout supporters.
I really think that winning games brings attention to your team. For example, the women's volleyball team went undefeated in OCAA season play, and ended up capturing the bronze medal.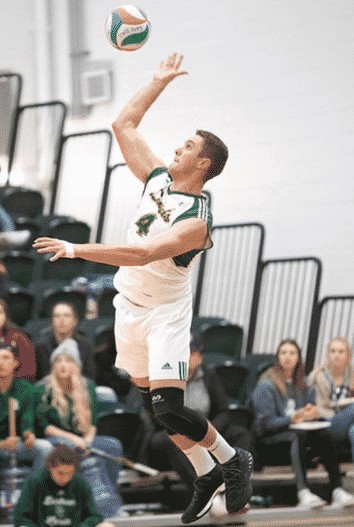 Q: Is there a lot of interest in varsity sports from students at the school or is it mainly other athletes?
A: I would say it is a split. There are always other athletes who look to support their fellow athletes and there are friends as well that come out more often than not. But you do see a lot of random people attend our games.
I do feel like non-varsity students are tuned in to what we do. Definitely not as many as there can be, but there are some. For example, just this past Thursday a student caught me off guard, stopped me and asked, "are you Tyler Krabi? We don't really know each other but I saw you in your games and I just wanted to say congrats on the season." It was cool to know that there are people that are interested in varsity sport. I think if that type of support was more consistent, it would bring us up and help us to play better! There's nothing better than playing volleyball in front of a crow of a number of supporters who are rooting for you.
A call to action…
Since we have the the second biggest gym in the OCAA, we should look to fill it out every time we have a varsity event. While we are quite present on social there may be different ways to reach all types of people in the Durham community. That's where more promotions, marketing, public relations, and other subjects learned in SPMA come in. You know what I'm talking about!
Q: What's your greatest skill in volleyball? How does that transfer into the sport industry?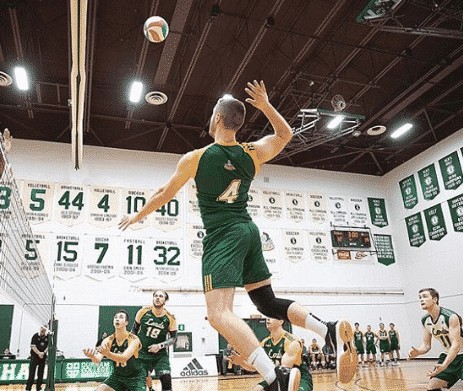 A: In terms of playing I think my best skill is my ability to read a game. For instance, when you need and extra push or when you need a specific shot rather than powering the ball to the floor, I am that boost. That is always something I did really well in games, I could frustrate the other team based on my ability to tell the flow of the game.
Also, I've worked on my planning and follow-through skills. By aiming where the volleyball will go next, you can take a lesson from that. Eventually, I've been able to build by follow-through. I think saying you are going to do something is one thing. Actually taking steps to make it happen is what is most important. I think I do this well on the volleyball court and in my career.
Example
To illustrate, I worked for the City of Markham teaching hockey and skating lessons. I was a head instructor so I would create lesson plans and then make sure each plan was executed properly on the ice. Likewise, on the volleyball court, I would help to plan plays and then be involved in executing it. So I get the best of both worlds and that's what I love about the game of volleyball. I can take what I do on the court and translate it into real life.
Q: Is there a volleyball skill that you think translate well into a career in sport?
A: Well, volleyball is a temperamental sport. Every match you play is a best of 5. Likewise, each match between 1 to 2.5+ hours to complete. Having a level-head, calmness and patience are key. Also, you have to be able to manage the ups and downs in a short period of time. You can go from winning to losing in a blink of an eye. Having composure to re-focus and push through adversity is crucial to winning results. So having that same mentality can help to push you to your next level in your career as well.
Q: Some athletes who love sport as much as you do stick around for the full 5 years just to continue playing, was it a school based decision, sport based or a bit of both?
A: My decision was solely based on the fact that I wanted to continue to explore career options. I graduated from the Sport Management program. Then, I became interested in the Protection, Security and Investigation program. I wanted to pursue a career path to become a police officer. Indeed, having another year of OCAA volleyball was a bonus. I am not going to say it wasn't!
Q: How do you balance your sport life + school + social life? Is there any tips you would give to someone who wants to give it a try?
A: It is definitely something you have to be serious about and life can catch up pretty quick, if you put too much into school and sports you won't have a social life and vice versa for all of the other sides of the triangle. Time management plays a big role in whether or not collegiate level sports work for some people. The good thing is that we have a practice schedule laid out at the beginning of the year so that you can start planning any assignments and homework around your mandatory practice times.
Q: Was there ever a time where the balance was thrown off and it was too much to handle for you?
A: If you stayed on top of everything in school it was never too hard, the only time it was ever hard was when the strike happened in 2017 because it didn't affect sports so sport and social life became the norm for over a month, so it was hard to transition back into being a student after such a drastic shift in your lifestyle.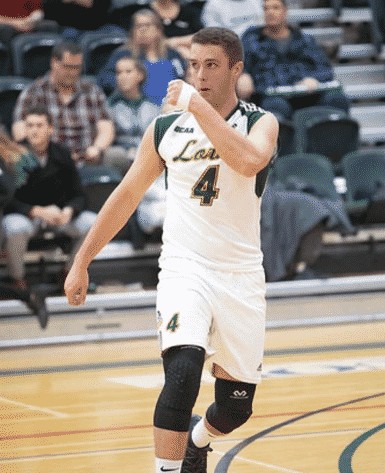 Q: Any advice to aspiring SPMA pros?
A: I would say that a skill that any student needs coming out of their programs is a sense of confidence and they definitely should have gained this throughout their program. I was a pretty shy kid growing up and in the first year of sport management I definitely came out of that shell pretty quick. Sport management students can be shy, but need to try things outside their comfort zone. Without that willingness, it may be hard to find a niche in the industry.
I was speaking up in class and becoming more of a leader in different groups. Getting your confidence and maintain it is important, you are in control of your life and you don't want to sit back.
Don't let opportunities pass you by. While you are in school, don't sleep on the chance to volunteer. Check SIRC regularly! Furthermore, read articles here on SPMA. That is to say, make sure you're up to date on all the latest and greatest industry trends. Why wouldn't you? Develop the confidence, especially in Year 1 and 2 so that you won't be afraid to create your own destiny. By the way, I wish SPMA was created when I was studying sport management.
Up Next
Next we'll sit down with Women's Basketball MVP Emily Glendinning to get a female sport management student's perspective on the same questions.