Da'Mon Perry is the Assistant Director of Athletics at University Prep. University Prep is a private, co-educational middle and high school in Wedgwood, Seattle, Washington, United States. In this position, Da'Mon is constantly faced with a variety of tasks that range from scheduling to equipment management, to mediation. He embodies sport management by staying true to himself, encouraging others to learn from their mistakes, and taking your current position and using it to your advantage. Throughout the interview, you will see that Da'Mon really values teamwork and personal attributes, and always reminds people to Embrace Your Pace! Take a read through Da'Mon's journey in sport, and see the impact for yourself! Enjoy!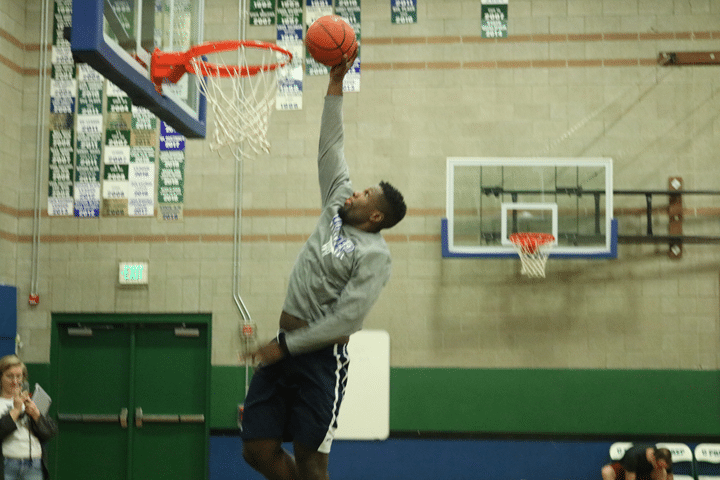 Please note: The interview Da'Mon Perry was conducted via a typed conversation. Editing changes were made to make it easier to read while maintaining the voice of the interview.
Tell us about your role as Assistant Director of Athletics at University Prep.
In my current role, I oversee all aspects of the University Prep middle school athletic program while simultaneously assisting with coordinating the daily operations and activities for our high school athletic teams. This includes scheduling games/events, the hiring and evaluation of staff and coaches, ordering equipment for teams, and promoting the athletic events through our social media platforms. Our athletics program consists of 53 teams, 54 coaches, and over 350 students.
What does your typical day-to-day look like?
My day-to-day tasks can vary, depending upon the time of the year. No day is exactly the same as the next. The task that I tackle on a day-to-day basis include:
Preparing a master calendar for games/events.
Collecting and maintaining on file a completed physical form for every student participating in athletics.
Coordinating gym/field use for practices and games.
Working with the coaching staff and transportation director to school all athletic departures times.
Collaborating with other ADs in our league about scheduling, sports guidelines, etc.
Confirming officials and umpire assignments for upcoming games/matches.
Supervising home athletic contests.
Securing game workers for athletic contests (clock operators, scorekeepers, line judges, etc.)
Mediating the resolution of problems, issues, and concerns that may arise between coaches, students, parents, and athletic programs.
Tell us about some areas they don't teach you at school about working in the sport industry that you've picked up on your experience.
1

Relationships

As a young sports management professional, the value of developing and maintaining strong relationships is huge. As you move and progress in your career, the number of people that can vouch for you and your skill set will be a huge help for you. It's important to always put your best foot forward in your current role because you never know who's watching you.
2

Self-Awareness

Self-awareness is another thing that I've learned to develop while working in the sports industry. I believe that it's important to find out what your strengths and weaknesses are, and using that information to your advantage as you navigate through your sports management career.
3

The Value Of Trial & Error

Learning through trial and error is another thing that I've learned while in the sports industry. As a young professional, you may think that you need to be perfect in order to look good amongst your peers. It's completely normal to make mistakes on your journey. As long as you learn from those mistakes, you will put yourself in a good position moving forward.
What are three essential skills someone needs to succeed in the sport industry? If you could briefly explain each choice, that'd be great.
1

Communication

As a sports management professional, you will have to interact with a wide range of people. In my role, I have to communicate with coaches, officials, athletes, parents, administrators, teachers, and other community members. It's important to know how to talk or write to these different groups of people. Everyone has different needs and perspectives, and knowing how to communicate the values and expectations to them is very important. It also involves listening to their concerns and answering questions.
2

Organization

In some roles in sports, you will have a lot of different things to keep track of. In my role, there are procedures to keep in place, rules and regulations to remember, schedules to make and keep, and budgets to stick to. The responsibilities can become overwhelming if you allow it to be. Having an organized process that you stick to is very important in your success.
3

Strong Moral Code

Values are important to have, especially in the sports world. Being committed to your career requires a strong commitment to your ethical values. Make sure you stick to what's right for the sake of your sport and your career. Stay true to yourself.
Do you live by any quotes, and could you share them with us?
"Embrace Your Pace" – This past summer, I created a lifestyle brand called Embrace Your Pace (EYP for short). This is a brand that aims to inspire people from all walks of life to strive to be the best version of themselves. It can apply to your career, your health, or just the way you live your life overall.
We often get wrapped up in what other people are currently doing and where we feel we should be at this point in our lives. Social media is making it hard not to play the comparison game.
Don't let the success of others make you feel like a failure or not worthy of your own success. We all have different paths and different timing.
Be present and embrace each step of your journey. Take full advantage of each moment as this will prepare you for the future that you want.
What advice would you give to recently graduated sport management students looking for their next opportunity and grow to be in a similar position to you one day?
1

Explore Different Roles in Athletics

If you're just getting started in your career, now's the perfect time to start figuring out where you'd like to end up in the athletics industry. That means doing your research on different roles, job shadowing, internships, and whatever else it takes to get a sense of which role/area works best for you. If you're already working in a specific field like marketing or operations, I'd say continue building your skillset in your role while finding different ways to stand out.
2
Network, Network, Network
One thing that I did a lot while finishing my master's degree, I would reach out to as many people that were in certain roles that I was interested in learning more about. I would just ask about their path to their current role, what they do on a day-to-day basis, and any advice they would like to offer for someone like myself. While not everyone I reached out to responded to me, I've been able to create genuine relationships with people in various roles in athletics by doing this. Some of the people have played a huge role in helping get me where I am today.
3
Be Where Your Feet Are
As a young sports management professional, it's very easy to get impatient on our journey. We live in a microwave society, which is the mindset of wanting everything "right now". We want to top executive job that pays you well over six figures as soon as we graduate from college or graduate school. While it's important to have goals and aspirations for would you ultimately want to be, it's also important that you immerse yourself in your current role and strive to be the best in your current role. By striving to be the best in your current role, you will set yourself up for the next opportunity.
Final Thoughts
We've covered how much an Athletic Director has to do in the past. Also, we've covered an Assistant Athletic Director previously in Candice Walls. But the focus was on how she's attempting to qualify for the 2020 Olympics in women's boxing, and the work she does for a college athletics department. Da'Mon Perry is a high school Assistant Athletic Director on the other hand and his story is unique from others; and not because he can dunk a basketball! The uniqueness in his story is bred in the knowledge he imparts – from the value of relationships, self-awareness, and the value of trial and error. Da'Mon Perry puts his motto on a t-shirt, and it's so fitting for everything he stands for as an Assistant Athletic Director – EMBRACE YOUR PACE. After reading this, you know exactly what it means and why you need to do that in this incredibly challenging industry!
---
Da'Mon Perry
Interview by Amber Somerville
Posted October 31, 2019 in Industry Profiles

Edited by Annie Goncin