To hockey historians and fans alike, Greg Terrion is one of many former NHL players from the 1980's. To me, he's family, and an inspiration that I'll carry with me throughout the rest of my career.
Who is Greg Terrion?
A proud native of small-town Marmora, Ontario, Greg Terrion fostered a love for hockey at a young age. He was often found skating on the neighbouring Hanley family's backyard rink with his friends and brothers.
Regular games of neighbourhood shinny and minor hockey performances allowed Greg to sharpen his hockey skills.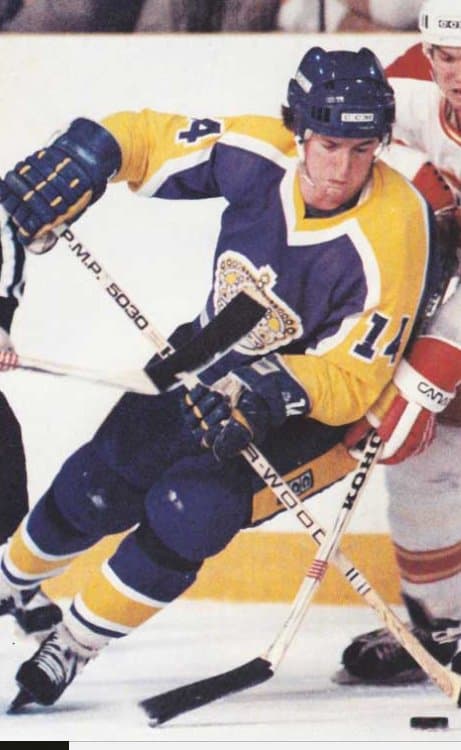 Former NHL Players: Greg's Hockey History
Junior Career and NHL Draft
After a successful junior hockey career with the Belleville Bobcats Jr. B team during the 1976-77 season, Greg garnered the interest of the Toronto Marlboros, who selected him in the second round of the 1977 OHL Priority Selection at 26th overall.
He was dealt to the Hamilton Fincups, where he played one season before being traded to the Brantford Alexanders. After two seasons with Brantford and a breakout second year earning him 122 points, Greg tallied a total of 82 goals, 136 assists and 218 career points over 194 OHL regular season matchups.
In 1980, Greg's talents were recognized by the Los Angeles Kings. He was selected 33rd overall in the NHL Entry Draft.
The Kings also got an unexpected break, when, picking in the second round and 33rd overall, they selected Brantford center Greg Terrion. The NHL's central scouting service had ranked Terrion as the 10th-best player available, and [General Manager] Maguire was mystified – but ecstatic – when the King's turn came and Terrion was still un-plucked.

Los Angeles Times, June 12, 1980
NHL Career
Greg immediately received a regular spot in the lineup. He played 73 games and recorded 37 points and 99 penalty minutes in his first season. He skated alongside former NHL players and friends Jim Fox and Larry Murphy.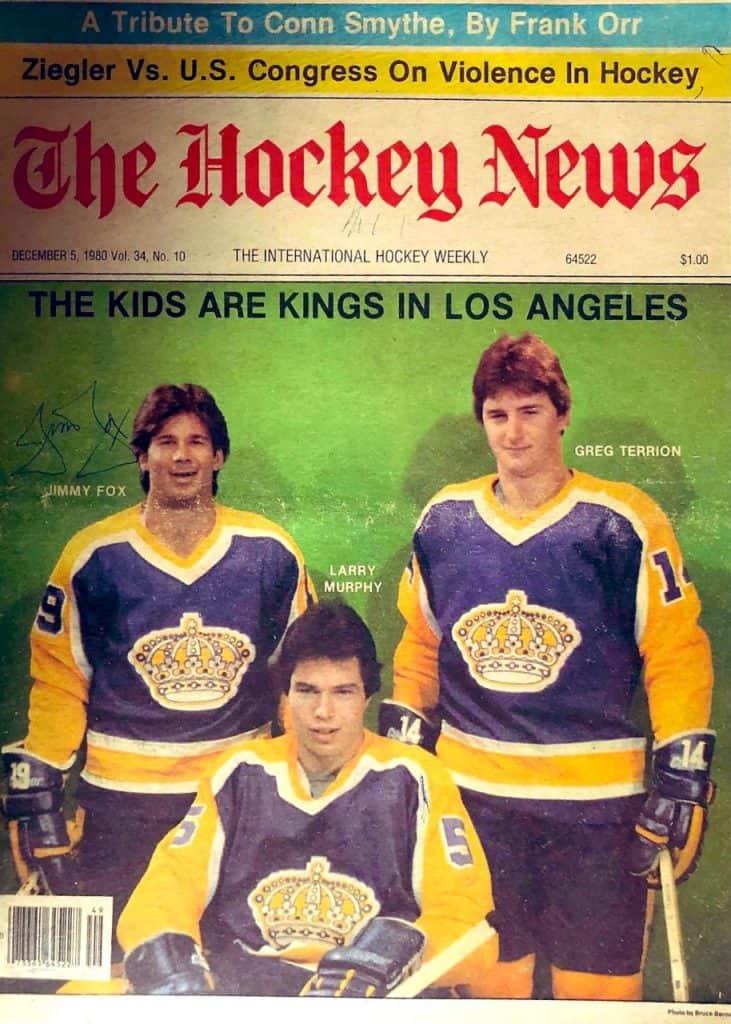 After spending two seasons with the Kings, with a little help from a late-night phone call between Greg's father Wilfred Terrion and General Manager Gerry McNamara, Greg was traded to the Toronto Maple Leafs in exchange for a fourth-round draft pick on October 19, 1982.
Making a Name for Himself in Toronto
Following the trade, Greg travelled back to Canada, where he was able to be closer to his young family.
His joined his wife, Cindy, in raising their two sons Jason, 5, and Ryan, a newborn baby. His third son, Tyson, later joined the family in 1988.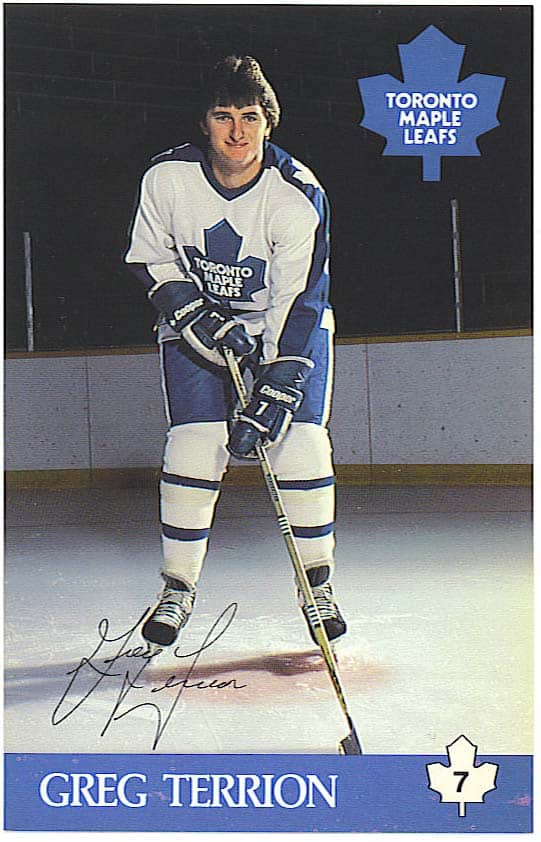 He suited up for the Toronto Maple Leafs to add to the offensive system while providing defensive grit to the team.
Greg can handle the puck and he's going to be there defensively when [Peter Ihnacak and Mirko Frycer] need him.

Dan Moloney, Toronto Maple Leafs' head coach (1982)
Greg's role with the Leafs evolved into becoming a defensive specialist. He garnered himself a reputation as one of hockey's hardest workers.
Greg shadowed some of the game's greatest players.
He saw himself tasked with using his speed and grit to keep stars like Wayne Gretzky and Mario Lemieux in check, bringing his name to prominence with Toronto fans.
…his name rose through Maple Leaf Gardens as he frustrated opposing superstars like Gretzky and Lemieux with his relentless speed and checking-line grit.

The Athletic, 2019
Perhaps one of his greatest moments in both Toronto and the NHL was when he shadowed Gretzky in a match against the Oilers in 1983. In an 8-3 win for the Leafs, Greg recorded two goals, and held Gretzky to just one.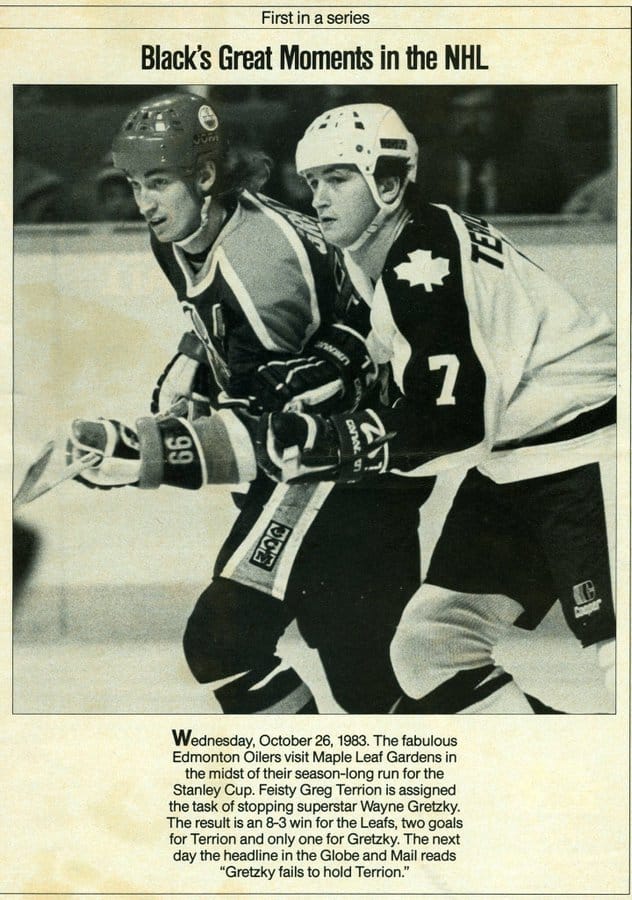 In his impressive career as a former NHL player, Greg tallied 243 points across 561 regular season games. He appeared in 35 playoff matchups.
Following his retirement, Greg purchased the Esso station at the intersecting Highways 7 and 14 in his hometown of Marmora. He named it "7 Terrion's Service Centre" in a tribute to his parents, Wilf and Patricia, and four siblings.
He made sure to take the time to chat and take photos with every car, fan, family, or friend that stopped by the station.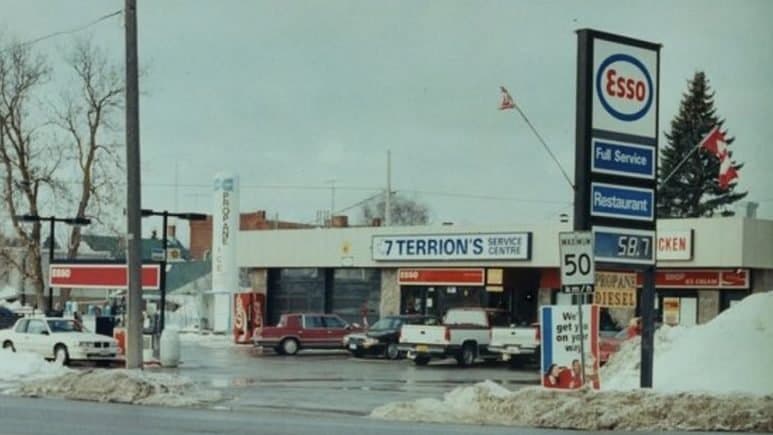 Greg's Impact
We lost Greg in the fall of 2018 to a heart attack. For years, he suffered from alcoholism, anxiety, and depression believed to be caused by CTE.
Although a void has now shadowed our family, it is filled by the wonderful memories, by the telling of stories, and by the legacy left behind by not only a phenomenal hockey player, but a loving husband, father, son, grandfather, uncle, and friend.
He made me who I am today.

Ryan Terrion, Greg's Son
Greg affected us all in different ways and filled all of our lives with a lot of love and laughs. He is not only a former NHL player, but a beloved, real-life hero in our own circle to look up to.
He left his mark on his teammates that quickly turned to lifelong friends.
Greg also earned the respect of notorious analysts who covered him during his time in the NHL.
For me, Greg's talent for hockey sparked a passion to pursue my love for sport and turn it into a tangible career.
I was not alive to watch him play and see the support from his family and friends. I grew up listening to my family tell stories around my grandparents' table and gained a thorough understanding of how amazing his time in the NHL really was.
Learning about Greg's career in the NHL provided me with a front-row view of the business of sport and, specifically, professional sport. His experiences showed me the determination and unwavering work ethic it takes to make it in the realm of professional sport.
Being able to see an individual in my own family take their success in sport to the next level gave me something to look up to, and it fuels my own journey in the industry.
For many people, Greg Terrion is one of many former NHL players that laced up the skates in the 1980's. To me, Greg Terrion is my uncle, and an inspiration moving forward to my career in sport. But to all of us that knew him, Greg Terrion is our hero.