We all love sports. Whether we are high performance athletes, current or aspiring sport management professionals or simply just love watching the game, sports play a large role in many lives of people around the world. And the reasons why we become so involved in sport are obvious – social connections, exercise, passion, competition, etc – but why is the government so involved? The answer to this question may not be so clear cut.
So, we'll talk about 10 reasons why the government involves themselves in sport.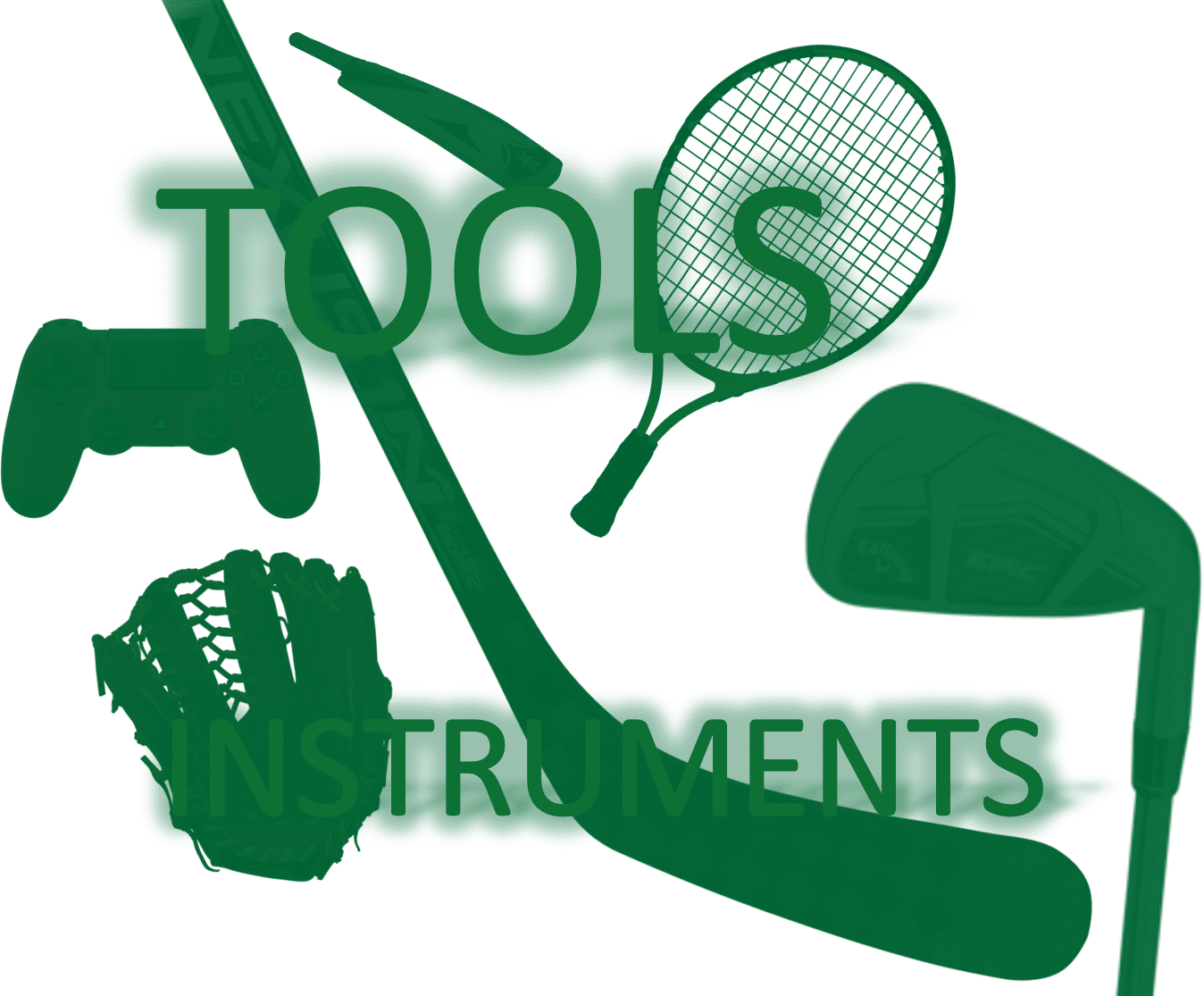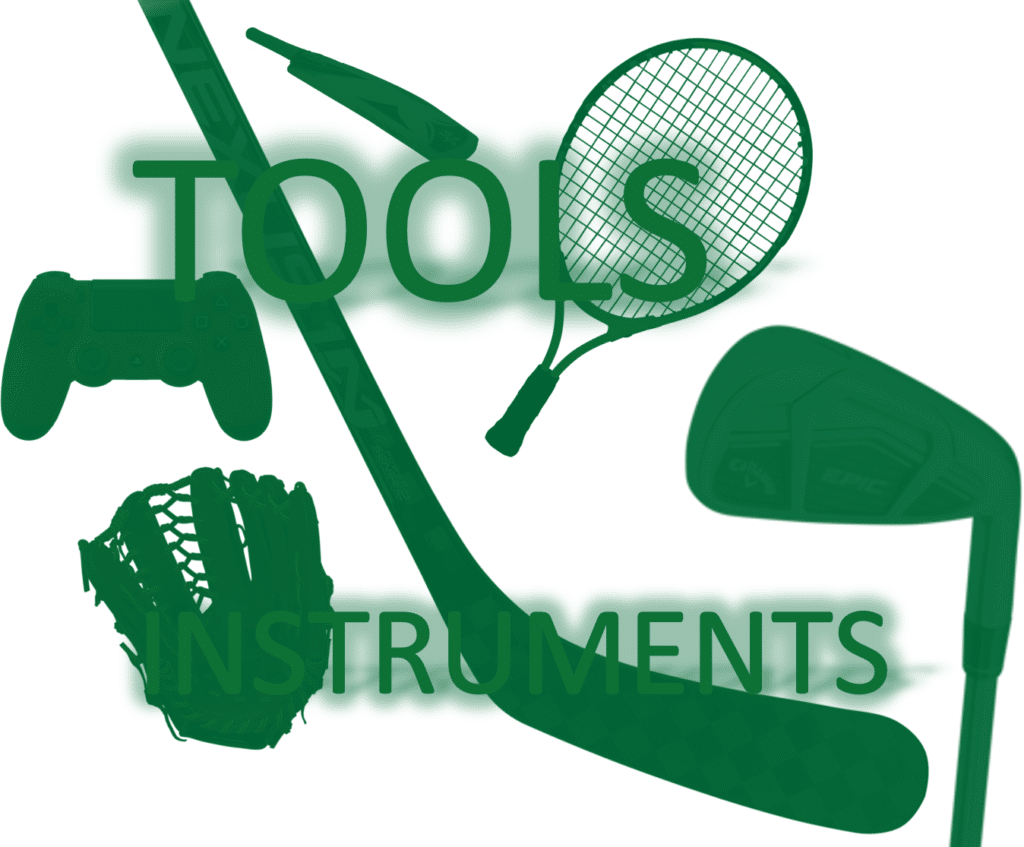 Keep in mind that while reading this article, the nature and extent of involvement that the government plays in sport varies depending on location and level. In this article, we mainly take a Canadian perspective, while touching on some examples from the United States. Having said that, government involvement in sport generally serves one or more of the following 10 purposes:
Purpose #1: Safeguarding the Public
When it comes to government, the municipal (city) government takes on the role of maintaining order in public areas of society. Because sports arenas and fields are such a large part of public society, it's the government's duty to ensure that they are managed in such a way that is safe for citizens.
You might think that this would be an easy task, but think about how much conflict there would be if there were no schedules? Everyone would show up at the field to play baseball at the same time, and arguments would ensue as to who gets to use the field.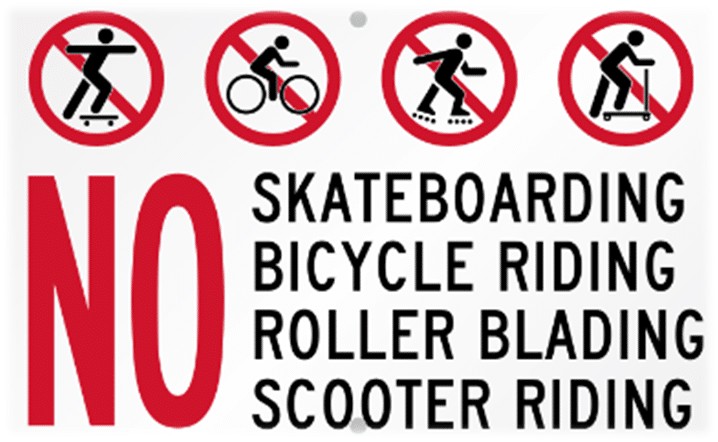 But by regulating schedules, requiring permits, and setting boundaries as to when, where, and under what circumstances sports can be played, the government can better control the order in public areas and can help to improve public safety.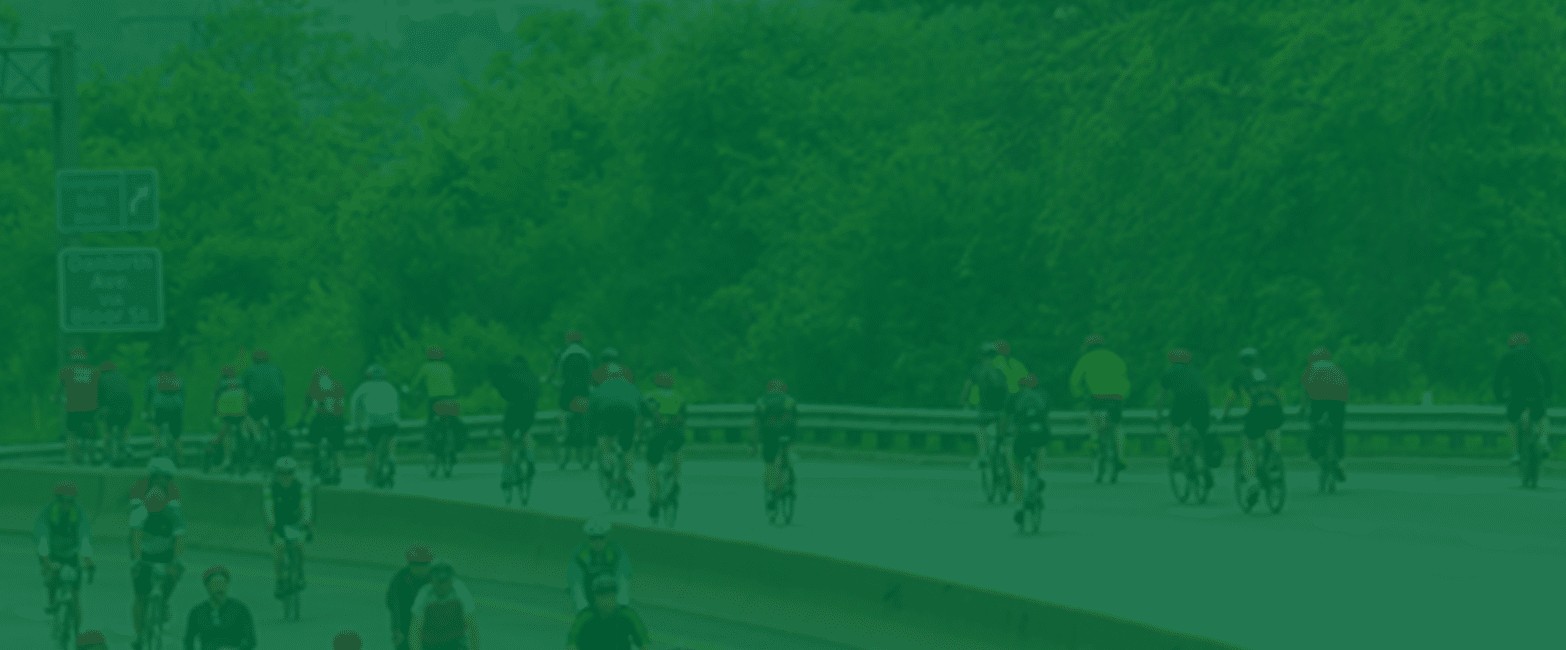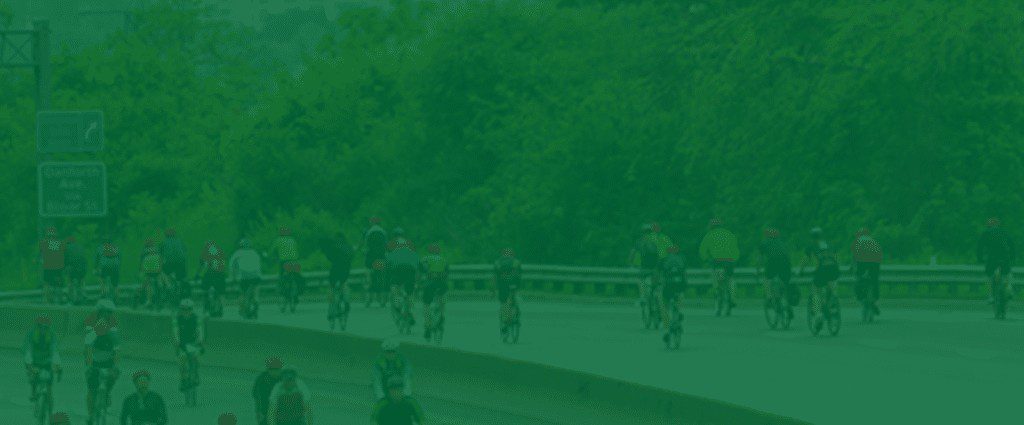 On the first Sunday every June, the Heart and Stroke Foundation of Ontario runs a charity event called the Ride for Heart. The ride takes place on Toronto's Don Valley Parkway (DVP) and Gardiner Expressway. Both highways are Toronto's main hub from north to south. They lead into and out of the downtown Toronto core on the eastern and southern side. In order to facilitate thousands of bikers, the DVP and Gardiner are closed for at least the morning. You bet your bottom dollar that charity organizers renew a permit and get special permission from the municipal government to do so. After all, both highways are wholly owned and operated by the City of Toronto.
Purpose #2: Ensuring Social Inclusion
Over the last decade or so, the government has been working hard to ensure that social cohesion exists in sports. Though it may seem as though everyone has an equal right to play sports nowadays, this hasn't always been true. Throughout history, there have been many groups of people that have been excluded from playing sports. For example, did you know that cheerleading used to be an all-male sport? The first all-male pep-club was formed in 1869, and it wasn't until 1923 that the first female was allowed to join the cheering squad!
And despite the fact that cheerleading is now a mainly female-dominated sport, there are many other sports where women don't have equal opportunities. Think about it – how many women do you see playing on or working with the Dallas Cowboys team, or the Maple Leafs team, or the New York Yankees team? Not as many as their probably should be! Though their inclusion in sport has definitely increased throughout the years, we still have a long way to go.
And women aren't the only people that have been excluded from sports over the years. People with disabilities, Indigenous people, immigrants, racialized minorities, people with different sexual orientations, and children living in poverty have all had less opportunity in sport over the years.
Growing an inclusive culture and promoting diversity means we need to encourage participation in sport for all groups of people – and the government is working hard to make sure this is what our future looks like.
Purpose #3: Promoting Fitness & Health
Did you know that in 2009, the Ontario government spent over 3.4 billion dollars on the burden of inactivity? Here are some other staggering statistics relating to sports and inactivity:
Did you know?
Inactive individuals are estimated to incur an extra $600 in health care costs per year as opposed to active individuals
A 10% increase in physical activity in Canada would translate to over $150 million in health care savings.
Physical inactivity can lead to an increase in a variety of health concerns including coronary artery disease, stroke, hypertension, colon cancer, breast cancer, type 2 diabetes, and osteoporosis (to name just a few).
If these statistics are realistic, it's no surprise that the Government wants to increase involvement in sport. Not only would involvement in sport improve social cohesion, but it would also reduce health care costs drastically.
But just as sports can improve health, they can also cause injury. Here are some more stats:
An estimated 66% of injuries among those aged 12-19 are sport related
The most common injuries in sports are sprains and strains
Sports and recreational activities contribute to approximately 21 percent of all traumatic brain injuries among children
Of course, these injuries also play a large role in health care costs. But if the government can help to reduce sporting injuries by regulating things like sporting rules and helmet laws, then why shouldn't they get involved? Fewer injuries benefit everyone!
In an effort to combat the risk of head injuries in sport, the Ontario government enacted Rowan's Law in May 2018.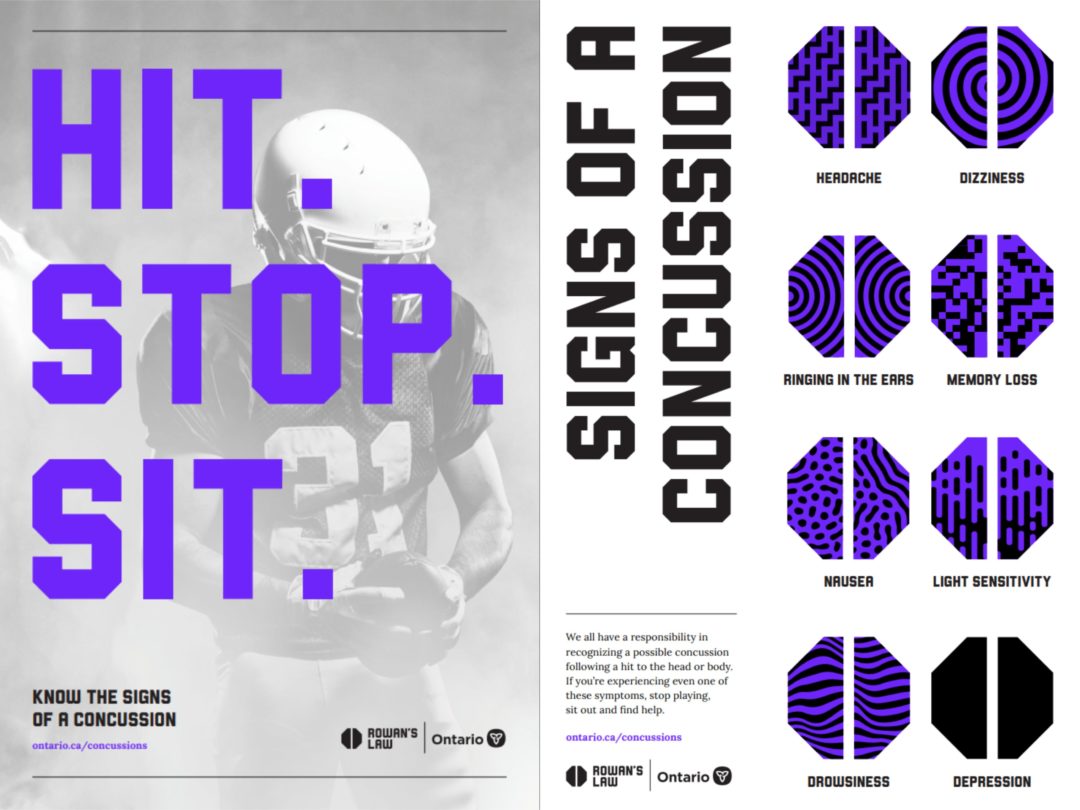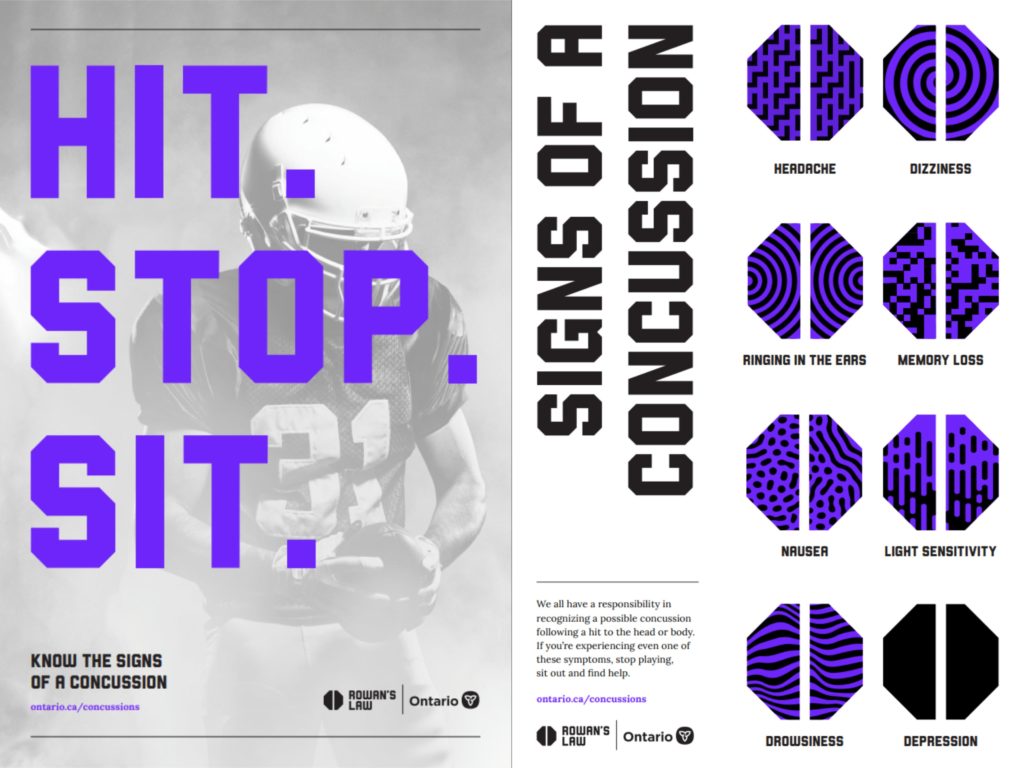 Purpose #4: Promotion of a Community or Nation
Government involvement in sport, especially in highly publicized events, is often aimed at garnering recognition and prestige. Recognition would allow people around the world to identify a community or nation from previous knowledge. That previous knowledge could be tied to sport, especially if there is prestige tied to it. Prestige refers to a good reputation or being held in high esteem. Among the benefits of being tied to a sport event, team or athlete are financial. Such was the purported case with the Toronto Raptors recent NBA Championship.
"Raptors Long Playoff Run Means Multiple Millions for Toronto" – this was the headline of an online article dated June 1, 2019. As the whole nation watched the Toronto Raptors take on the Golden State this summer, the city of Toronto reaped the benefits. During game time, transactions at Ontario bars were up by 23%, and across the GTA transactions were up by 28%. But not only did local businesses benefit, but the game also brought people together and put Toronto on a map, greater than it was before.
Every game night the streets of Toronto and other cities around Canada were packed in anticipation for who would win the championships, and over 2 million people came out to watch the final victory parade.
This was a highly significant event for bringing the people of Toronto together, and for giving Toronto recognition around the world.
But let's rewind for a minute. Toronto hosted the 2016 NBA All-Star Game. The lead-up to the event saw Toronto's late mayor Rob Ford and current mayor John Tory heavily involved. The City of Toronto knew the impact hosting one of the league's biggest events would have on promoting the city. As you can see from the following photos from the festivities, the event's logo, Canadian influential figures (Drake) and mayors were heavily involved.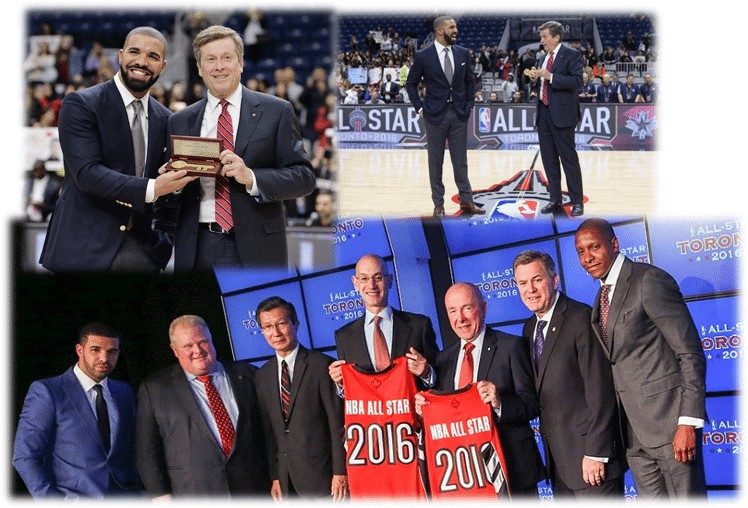 Back to the 2019 NBA Championship.
Over a 10 year period, it's proposed that this championship will have a long term effect on the entertainment and tourism in Toronto, and is estimated to have a $1 billion impact on the city. In return, sport can prove to be a great investment for the government.
Purpose #5: Promotion of a Community or Nation
Sports connect people. Period.
See: Beyond The Boxscore.
Again, we will use the example of the Raptors NBA Championship. How often is it that you see a whole nation come together to support a team? How often do you see 2 million people gathered together to celebrate a win? Sports unite us all. Sport provides for connection amongst people. That's whether it's our love or hatred for a team or enjoying a game at the stadium.


Any time there is a significant moment in Canadian sport, Toronto mayor John Tory takes the opportunity to declare written proclamations. The most recent example comes from September 16, 2019, when John Tory proclaimed Bianca Andreescu Day. He took to her celebratory event on Sunday, September 15 to officially present the Canadian tennis star with a framed version of the letter.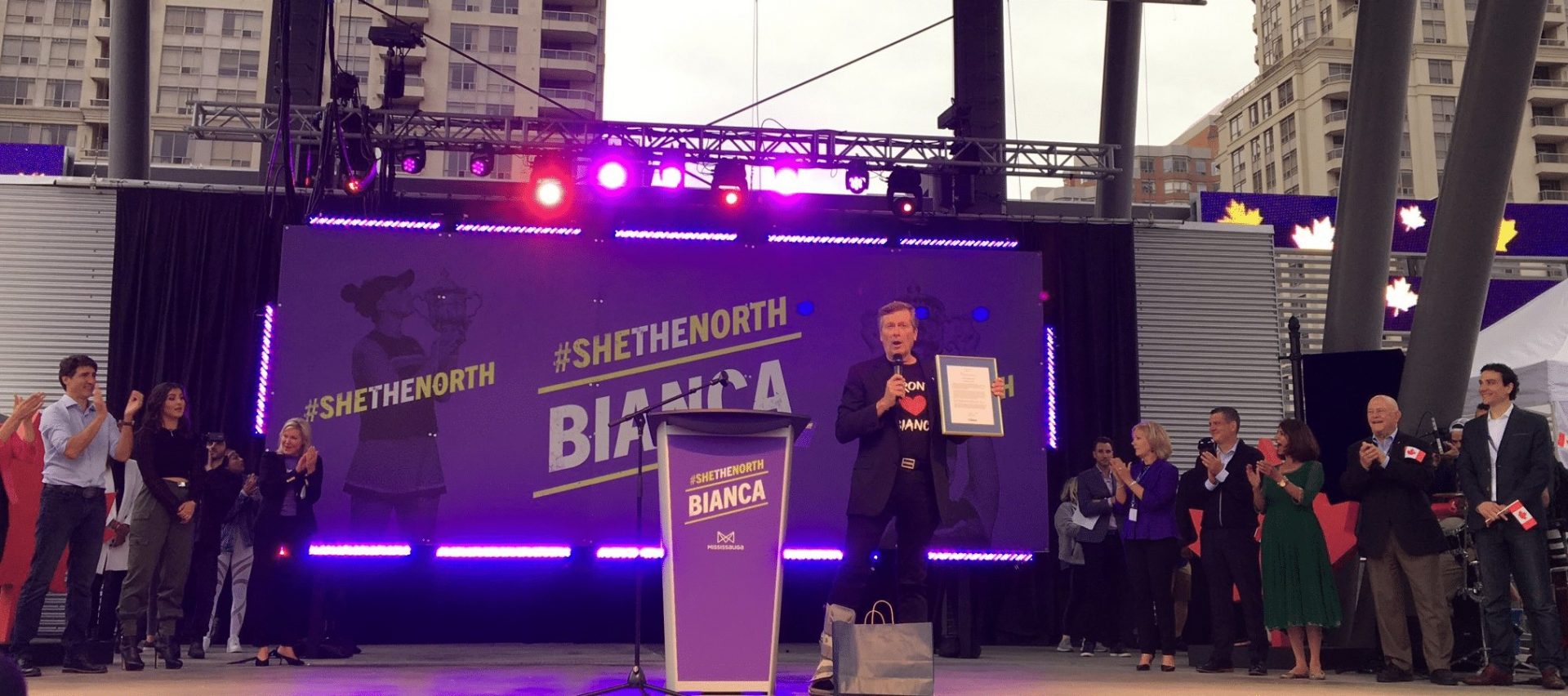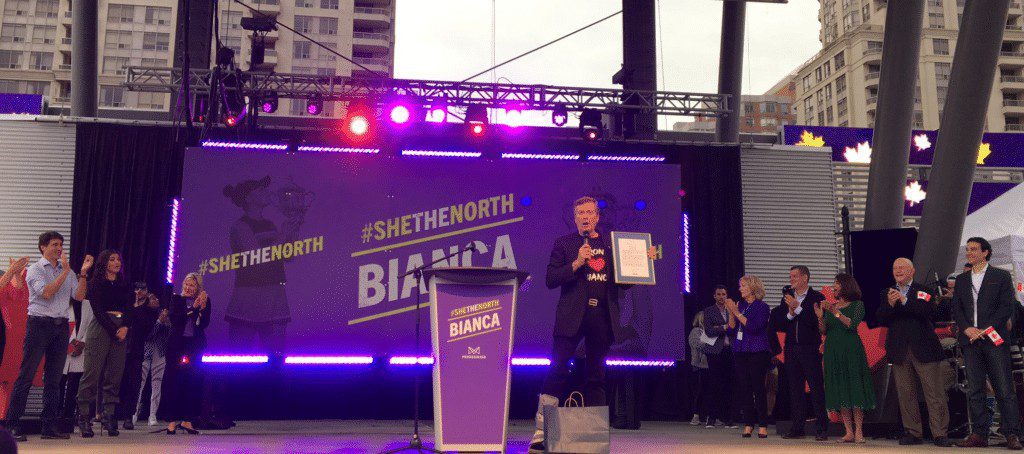 Let's hope the letter paves the way for future tennis championships. At the very least, let's hope it brings Canadians more luck than the last time Mayor John Tory proclaimed Kawhi Leonard the "King of the North" as he presented him with a key to the city.


And of course, in Canada, the whole goal for the government is inclusion and unity. Canadians are known for being a multicultural nation that accepts each individual for who they are. And when we can all come together in support of common interest (like sport), then the goal of reaching complete inclusion becomes that much closer to all of us.
Purpose #6: Reproduce Societal Values
In Canada, the government values individual freedom, inclusion, diversity, multiculturalism, and dignity. It also supports values of hard work, discipline, loyalty, and determination – all of which are reaffirmed in sport.
The proof is in the pudding. Just take a listen to Justin Trudeau's speech at the Raptors championship victory parade, where he credits the team to the values of Canada.
"It was done with sportsmanship, elegance, compassion, and mostly with incredible hard work. The diversity this team represents is that of the entire country."

Prime Minister Justin Trudeau addressing the Toronto Raptors and the crowd at their 2019 NBA Championship celebration.
So, when the government supports sport, they also promote their ideals. Such was the case with Justin Trudeau's speech and appearance at the victory celebration.
Such was also the case when the Canadian and Ontario governments teamed up to bring the North American Indigenous Games (NAIG) to Toronto in 2017 with a combined 7 million dollar investment.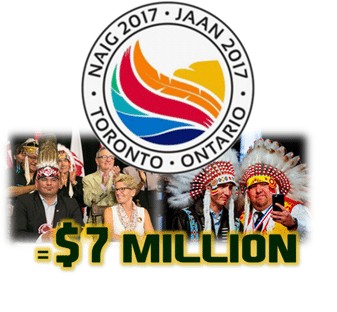 This investment speaks to the Canadian government's attempt to reconcile with the Indigenous peoples of Canada. While there is still plenty that remains to come together, harmonize and heal years of hardships, the government's investment in using sport as a tool to unite Canada's Indigenous population is a good step in the right direction. Not only did bringing NAIG to Toronto positively impact communities, but it also helped to ingrain that sense of reconciliation, integral to a pathway of harmonization.
The government's involvement in sport for the purpose of reproducing societal values is similar in the United States. See the follow Donald Trump tweets for a few examples.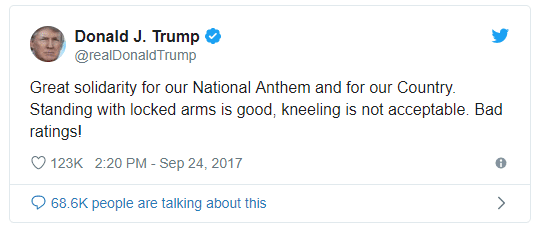 Using sport as a tool, US President Donald Trump targeted professional athletes protesting political issues publically. A number of professional athletes, namely in the National Football League (NFL), kneeled during the playing of the national anthem. The President struck back on Twitter using the word solidarity.
Purpose #7: Increasing Support For Political Leaders
You didn't think that everything the government did was for unselfish needs, did you? While the government does a great job of supporting Canadian citizens, don't think for one second that they also aren't out to support themselves too.
By smiling and posing alongside successful athletes in the media, the government can improve their own political capital, which in turn can help them to maintain order within society.
Take the following instances of Canadian Prime Minister Justin Trudeau: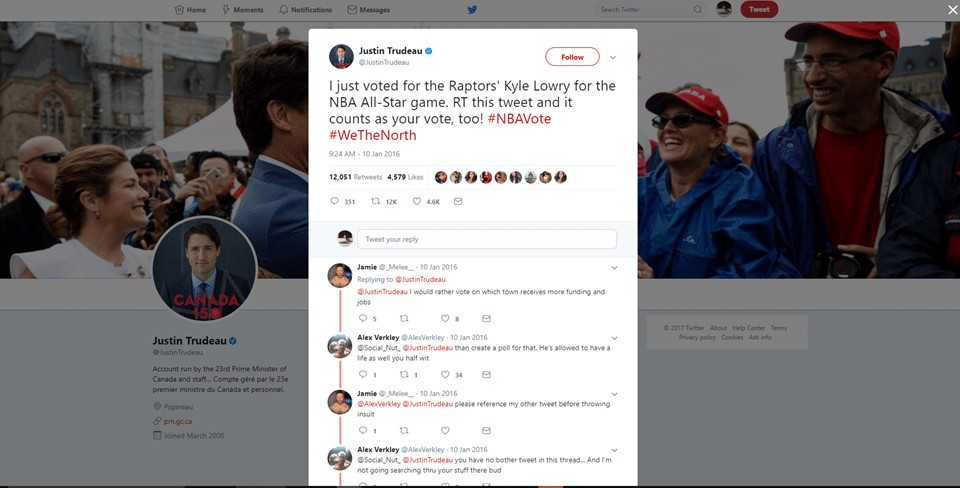 Or look to American President Donald Trump:

Or former U.S. President Barack Obama: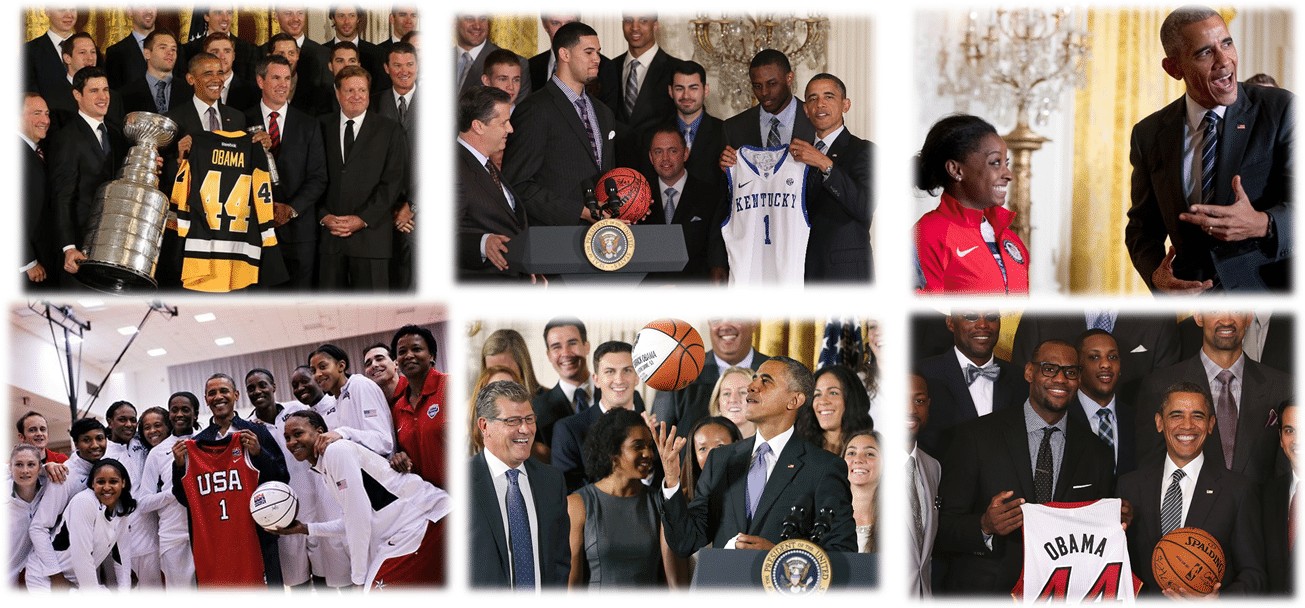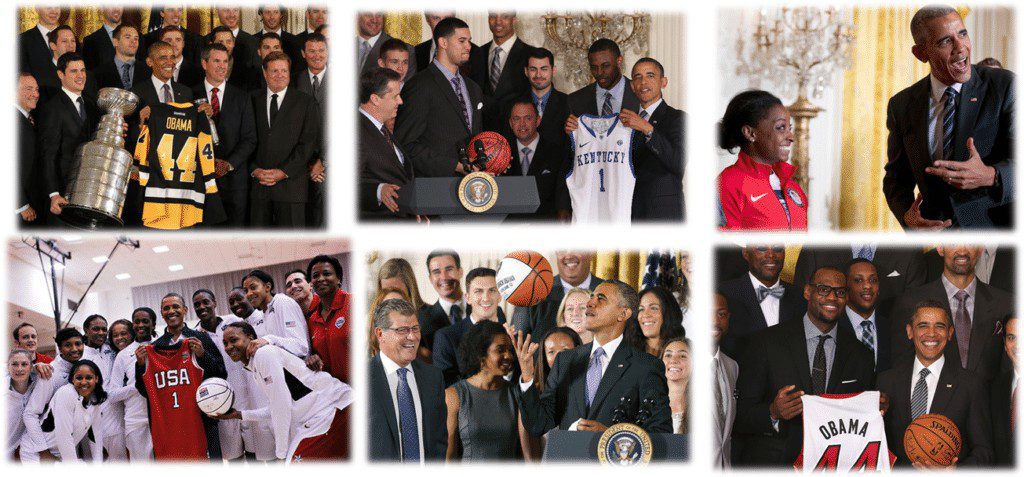 Spurned by a number of sport teams, such as the Golden State Warriors and the US Women's Soccer team, U.S. President Donald Trump tends to handpick several athletes for White House ceremonies. The latest: New York Yankees legend and recent Major League Baseball (MLB) Hall of Fame inductee Mariano Rivera. Recently, President Trump honoured Rivera with a Presidential Medal of Freedom. Tying himself to sport, as all politicians do, legitimizes Donald Trump's authority as the leader of the U.S. Clearly to President Trump, associating with sport is important, even if it's not traditional in nature.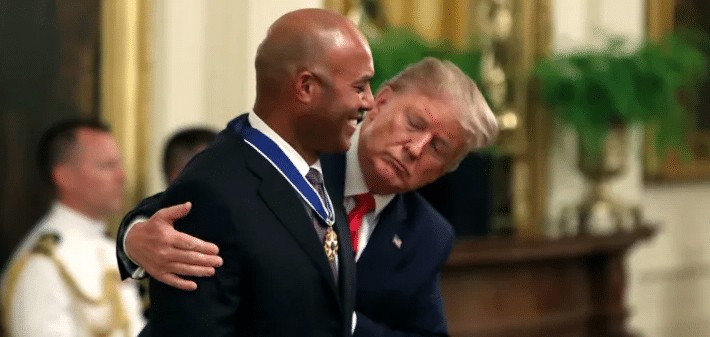 Purpose #8: Facilitating Economic Growth
Each year the government spends millions of tax dollars on pro teams and international events.
Take the Canadian Government's support for the Toronto 2015 Pan and Parapan American Games as an example. For those games, the government invested up to $377.1 million dollars. Nost of the funding went to the construction of new venues and sporting facilities.
The idea behind this is that though yes, it is a large investment, the sporting industry will eventually pay it back by increasing the tourism sector and increasing infrastructure development.
Unfortunately, not everyone agrees with the government's methods, and argue that it's not really that great of a payoff.
Take the Toronto Skydome for example. The Skydome opened on June 3, 1989, and serviced over $40 million in debt. To earn that money back, the dome would have needed to be booked 600 days a year to turn a profit. Obviously, there aren't 600 days in a year, and this simply wasn't possible. In the first year of opening, the Skydome only generated $17 million, and thereby lost over $23 million.
Estimated Cost To Taxpayers For Rogers Centre
Rather than spending taxpayer dollars on sporting venues and stadiums, many citizens believe that it could be better spent on public services like firefighting, teaching and policing.
What do you think?
Las Vegas Knights owner Bill Foley thinks the taxpayer money should be invested on essential services.
"Taxpayer money should be spent on public services — not stadiums. We can better spend that money on firefighters, teachers, and policemen."

Las Vegas Knights owner Bill Foley
Purpose #9: Promoting International Cohesion
Sports transcend borders, cultures, languages, genders, races, religions, and economic statuses.
In other words, regardless of who we are, where we are from, or what we believe in, we can all enjoy sports. Sports are something that are played in every culture of the world – from Canada to the U.S., from England to Italy, and from Korea to India, and all other nations of the world – we all share a love of sports.
As we said earlier, sports connect us – but not just in our own regions, they connect us around the world. And governments are utterly aware of this. The mass appeal of sports allows governments to generate goodwill among countries, and to facilitate exchanges between nations. They are a great bonding and meeting place for government officials, and an excellent way to develop trust and loyalty between countries – and governments use sports to do just that.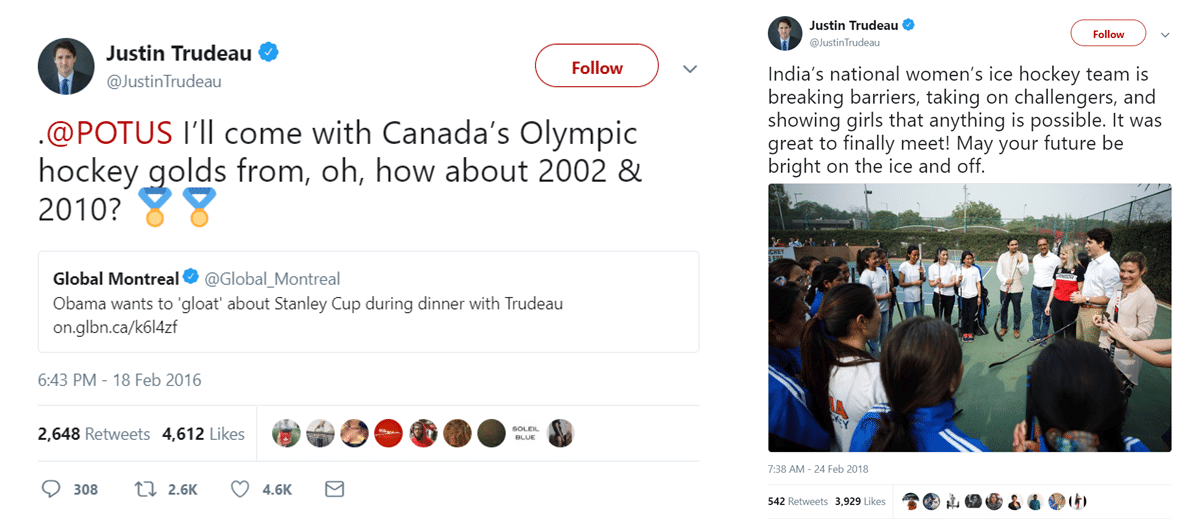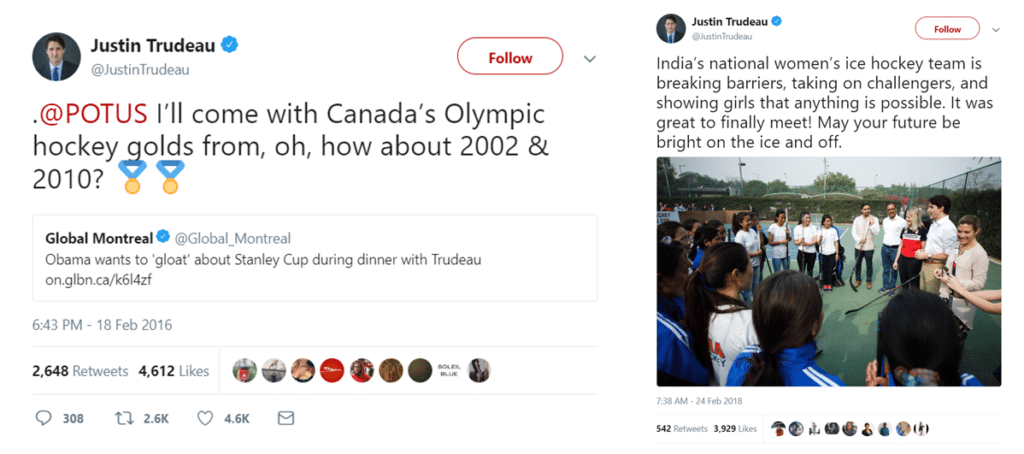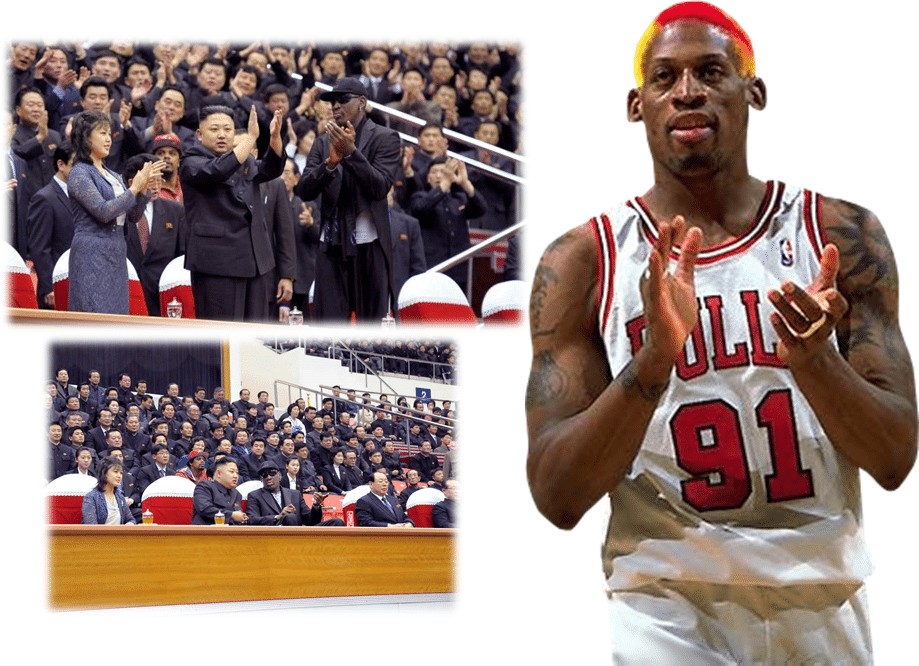 Purpose #10: Inducing Pressure on Foreign Governments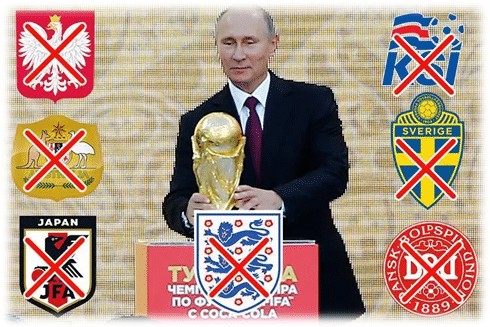 On March 7, 2018, police sealed off the road which was home of former Russian agent Sergei Skripal after he and his daughter were poisoned with a military-grade nerve toxin that had been left on their doorstep in England. Blamed for the assassination was President Vladimir Putin. We want nothing to do with the blame so we won't comment on whether that blame is warranted or not.
But since the attack, more than 20 Western allies have ordered the expulsion of Russian diplomats as they stand in solidarity against the attack. As a result of the attack, the U.S. ordered the expulsion of 60 Russian officials, the EU expelled 4 Russian diplomats, Lithuania. Meanwhile, the Czech Republic expelled three, and the list goes on and on. As for Iceland? Their government took a stand by announcing that it would not be sending officials to the World Cup that was to be held in Russia.
Which brings us to our next point – that as much as sports can be used to unite countries and governments, they can also be used to place pressure on them.
Imagine how much pressure Russia would have felt if everyone pulled out from the World Cup? That would drastically affect their economic growth and development – and many governments have now figured out how to use sports for that exact purpose.
---
Conclusion
In conclusion, there are many reasons that governments involve themselves in sport. Some governments involve themselves in sport for all of the above reasons. Meanwhile, other governments involve themselves in sport for just a few of these purposes.
So just to recap, here are 10 possible purposes for government involvement in sport:
Safeguarding the Public
Ensuring Social Cohesion
Promoting Fitness & Health
Promotion of a Community or Nation
Promotion of a Community or Nation
Reproduce societal values
Increase Support For Political Leaders
Facilitate Economic Growth
Promote International Cohesion
Induce Pressure on Foreign Governments
But for whatever reason, we can all agree that it's important for the government to support sport. Equally, we can agree that sport brings benefits to the community.