Jenna Richards, Owner of Yoga Jungle Aerial Studio, located in the heart of Bowmanville, Ontario. While interviewing Jenna I learned about the various roles it takes to run a successful yoga studio. Including but not limited to being an accountant, a social media content creator, and a great organizer and event planner. Wearing these various hats plays a crucial role in the success of her business. Through her passions and her healthy lifestyle, Jenna thoroughly demonstrates her expertise in yoga through the highly demanded classes she runs at the studio. Continue reading to learn more about Jenna Richards, a passionate, motivated, sports industry professional!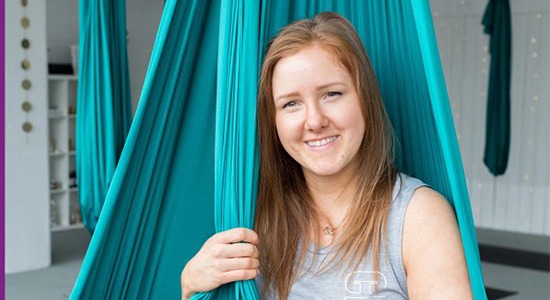 Tell us about your role as the owner of the Yoga Jungle.
Hi, I am Jenna Richards, an owner, operator, teacher, accountant, social media and content creator, cleaner, organizer, event planner and everything else in between!
I absolutely love what I do and enjoy the multiple hats I wear every day. Doing so allows my creative juices to flow is so many unique and different ways.
What does a typical day look like for you?
A typical day in the life of me consists of waking up, 30-minute meditation, followed by a healthy breakfast and getting ready for the day. Somedays I start classes first thing in the morning, some days not until later into the evening. I return emails and respond and post to social media. I am continuously working behind the scenes integrating more and more into my operating system to make life easier for my students and myself.
I read, I play/practice new/old poses. I am constantly learning to evolve myself and my practice. I connect with others in the community as I believe that the support of many is so beneficial to the success of my business. At some point in the day I head to the studio to clean from the day before, I make sure everything is prepared for the classes ahead and I wait for them to arrive. I typically have three classes a day that are each an hour in length. I end all classes with a short meditation, thus solidifying and bringing peace to the end of every session.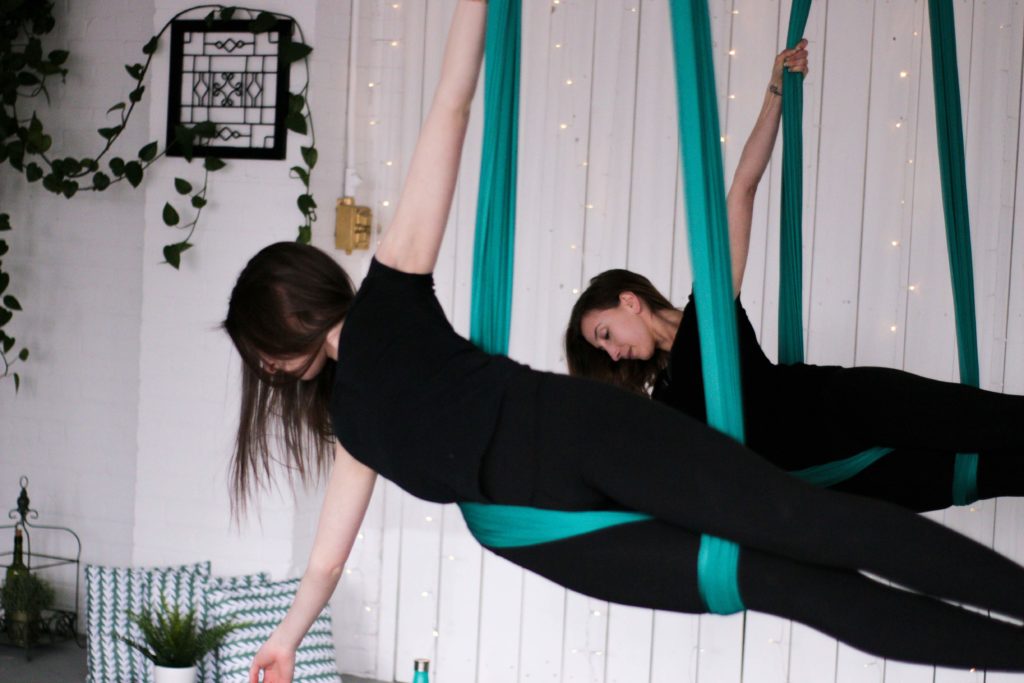 When was the point you realized that you were meant to do this career? Take us through that realization.
Good question – I never know where to start this realization. For years I was sitting at a desk, typing, working my way up the corporate ladder when I decided this industry, their values, beliefs and practices no longer fit my life and the life I wanted to live. During my time there, a girlfriend of mine asked me to join a last-minute Aerial Yoga class with her and I said yes, unsure of what I agreed to but always excited to try something new!
The first class I attended, my child-like nature came out, I was giggling, smiling ear to ear and feeling fantastic when I left. I was suffering from an acute rib subluxation which would cause me discomfort daily, during my second class, this discomfort was corrected as my rib popped back in place and felt the alignment of my spine being healed! I was hooked and fell in love. Something that was helping to heal my body, helping with my mood, helping bring that playful fun back into life.
I loved every part of it! So, I continued my practice unaware of what lay ahead. As mentioned above I was unhappy in my current job title and decided to quit. I was unsure what the next steps of my life would be, so I spent time in meditation connecting with my internal thoughts and feelings. During meditation one day this little voice says, why not be an aerial yoga teacher!?
I was nervous, scared, and unsure of where to start. So I wrote down all my fears, all the reasons I thought I wouldn't be able to do this. All of the rubbish and once written out, nothing that was actually true. I had a background in teaching, personal fitness, counselling, owning my own business prior and tons of customer service experience I figured why not follow my dreams of sharing this incredible healing practice with others. I had practiced traditional mat yoga for years prior but never gave me the same excitement that aerial yoga provided me with! I fell in love with this beautiful practice.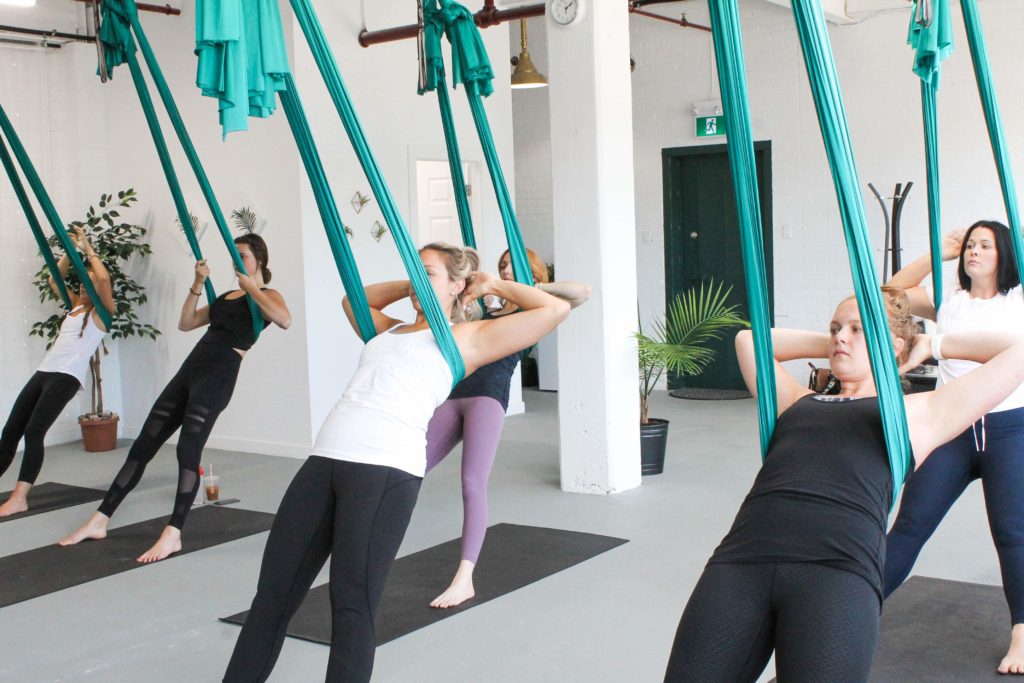 How has yoga helped you (physically and mentally)? What is your favourite aspect of the practice?
Aerial yoga has helped my physically by healing my body, building greater core strength, spinal alignment (I have grown ½ an inch since starting), my immune system is stronger than ever, helped heal my acute carpal tunnel from typing for so many years, it has made me stronger than I have ever been in my life! Mentally, Aerial Yoga helps my mood daily. I always say "it flips my frown upside down" and this is so true. It has helped my confidence in trying and succeeding at new poses and creative endeavours. It has helped with anxious thoughts, mood shifts, calming my mind through meditation and relaxation.
My favourite aspect of Aerial Yoga is the ability to perform inversions safely and playfully. Almost all classes include inversions, taking in all the benefits from having your head beneath your heart. I love inversions as this is where so many incredible benefits come from. Being upside down is known to improve your overall posture and spinal alignment, improve circulation, strengthen your immune system, aid in digestion health, regulate mood and blood pressure, reduce stress and anxiety, improve muscle tone, enhance the mind to body connection and the list goes on! So many amazing transformational benefits all in one simple position!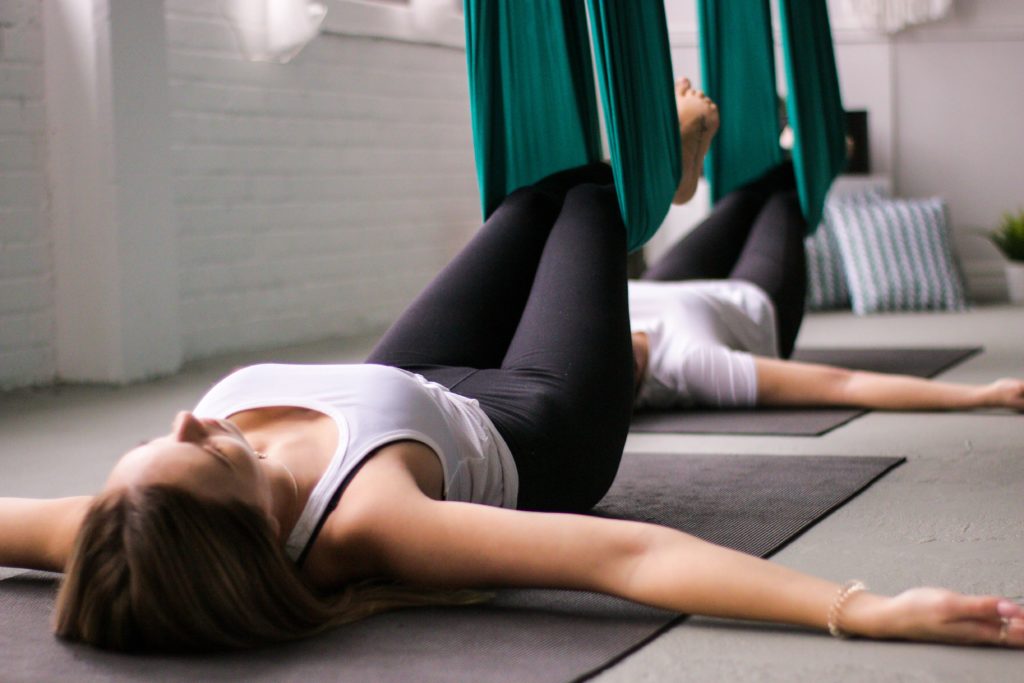 What inspired you to open your own studio? Did you receive any advice/guidance from other health and fitness entrepreneurs prior to opening Yoga Jungle?
I was inspired to open Yoga Jungle as I truly wish for more people to have access to healing their own bodies through this practice. I wished to share this experience to bring greater awareness to the impact you can have on your overall health and wellbeing. I spoke with fitness, health, financial, branding specialist all prior to starting Yoga Jungle. I wanted to know how to be successful, relevant, and how to make the most out of this experience. I even attended a wide variety of fitness-based classes to make a note of the things I enjoyed and the things I would rather leave out of my studio.
I was connected with Futureprenerur a Toronto based company helping entrepreneurs with their business ideas! They helped me prepare and present a business plan, they financially assisted me, and provided me with an amazing mentorship which I have had the pleasure of chatting with my mentor every month for the last two years, I adore her and the relationship we have created, her feedback is so valuable.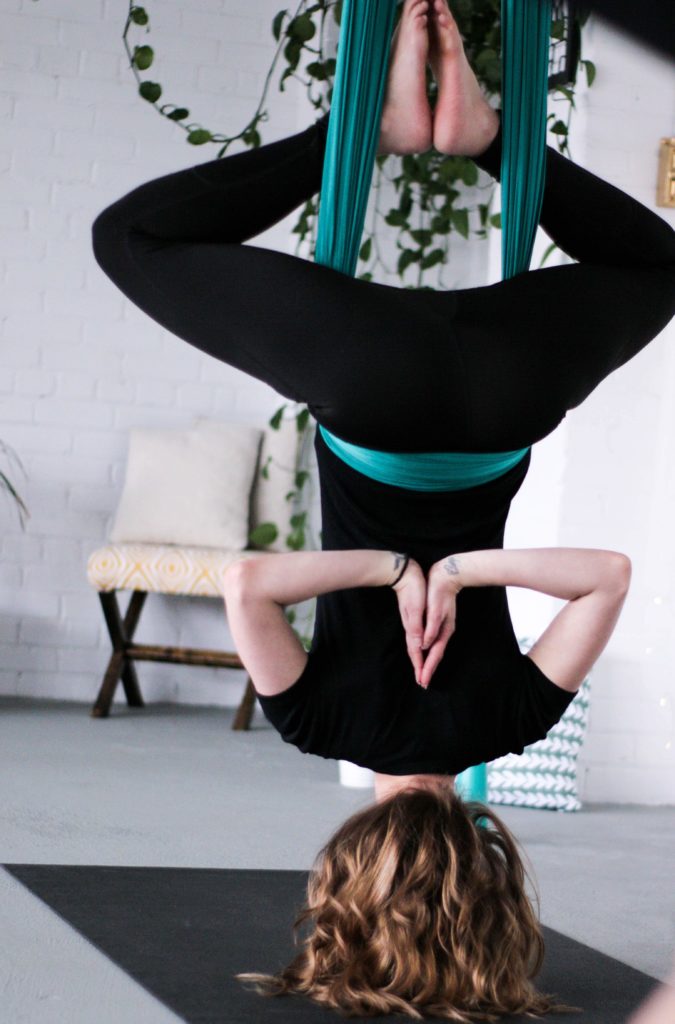 What is one piece of advice that you would offer to individuals who are looking to become entrepreneurs in the world of health and fitness?
Focus on your niche. Not everyone will take to what you have to offer but focus on the ones you can help. Focus on the people you wish to connect with. Focus on growing and evolving in this area as the rest will come. There is lots of business to go around for all, make yourself stand out and focus on what you are good at and what feels good to create. It shows in the work you do.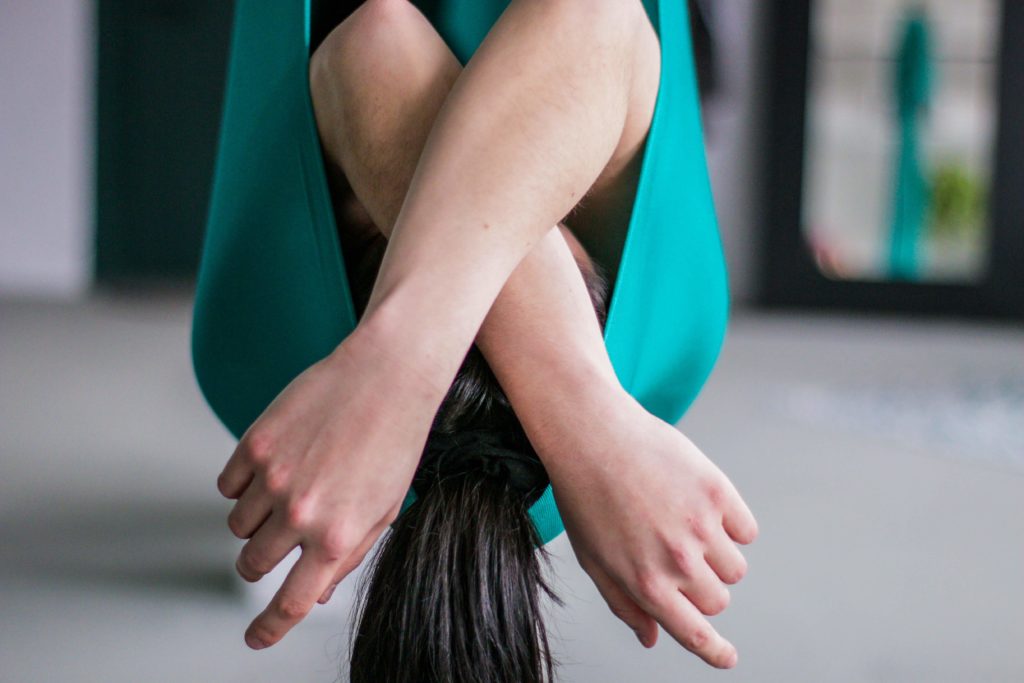 What inspired you to open an Aerial yoga studio opposed to a more traditional style practice?
I fell in love with Aerial Yoga. I practised traditional mat yoga for years but never found the same joy as I did when I tried Aerial. I chose to keep it strictly Aerial Yoga as I believe in good business practice and that there is a piece of the pie for everyone. There are multiple yoga studios within my area that offer traditional mat yoga and I believe in a community that thrives and supports each other. I wanted to bring something unique, fun and new to the community!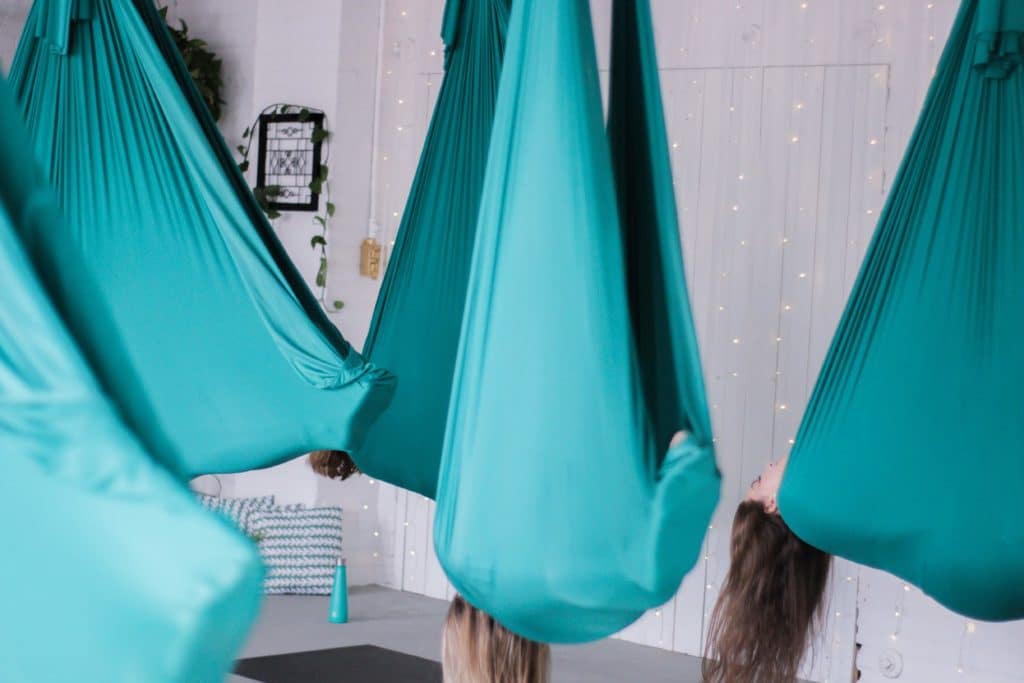 What parts of your job do you find most challenging? What do you find most enjoyable?
The most challenging part of my job is tying and untying the hammocks on laundry day. The knots are tight, the laundry is endless and it requires a whole new skill to fold 9 yards of fabric! Also, writing, my creative nature was never on paper. Always in practice, doing and scribble notes! The most enjoyable part of my job is watching others grow, connecting personally with so many incredible people and being part of someone's journey! Hearing their stories on how their life has been impacted and how the studio and I have been part of the betterment of their life. This warms my heart so much!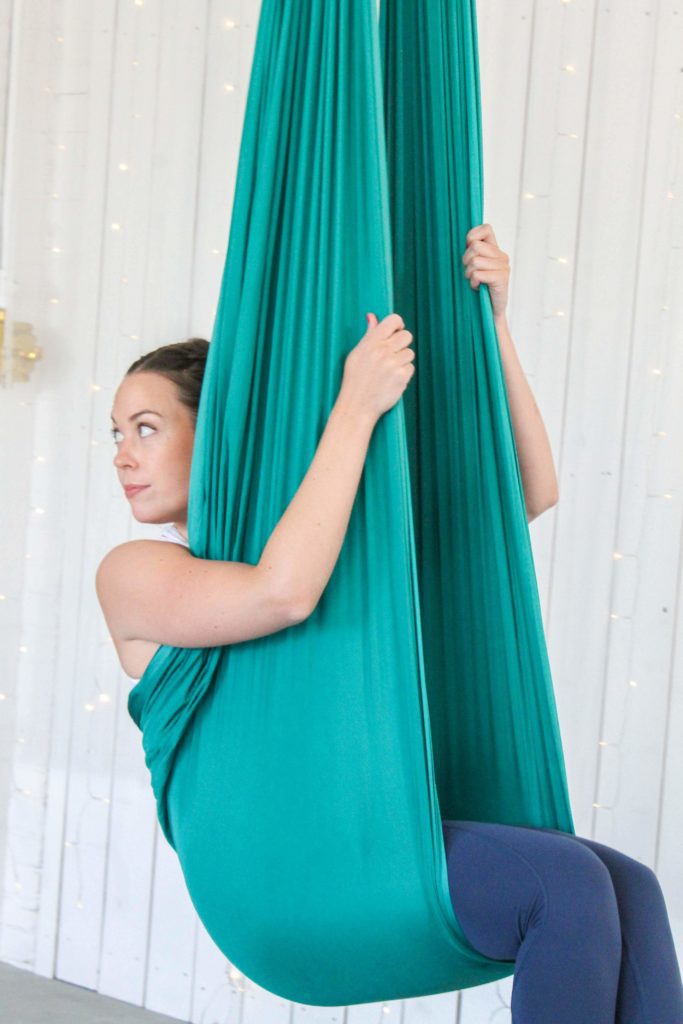 Riley's Final Thoughts
For anyone who loves yoga, or has a passion for living a healthy lifestyle, Yoga Jungle is a good place to let go and "hang" out. Jenna is a driven and passionate individual, who shares her passion and beliefs every day while practising what she loves most, yoga. Jenna not only provides the people of Bowmanville with a new way of "hanging out", but she puts a healthy lifestyle in a whole new perspective.
---
Riley Keenan
Interview by Anthony Clark
Posted February 14, 2020 in Industry Profiles