Ryan LoScalzo, Manager, Venue Services at Washington Nationals, is responsible for managing behind the scenes work that goes on at National Park events. From programming, testing, and preparing all ticketed access points to incident tracking to lost and found management, Ryan's role plays a major part in the overall fan experience for Nationals fans. In addition, Ryan LoScalzo works closely with Washington D.C. agencies to make sure that they are informed of any upcoming events coming to the ballpark, and any relevant information that they may require. Join me as Ryan LoScalzo talks more about his day-to-day, the point he realized a career in sport was for him, and winning the 2019 MLB World Series!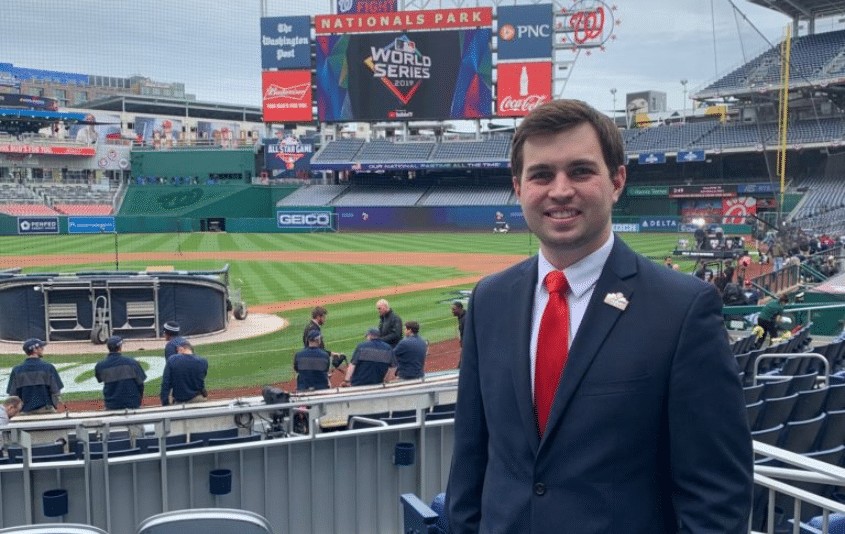 Please note: The interview with Ryan LoScalzo was conducted via a typed conversation. Editing changes were made to make it easier to read while maintaining the voice of the interview.
Tell us about your role as Manager, Venue Services at Washington Nationals.
My role, as Manager, Venue Services, is one that incorporates many behind the scenes components needed to execute an event at Nationals Park. Coordinating these components allows me to work very closely with not only other internal departments of the Nationals organization but also with departments located outside of the organization. These include those associated with the city, whose cooperation is needed in order to ensure events are successfully carried out.
In this position, I am responsible for the programming, testing, and preparation of all ticketed access points throughout Nationals Park for both game day and non-gameday events. These access points include all turnstiles, ticket scanners, club access points, and parking garage/lot point of sale devices. Along with this, I manage our software and hardware used for incident tracking, lost and found our facility work order system, and our fan texting system. All are utilized in our Command Center during events and non-event days at Nationals Park.
This position also involves working closely with certain Washington, D.C. agencies to make sure that they are informed of any events that are occurring at the ballpark. I give them the proper event information that is required to make decisions regarding certain city transportation elements on specific days. These include any road closures and/or any no parking restrictions that would be put into place around the ballpark on both gameday and non-gameday events.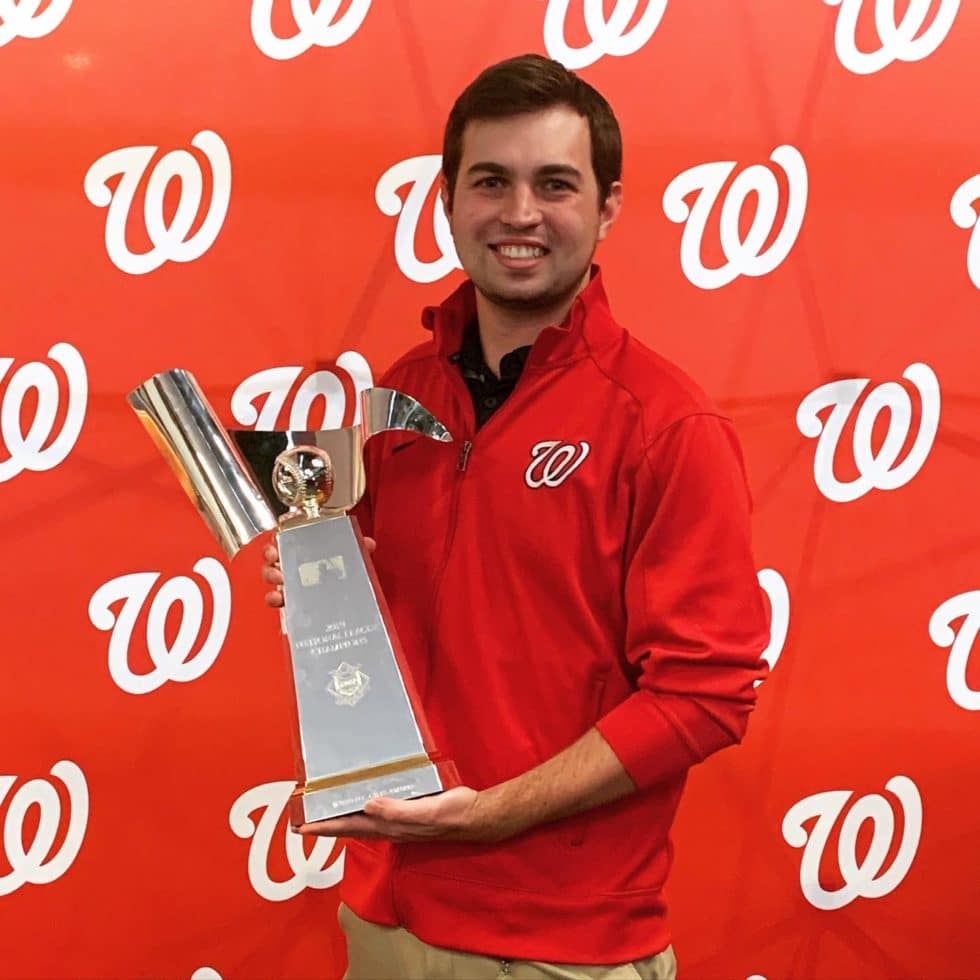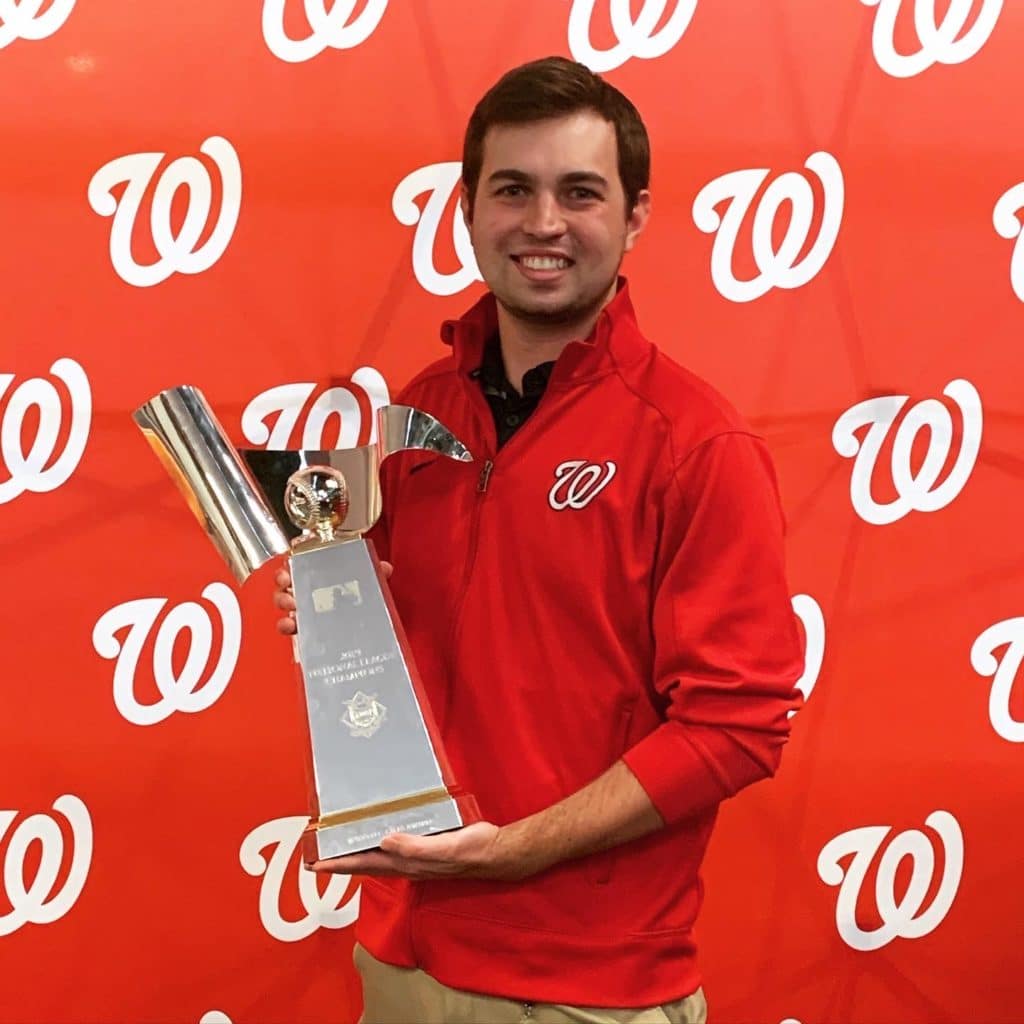 What does a typical day look like for you?
This position is one that really does not have a typical workday. Tasks vary on a gameday, event day and a non-gameday. A majority of my work comes with the preparation before game day and events. On the non-event and game days, work is done to ensure that the proper data has been loaded into our software systems for upcoming events. This would include the "building" of events within our ticketing system, access control system, parking system, and our incident management system. A majority of these systems work alongside each other and if one is missed, or not set up properly, then it is possible that others could not function as they should. Along with setting up these systems, the proper city officials are notified of upcoming events so that they can plan and implement certain transportation needs (no parking signs posted, street closures planned, and local business owners notified of the event and event details).
On a typical event day, all of this preparation is utilized. Turnstiles and the parking point of sale system are prepared for that day's event. After that day's event's ticket barcode data is loaded to each turnstile and parking point of sale system is set for pricing and that day's event, every turnstile, club access point, and the parking point of sale device is turned on and tested for functionality. Once the testing is completed, our command center is then checked to make sure that all dispatchers are able to access the incident management system without any issue.
By the time that those checks are completed, our parking lots and garages are usually open to the public with road closures having gone into effect. Once those closures occur, the crowd is usually lined up at our gates ready to enter the ballpark. When gates are opened, my job becomes more of a reactive position. I will deal with any hardware or software issues that arise with any of our ticketed access points, as well as with the parking garages/lots. When most of the crowd has entered the ballpark, and the crowds have decreased in the parking lots and at the gates and turnstiles, I can grab a bite to eat, get some sleep, and come back the next morning to do it all over again.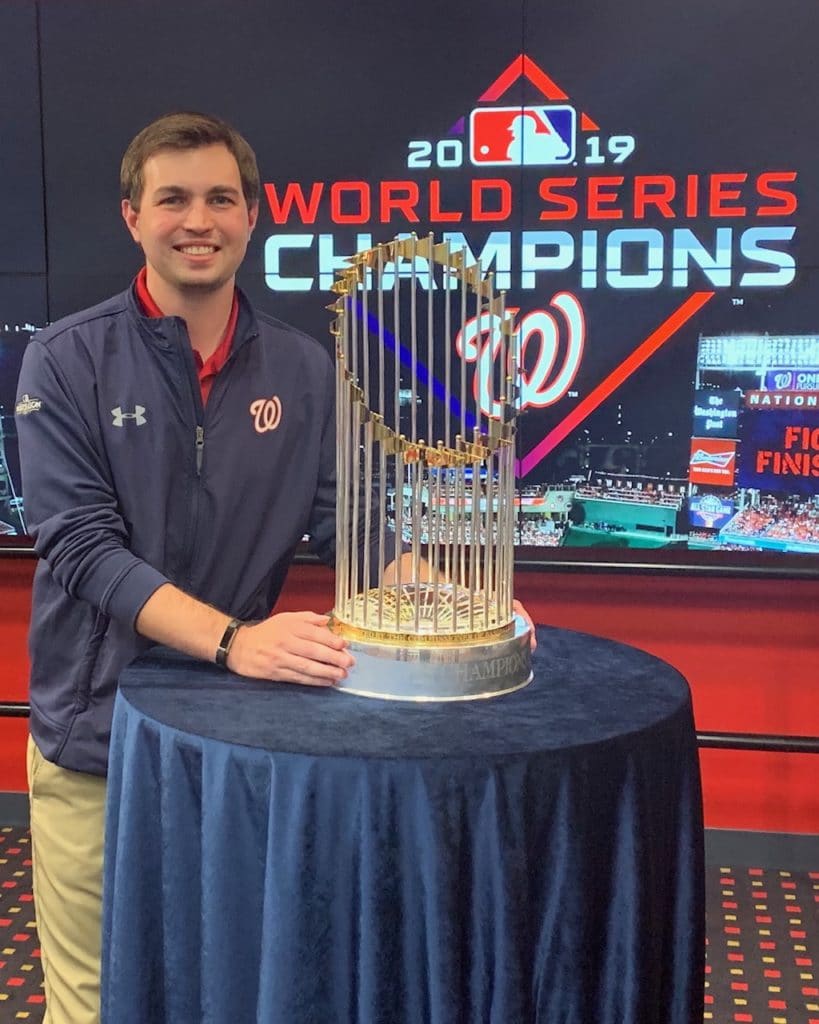 You've been working for the Nats for almost 6 years. Take us through the playoff run and eventual Word Series victory. As much as you can tell us about it from your perspective and how it's been such a rewarding feeling would be amazing.
This season was one that has been planned for quite a while, thus in preparation for an eventual World Series Victory. However, even though as much planning as possible took place, there are always curve balls that occur. Being able to not only execute a "possible" game plan that has been spoken about for a number of years, as well as deal with those unforeseen situations was a great, rewarding experience. An important aspect of making sure all this occurs is having good relationships with not only our vendors but also our internal departments.
Good communication amongst all was imperative because one minute a plan could be in effect, but the next we could have to put the breaks on it due to the play on the field or a swing of a score.
I have a sense of accomplishment knowing I contributed a great fan experience, helping them create memories at Nationals Park throughout this World Series victory.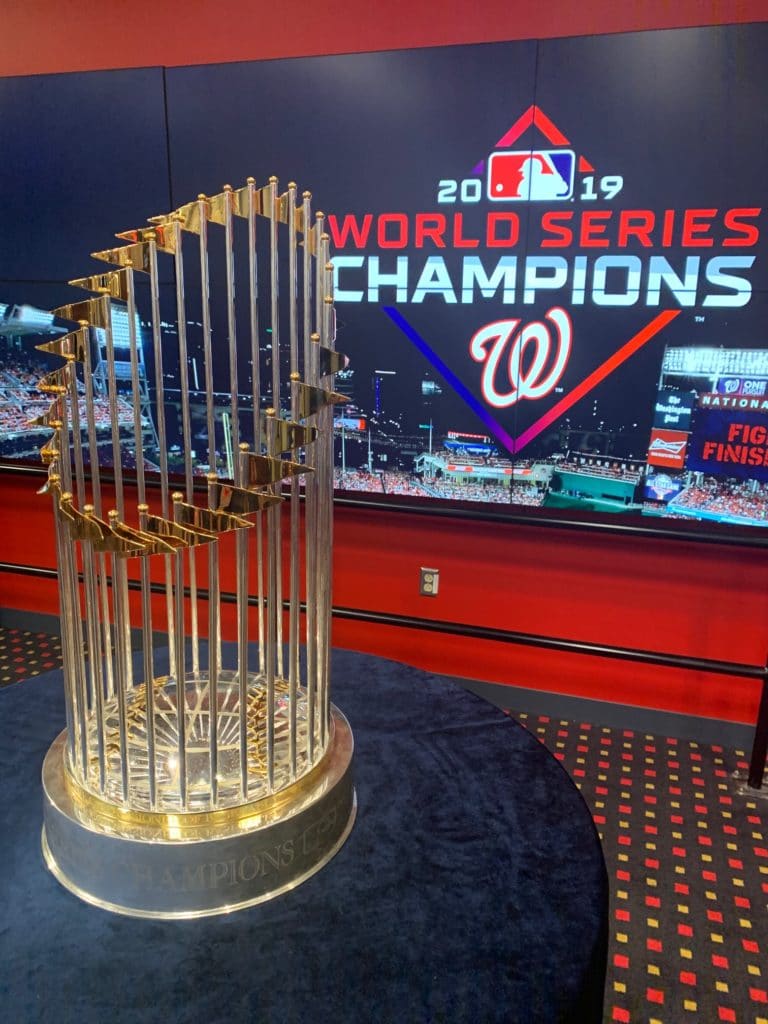 When was the point you realized that you were meant to do this career?
I would not say that there was a certain time in my life that I could pinpoint as the one that led me to this career, but my life is one that has always been involved with sports. I have always enjoyed playing sports, watching them on television and listening to them on the radio. Not only do I have memories of little league, and participating in my high school's athletics program and playing intramural sports in college, but I also remember rooting on my hometown teams with friends and family. My liking of sports, on all levels, led me to want to somehow be a part of the sports world. One of my first jobs was at an ice cream shop called Last Licks and a sports memorabilia store.
I then had Internships with the Charleston Riverdogs, and then the Yankee Entertainment and Sports (YES) Network. All of these experiences allowed me to not only interact with the sports world in different capacities, but they also allowed me to learn about possible career paths in the sports industry. Though I am not on the field competing, I am still rooting on the team and having the same sense of accomplishment whether they win or lose.
I noticed you transitioned into venue services after being in ticketing for about two years. Would you say your path to your current position was quite easy or rather challenging?
After being in ticketing for a couple of years, and then transitioning to the ballpark operations department, I would say there was one difference that I needed to adjust to. Being in the ticket sales and service world, I learned that I was the individual that someone, not from our organization, would call to have an issue solved for him/her.
Now, being in the ballpark operations department, I needed to learn that I could be the individual to reach out to a vendor to have them help me solve an issue that I was experiencing with their product.
The final solution to an issue might not lie within the Nationals organization, but with another company. Working within the ballpark operations department, we work with outside vendors on a daily basis. However, in the ticket sales and services position, I mostly worked with our internal department to solve issues and come to solutions. Once I became comfortable and understanding of this, I was able to make the switch easily.
Both positions require the ability to when in certain situations, think of solutions quickly, interact with our fans and guests at the ballpark, and when needed negotiate with a company and/or customer. With these similarities, I would say that my experiences in the ticketing department were ones that I was able to take and expand upon with the venue services position that I now have. This made my transition from ticketing to ballpark operations quite easy.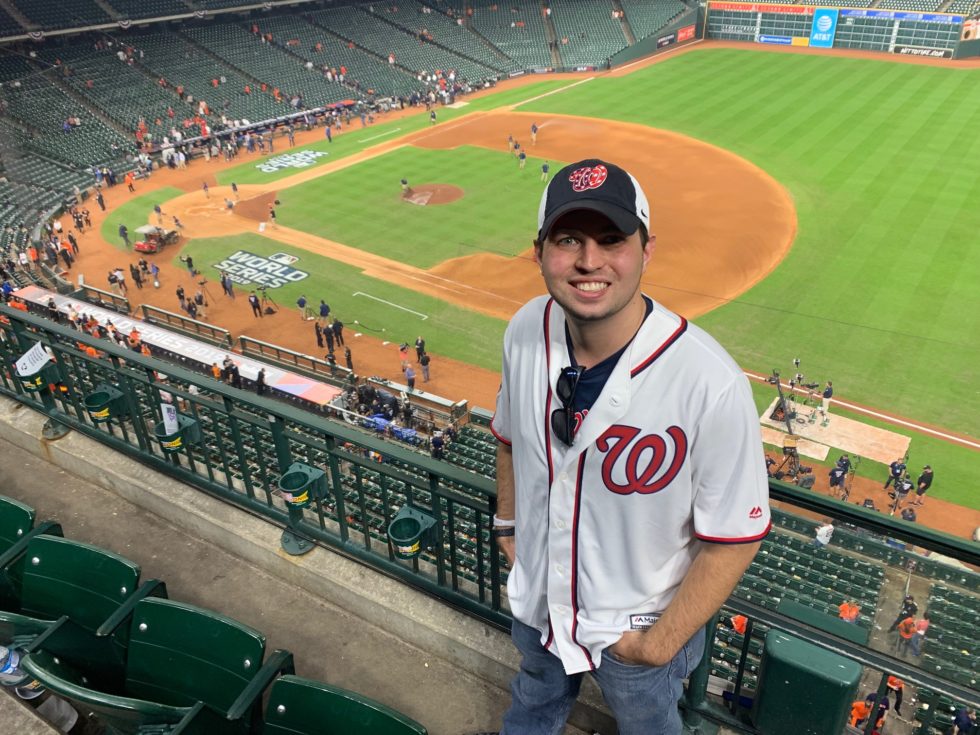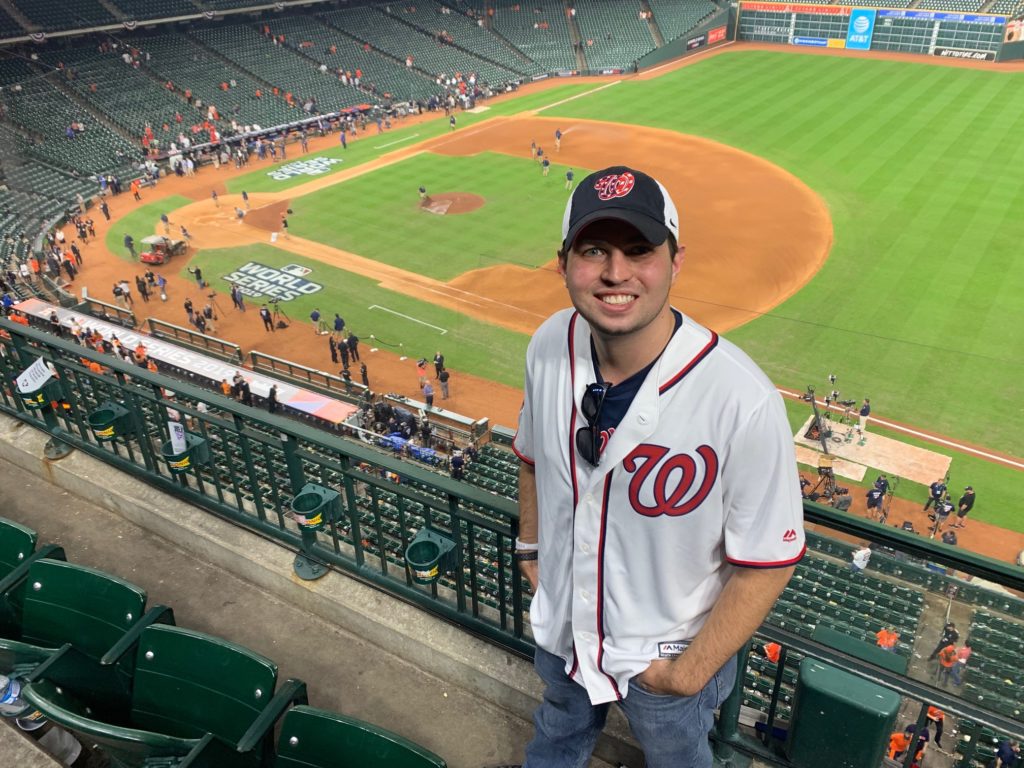 What are three essential skills someone needs to succeed in the sport industry?
1

Networking Skills

Be open to connecting with individuals that are in the field of work that you are interested in. You never know what connection will help you get to the next part of your career.
2

Communication Skills

Within the sports industry, just like other industries, it is very important to have open communication with not only departments within your organization, but also other vendors and individuals that you work with outside of your organization. Do not be afraid to ask for information! If you need the information to complete a task that is assigned to you, ask individuals that might have that answer for you. If they do not have the answers, then see if they have any suggestions as to who might. Information is key.

Not having information that is needed to complete a task, could result in one not being able to do so. Conversely, if you have information, it does not mean that everyone else knows that same information. Share it with the individuals who you believe might need it. You could help them complete a given task.
3

Problem Solving Skills

You can try to plan for all situations that could possibly occur, but unfortunately, some items will get missed and/or some situations arise that were not planned for. One needs to have the ability to understand a given situation and quickly be able to solve any issues that arise to the best of their ability. If you do not have the answer or solution to a given problem, do not let it just keep persisting; reach out to a co-worker or vendor and ask for assistance!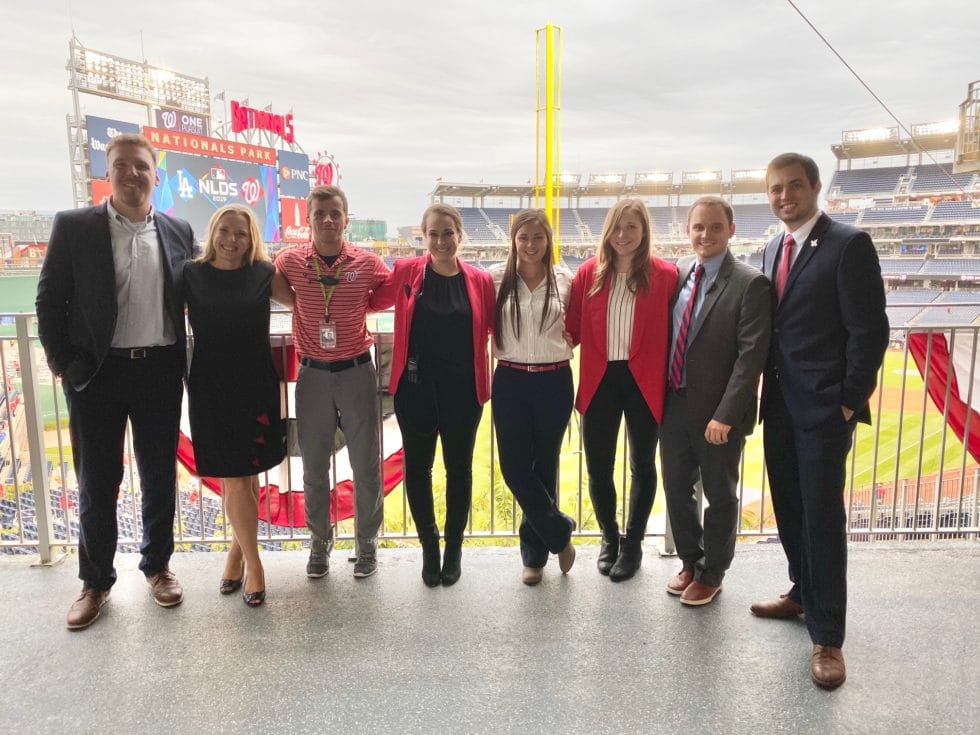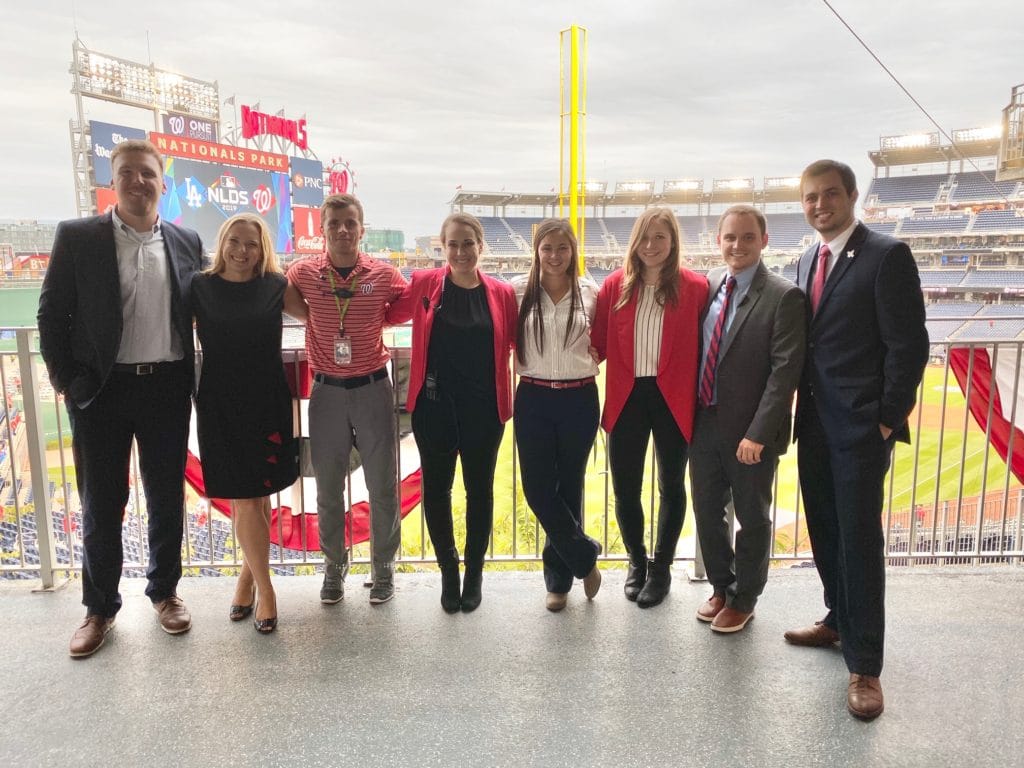 What would you include on a list of your top three biggest accomplishments (or moments) working in sport?
1

2019 WORLD SERIES CHAMPIONS!
2

2018 Major League Baseball All-Star Events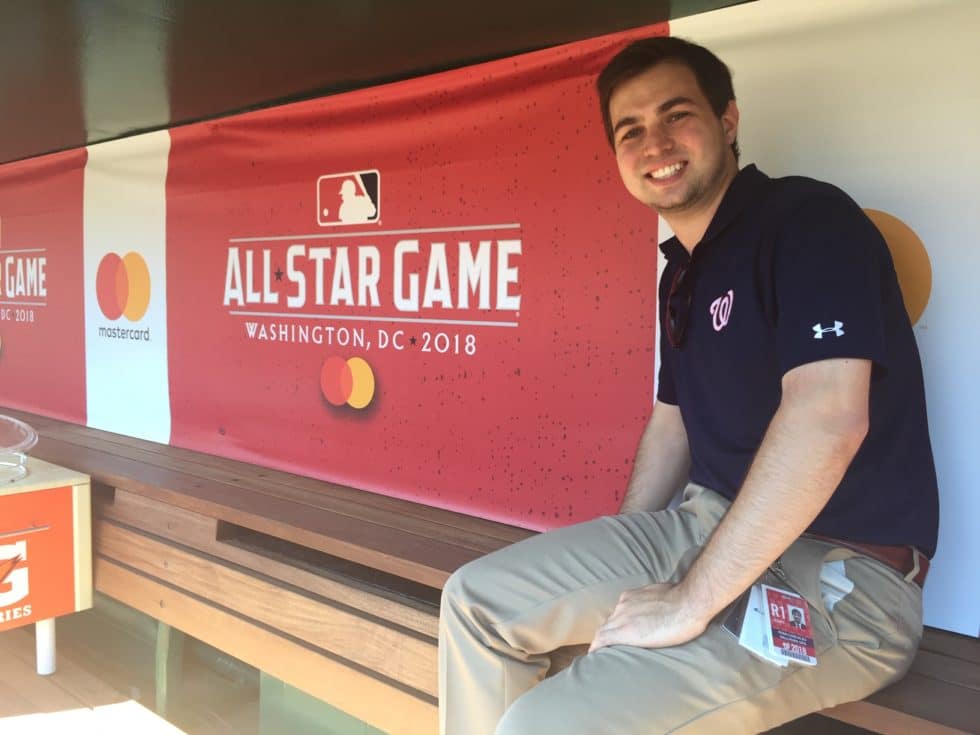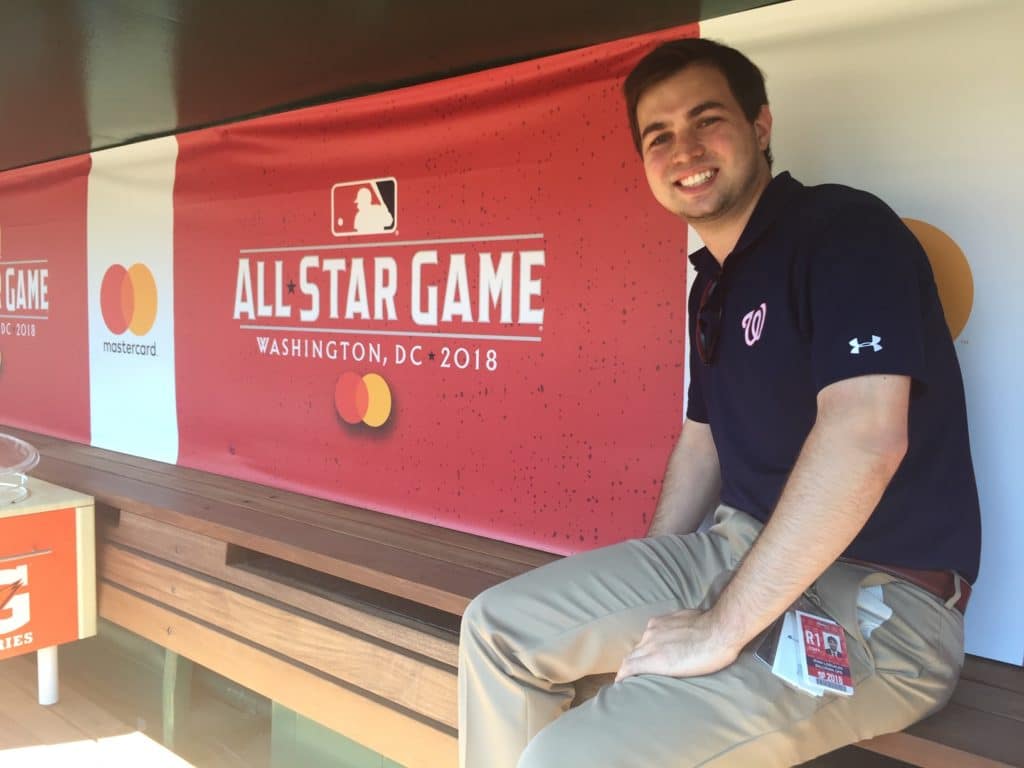 3

MLB Opening Day 2014 At Nationals Park = The First MLB Game I Worked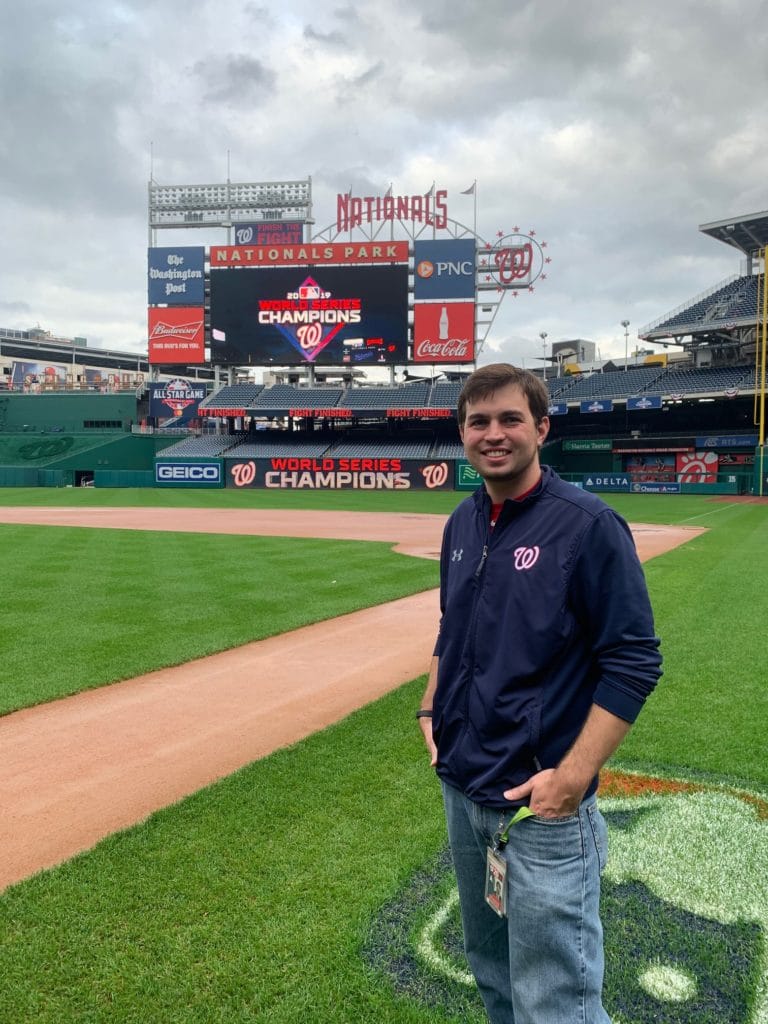 If you could have a superpower to help you in your career, what would it be and why would you choose to have it?
If I could have a superpower to help me in my career, I would say that the ability to see into the future would be the best one to have. This superpower could allow me to foresee any issues that would arise on a given day, which would allow me to have a game plan to troubleshoot them or edit a current game plan to prevent those issues from happening in the first place. As stated earlier, there also many "what-if" scenarios. If I knew which of those scenarios were going to occur, then I could plan for only those and focus my work and planning on scenarios and events that are going to happen for sure, rather then ones that might happen.
What advice would you give to prospective sport professionals looking to work in sport at a similar level to yourself but just starting off in their career?
One piece of advice that I would give a prospective sport professional looking to start their career in sports would be to network and connect with as many individuals that you can that are involved with the sports world. Get your name out there! Connections that you make with other sports professionals and individuals is something that I would recommend to someone looking to start off in sports, as well as anyone that is currently a sport professional.
You never know what, or who will help you get to that next step in your career. Even though it might seem that the sports world is a large one, it is actually a small one. I have made numerous connections during the years I have worked in the sports industry, with not only individuals that work in the MLB, but also other leagues and arenas. These connections are ones that have helped me learn more about this profession and professionally grow. Do not be afraid to get your name and experiences out there!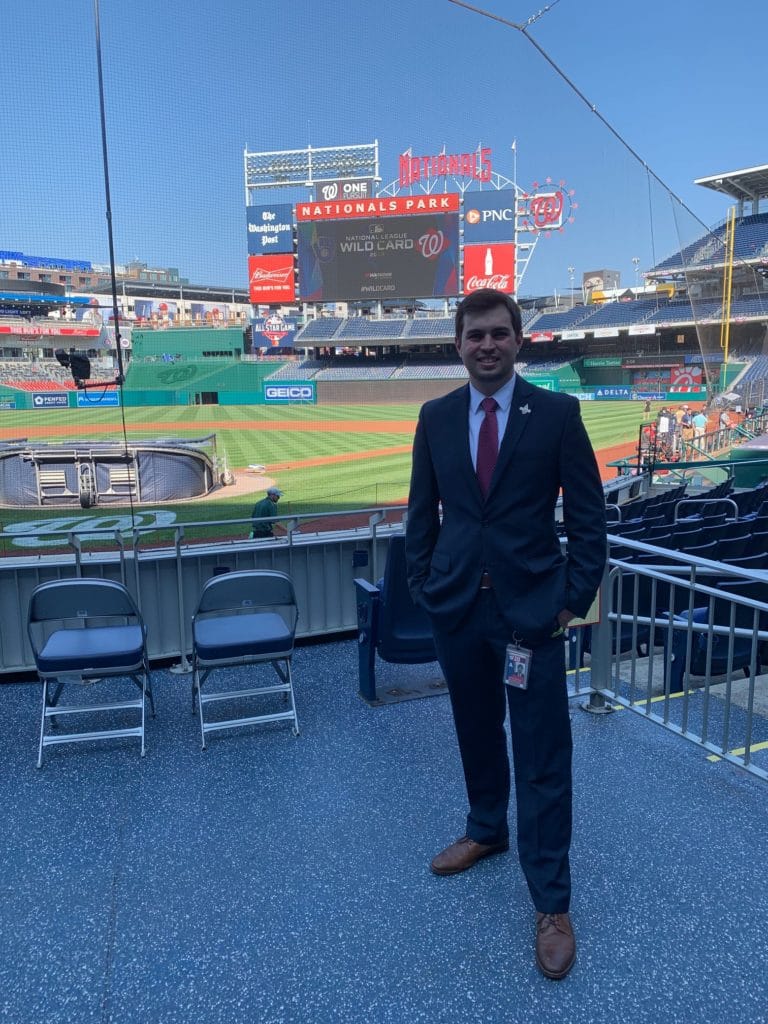 Mat's Final Thoughts
Much like his colleague Kevin Kelley, Ryan LoScalzo was candid, honest, and open about his career in sport with us. But Ryan's journey of working in sports is slightly different. And that's what's so unique about working in sport! You can carve your own path, as Ryan did. Ryan went to school for Organization and Management Studies and began interning with the Charleston RiverDogs, a minor league baseball team based in South Carolina. Then he interned with the Yankee Entertainment and Sports (YES) Network within their communications department. It was through these internship experiences that Ryan began to hone in on a lifelong career in sport. One thing led to another and he began working with the Washington Nationals in their ticketing department in 2014. Almost six years later, Ryan is the Manager of Venue Services for this championship-winning organization. ? In this feature, Ryan was incredibly inspiring and his wisdom on essential skills required to work in sport is something I feel almost all sport professionals can attest to. Coming from an individual like Ryan LoScalzo after winning the league's most coveted prize, the 2019 World Series title, makes his story all the more meaningful.
---
Ryan LoScalzo
Interview by Mat Israelson
Posted November 21, 2019 in Industry Profiles