There's been a lot of buzz in sports media lately about the Women's National Basketball Association (WNBA) possibly coming to Toronto, Canada. The buzz is worthy. That's because Daniel Escott and Max Abrahams say they'll be delivering a bid to bring a team to Toronto to WNBA head offices very soon. Their plan is to put their bid forward soon so the team can open up in the 2020 season. The Huntington Post, CityTV, CP24, Sportsnet, and The GIST News have provided readers and followers great coverage on the upcoming bid. For the most part, their focus is related to women's sport. Indeed, there are answers about the business plan for Daniel and Max. But we dive a little deeper into the sport business management side of having a WNBA team in Toronto.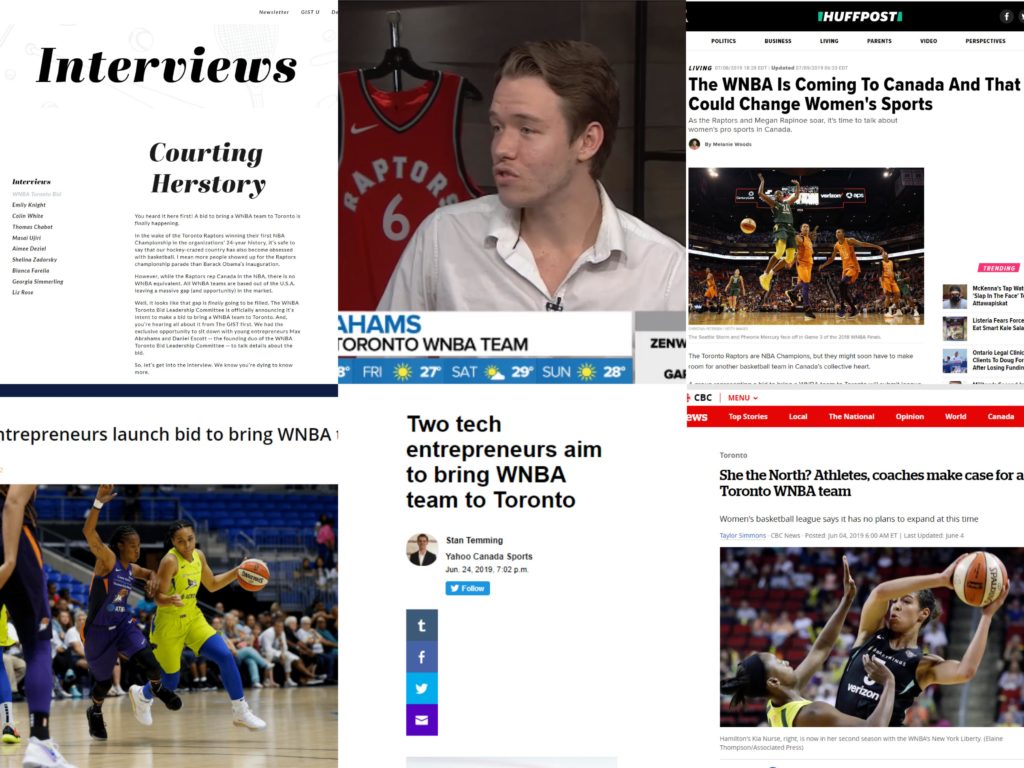 Tell us about your business model for a WNBA team in Toronto.
We're not approaching this as if it's a sports team. It's a business. When the Raptors came up, their focus was on television distribution and ticket sales. Other aspects of revenue tended to be an afterthought, at least initially.
We understand that this is the 21st century. With that comes a radical change in pretty much every industry. Sports largely seem to be behind that curve when it comes to engaging people digitally and bringing the game to them.
And that's what we centered our entire business model on. To the point that we are not focusing at all on ticket sales. The tickets will sell and we understand that. We have a system in place to do that, but it is nowhere near our focus. Whereas 55% – 60% of NBA franchises rely on ticket sales for their revenue, we are only going to be doing about 20 to 25% from ticket sales, maximum. Instead, our focus is on corporate partnerships and brand activations outside the game. So we are incorporating from the very beginning new and emerging technologies, ways of bringing our team, our franchise and our brand to Canadians from coast to coast to coast. Toronto is a city of just over 2 million people.
But Canada is a country of 40 million people. So all in all, we would much rather have a fan base of 40 million people rather than two.
We're projecting that corporate partnerships are going to be our number one revenue generating mechanism. Basically tied after that is going to be a combination of ticket sales and what we're calling the other category. The other category includes merchandise sales.

We want to bridge the gap even further and increase the amount that we can give players outside of their contracts players to leverage their influence with Canadians. So we're almost an influencer company that happens to have influencers that play basketball.
Typically, the biggest expense is venue rent, but we've actually found a way to mitigate that. We have incredible partners in the City of Toronto. So we're not going to be spending anywhere as much as we thought on the venue thoughts. Probably the number one expense is going to be player salaries. Beyond that overhead and general operating costs. Then, the venue will cost us about half a million per year, maximum. We'll be spending about that on marketing too.
"Overall, we don't expect to surpass $3 million in expenses."
Could you tell us some of the venues you've looked at for hosting games?
We've spoken with pretty much every venue in the Greater Toronto Area (GTA), with the exception of Scotiabank Arena. Scotiabank Arena is just way too big for us. We don't want a venue that will be half to three quarters empty every home game. We'd rather go for a smaller venue that we're confident we can pack. But the number one thing for us has always been to make sure that as many people as possible can access our games.
"We don't want people to have to go too far, or too far removed from transit. 40 minutes away to watch our team play may be too far for them. We want to make sure that anyone and their dog can go."
It's our goal to ensure that young families, students, youth, and passionate fans all have equal opportunity to watch this team play. Our team will definitely play in the Greater Toronto Area (GTA).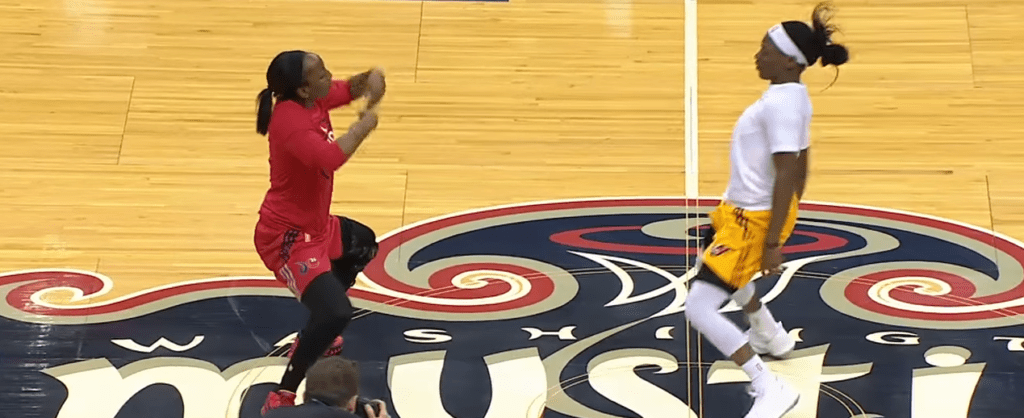 Are there business models current WNBA teams are using that you may emulate?
The two that we've been looking at the most are the Dallas Wings and Los Angeles Sparks, They're recognized that the need to find new ways to reach fans and develop and evolve their business models.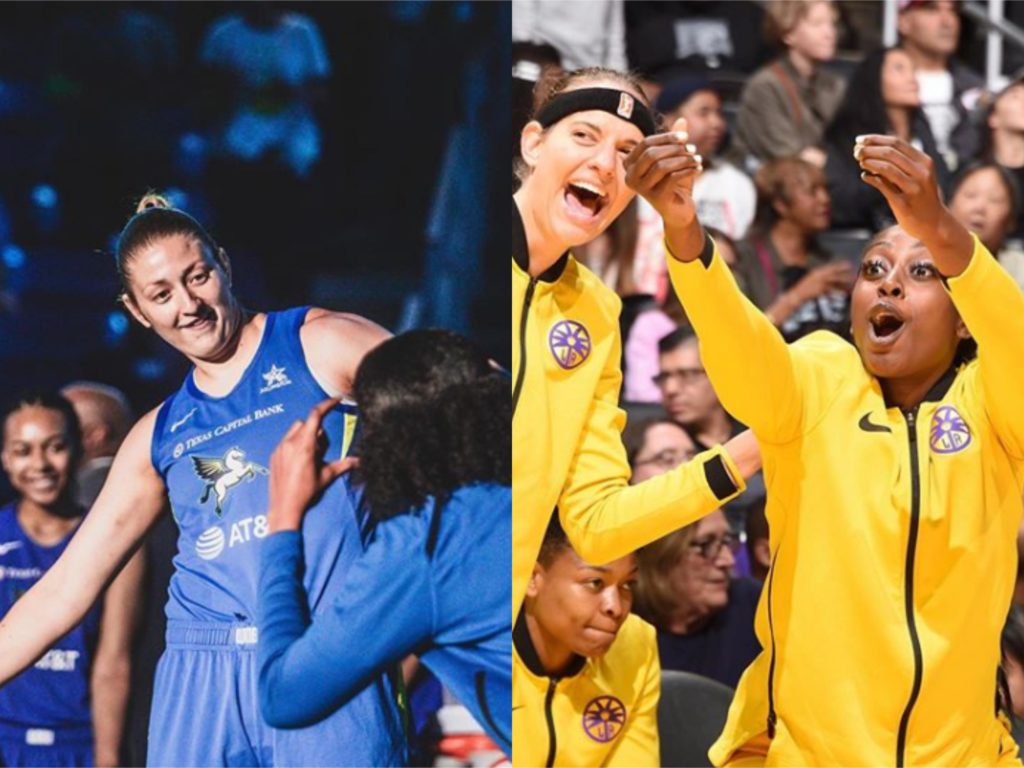 The older an organization is more resistant to change they are. So, they're slow to integrate new technologies and they're very risk-averse when they do. We don't have that aversion. In fact, that's something we're embracing. The Wings and the Sparks are seeing the upside to new ways of approaching things. And we just want to take that a step further and fill it into a plan from the ground up.
We've seen the tremendous support you've received by fans and some media outlets for the big. Tell us about the feedback you've received from the WNBA, NBA and MLSE.
We are very different from other "attempts" to bring the WNBA to Toronto. It's been tried before and we get that. We feel as though they are more of a marketing gimmick to get women interested in the Raptors. If not that, then they were willing to take it as a loss because they're treating as a cause or a charity. We are not. Like we said, we are coming in with a completely different approach. This is a business. There's a way to make money at this if you're smart about it. If you give it the right approach, it'll succeed. We're confident that we have the right approach and the feedback we've been getting from stakeholders from every corner of the country and frankly from the league points that we are on the right track!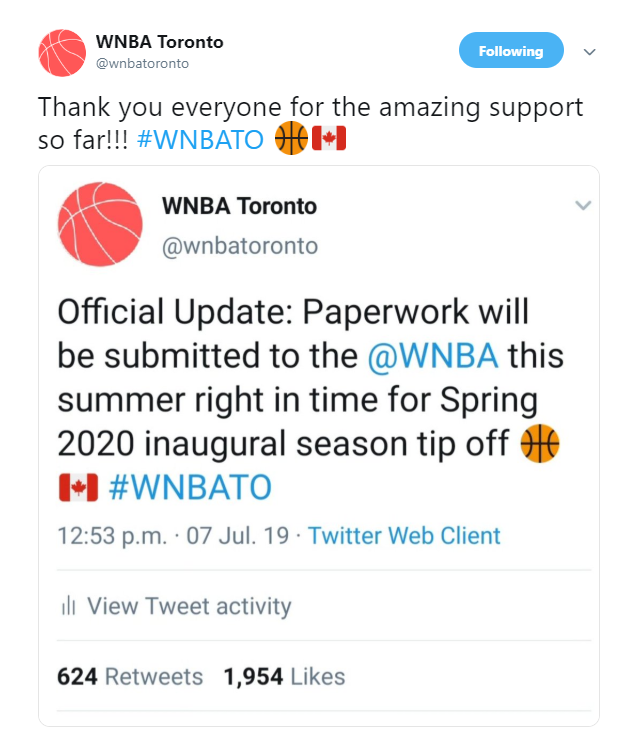 MLSE is not publicly connected to this project. But behind the scenes, they've shown us a lot of love, support and guidance. When it comes to the PA and WNBA, ownership groups are really excited about expansion. Especially in Toronto where the Raptors just won the NBA Championship. People were able to see the excitement and energy the city brought forward. The Raptors playoff run caught the attention of all the right people.
And one thing to note is we were actually developing this bid before the Raptors were in the conference finals. It's been in development for months. We started in April, and then we saw the Raptors really take over the NBA. Everything was coming together and when the Raptors playoff run progressed, we felt like it was the right time to let the world know about our plans.
We can almost pinpoint when the Raptors won the Eastern Conference Championship as our inflection point. People were getting back to us, the country was full of excitement and so many were trying to really get in on the action any way they could. So by the time the Raptors won the NBA Finals, we were nearly done with laying the foundation for this bid. The Toronto Raptors winning the NBA title truly poured gas on the fire.
Have you experienced any negative feedback about your bid for a WNBA team in Toronto?
There are obviously questions people ask us about like the market viability, business model and fan engagement strategies. But when it's explained, it becomes clearer and clearer that the WNBA in Toronto needs to happen.
Even the critics on the business model, agree unanimously that Toronto is a great market and this is the right time to do it.
The more we give people an understanding of what we're doing, how far along we are and who's involved, the more receptive they become. So the more people learn about the bid and what is behind the curtain, the more supportive and passionate they get. Which really excites us!
The CWHL questions… you've been asked countless times. Quickly tell us why a WNBA team will work in Toronto, Canada.
Canada's always treated a women's sport a little more positively than the United States where we've all done a little more open and accepting and I think the market has responded in kind. So I really just think this is the logical evolution. I don't know if Canada, at this point in time for the market could sustain a whole league, but I think having a single team to rally behind and kind of prove out the business model is a logical first step. And if it works out over five years or so, maybe you might see other women's teams start popping up.
READ MORE: Why the CWHL folded
Do you have any ideas for team names and how you will go about the process?
Our plan to figure out the name of our WNBA Toronto team is to take it a national poll. Similar to how the Toronto Raptors did it when it was first announced they'd be bringing an NBA team. The difference for our bid is that we'll open up the poll to all Canadians, not just Torontonians.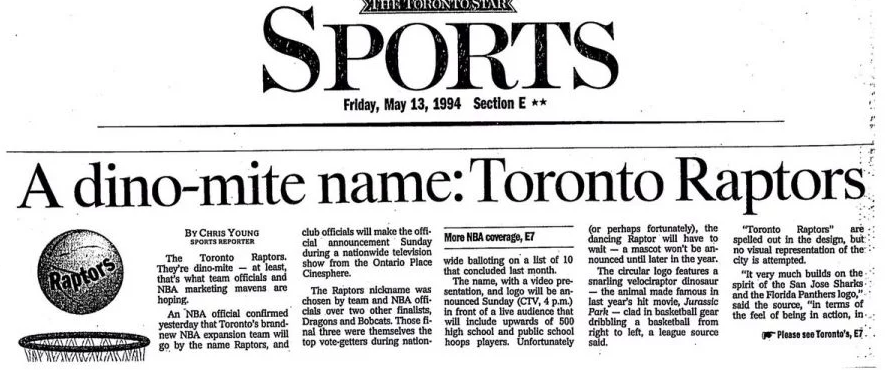 We want to take the game and the team to Canadians! Our goal is to have all Canadians invested in this team from the very beginning and at the ground floor.

What better way to do that than to be able to say, you helped name this team. It'll be a lot of fun and we look forward to it.
Will there be opportunities to volunteer, intern and work for your franchise?
We've actually been in talks with Brock University, George Brown and Ryerson, and all have different sports specific programs. We'll be looking to build partnerships with those schools. We might even extend to Canada wide and look for schools outside of Ontario. We'd like to create a funnel where we can help students start their sport career. At this time, we already have so many different resumes on file right now. So really the next step is just vetting and seeing what these individuals bring to the table. It's not all about educational background. We're also going to look at certain skillsets.
It would just come down to their skill set and what they think they could apply those skills to. If one really amazing young woman who's in her third year and comes to us saying, "Hey, I can kick butt and get you guys the best sponsorship opportunities," we wouldn't hesitate to let her give it a try.
In the business of sport, it really comes down to the execution and the numbers or nothing happens.
Age and life experience does not necessarily equal your potential. We were students only a couple years ago and yet here we are. A second-year university student could be just as valuable as someone with 20 years in the industry depending on what they could bring to the table. It comes down to maximizing value. If a 22-year-old can provide as much value as a 50-year old, we will pick the candidate that provides the best value to our team regardless of age. We are not only trying to make the best investments financially from a business standpoint but also in the people we bring along with us.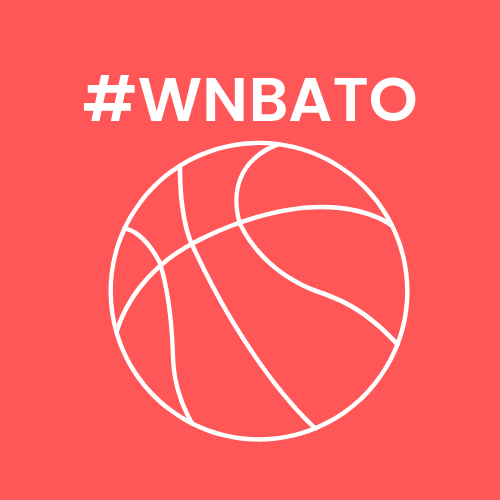 You can follow WNBA Toronto for updates on the bidding process on Facebook, Instagram and Twitter.