There is a rich history of former NHL players, dating all the way back to the league's formation in 1917. Many former professional hockey players have gone on to create successful post-hockey careers for themselves in the NHL space.
One of these individuals is Jim Fox, former L.A. Kings standout player and current broadcasting legend. Jim turned his passion for professional hockey into a longstanding career, which has had a drastic positive impact on both the L.A. Kings and his personal life.
Jim Fox: Hometown History
Jim Fox was born in 1960 in Northern Ontario, in a small town called Coniston.
His Father, a Nova Scotia native, was recruited to Coniston by nickel mining company Inco Limited. He relocated in exchange for employment and an opportunity to play on the highly respected baseball team.
Growing up, baseball was important to the Fox family and to the history of Coniston. However, Jim fostered his love for hockey at a young age by learning the game on outdoor rinks.
After achieving his dream of a professional hockey career, Jim often returned to Coniston in the summer off-seasons to play in the baseball league with his brothers Mike, Steve, and Kevin.
Jim married his elementary school sweetheart, Susie. She has been by his side throughout his NHL career, and they have worked together on his post-career endeavours.
Former NHL Players: Jim's Hockey History
Junior Career and NHL Draft
Jim Fox notably played for the Ottawa 67's in the Ontario Major Junior Hockey League, equivalent to the present-day OHL. He had three straight 100-plus point seasons, and was a dominant scorer as a right winger.
In the 1979-80 season, Jim led the league in points with 101 assists and 65 goals in just 52 games. He was a finalist for the Canadian Jr. Player of the year, and he earned the OMJHL's Most Valuable Player and Leading Scorer Awards.
Jim's clear skills attracted the attention of the Los Angeles Kings. As a result, Jim Fox was selected at 10th overall by the L.A. Kings in the 1980 NHL Entry Draft.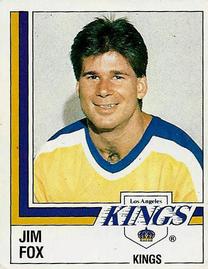 … it was an honour to be drafted. It was special, it was exciting, it was something you were working for and hoping for… You just wanted to get into the NHL.

Jim Fox on being drafted to the NHL
NHL Legacy
Jim Fox received a spot in the Kings lineup, finishing his rookie season with a respectable 18 goals and 42 points. Similarly, in his second season, he achieved breakout status with 30 goals and 68 total points across 77 games. Jim had his strongest season, statistically, in 1984-85 when he managed over a point a game with 30 goals and 53 assists.
Jim was credited with being an exceptional skater with quick speed and finesse. He created a lot of scoring chances when he raced after loose pucks. He was labelled as an excellent playmaker and a successful scorer for the Kings.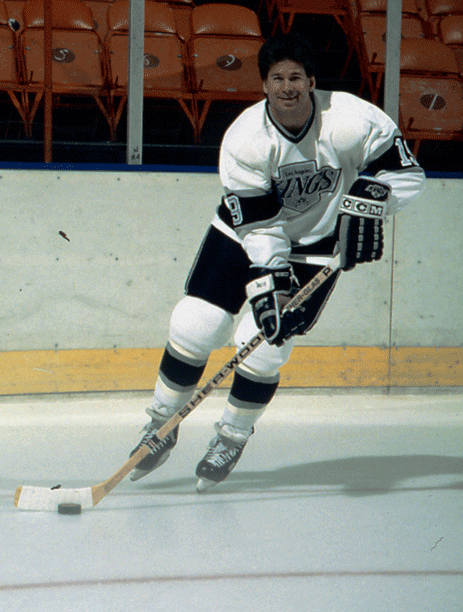 Jim's hockey skills contributed to the overall success that the Kings saw in the eighties. In his first year, the Kings finished 4th overall with the best road record in the league.
In one of the L.A. King's best moments, Jim Fox found himself at the centre of a wild playoff upset. He helped lead the Kings to the "Miracle on Manchester" playoff series win in 1982, against legendary former NHL player Wayne Gretzky and the Edmonton Oilers.
This spectacular game saw Jim Fox strip Gretzky of the puck to setup the game-tying goal with only 5 seconds left in the game. The Kings came back from a 5-0 deficit to win the series.
In a game against Boston in March of 1988, after eight NHL seasons, Jim Fox suffered a season-ending knee injury. He put his hokey career on hold to recover.
Jim sat out the season the following year to focus on recovery. He returned for the 1989-90 L.A. Kings' season before deciding to retire due to injury at the age of 29.
Former NHL Players: Jim's Post-Hockey Career
Jim struggled to find his purpose after retirement, and felt that his professional hockey career was cut short.
I remember about two years after retiring, sitting upstairs in my house and starting to cry because I realized I'd already done what I wanted to do and I was only 29 years old.

Jim Fox on his early retirement due to injury
While rehabbing his knee, Jim asked the Kings if he could work for their community relations department before getting back on the ice. He rejoined the department full time after retiring, working as the Director from 1990-1994. Additionally, Jim was hired by Fox Sports West as the Kings' colour analyst in 1991.
Broadcasting
At first, Jim found the transition to broadcasting challenging. He had to learn all the technical aspects of sports media and leave his impressive hockey skills on the ice.
It was difficult jumping into broadcasting; it has to do with ego. Being on top of my field as a professional athlete to getting involved in something I had no experience in, didn't understand, and considered 'less than' what I was doing before, was tough. I was embarrassed and not able to feel successful.

Jim Fox on the transition from playing to broadcasting in the NHL
Luckily Jim had the right support from the L.A. Kings organization to launch his hockey broadcasting career to success. He also had help from his wife Susie, who would listen to the games with a pen and paper to help him improve.
And as soon as the game was over, he would call me and say, 'I was terrible.' And so I'd go, 'Well, during this time you could have said this, or done this,' but I didn't want to be negative. I think he's hard on himself.

Susie Fox, Jim's wife
Since 1991, Jim Fox has been the colour analyst for the L.A. Kings' games. He called the Kings' winning Stanley Cup run in 2012, where the team won for the first time in franchise history.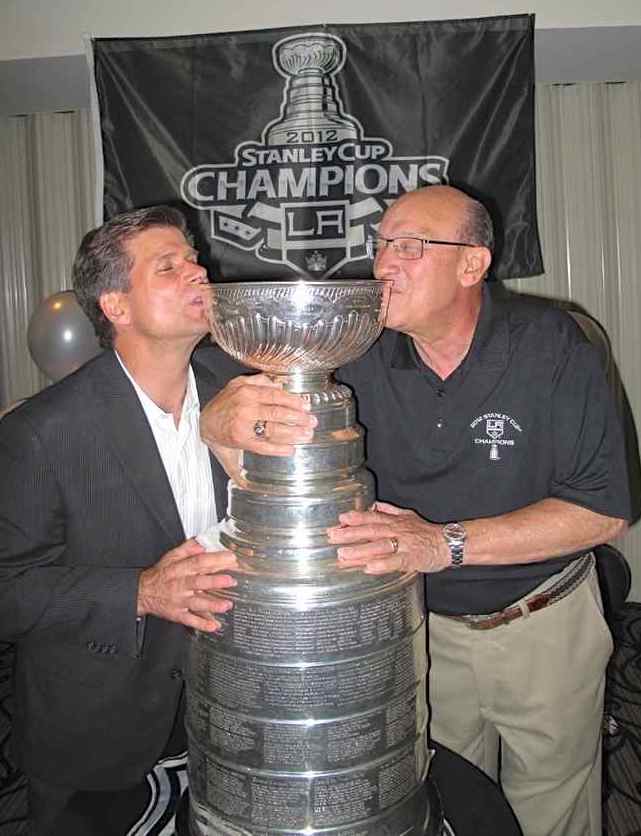 Since his beginnings, Jim has established himself as a huge asset to the Kings' media. Sports Illustrated named Jim as Hockey's Best Analyst in 2006. Additionally, he has won the Southern California Broadcast Association's Best Television Analyst award over five times.
Jim worked closely with sports broadcaster Bob Miller, speaking at the ceremony where Bob was presented his star on the Hollywood Walk of Fame. He currently works with Alex Faust, and the pair host the "Fox and Faust" podcast together.
Community Relations
When it comes to the Kings' community relations, Jim Fox founded many monumental events and foundations, extending the Kings' brand to the community in the early nineties.
He helped create the Kings Care Foundation, a charity that supports families in the L.A. area through financial and in-kind resources, services, and programs. Jim also created Tip-A-King, the organization's charity golf tournament, along with the Kings' Youth Hockey Camp.
Additionally, Jim hosted the annual "Sunset Sip" for the L.A. Kings for a number of years. Sunset Sip is a wine tasting event that includes silent and live auctions to raise funds and support low-income kids and their families in the community.
In 2015, Jim became League Commissioner of the L.A. Kings High School Hockey League. While in this role, his focus was continuing the growth of hockey in SoCal and directly connecting the sport to local communities and high schools.
Wine Making
Jim Fox partnered with his wife Susie, wine enthusiast Dean Nucich, and winemaker Mike Smith to create their own wine label in 2013. They named it Patiné Cellars.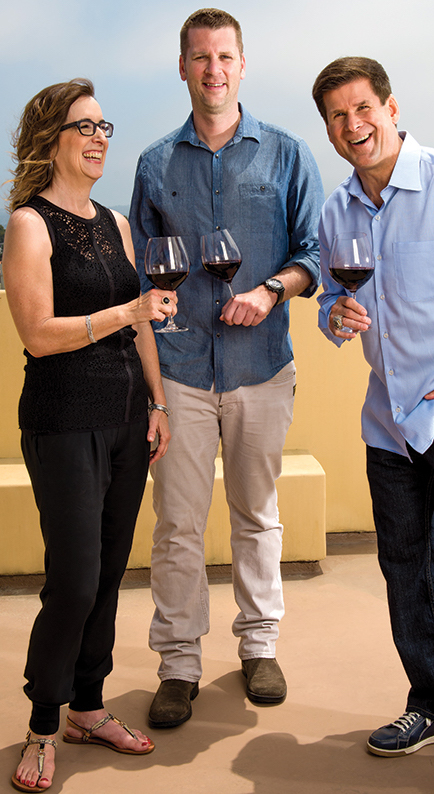 The label has special meaning to Jim and his family. Patiné literally means "to have skated" in French – something that took careful thought and consideration.
Jim and his wife took classes on the fundamentals of wine and travelled the world to different wine regions to learn more. As a result, they developed a world-class Pinot Noir for Patiné Cellars.
Jim's Impact
Through all he's been able to accomplish, Jim Fox has left his mark on the L.A. Kings' organization.
His hockey skills helped push the Kings to success, and he put up some impressive statistics, to boot. Consequently, Jim boosted the Kings to many post-season victories.
Post retirement, Jim created and spearheaded so many fantastic charity initiatives while working for the community relations department. He also established himself as one of hockey's most beloved announcers, and quickly became a household name in Los Angeles and the hockey world.
Jim Fox's multi-faceted career has allowed him to stay involved in the hockey world, and close to the team that drafted the former NHL player in the first round, 10th overall, back in 1980.
Final Thoughts
It was great to deep dive into the professional and post-hockey career of Jim Fox. Hopefully, this month's segment of Former NHL Players gave you some insight into another professional hockey legend.
Be sure to check out last month's segment on former L.A. King and Toronto Maple Leaf Greg Terrion!