Many people dream of working in the NBA but aren't sure what kind of jobs exist. With the sport industry continuing to evolve, there are so many jobs for current and aspiring sport professionals to choose. But what makes a job unique?
After doing thorough research, we've put together a list of some of the most unique roles available in the NBA. The jobs in the NBA listed in this article are unique in the challenges, responsibilities and experiences that they present for sport managers.
Jobs In The NBA
When people think of jobs in the NBA, it's easy to be stuck with a mental picture of the locker room – the General Managers, coaches, trainers, etc. Indeed, that is a big part of the sport industry. It's so big in fact that we've dedicated an entire platform to covering it.
On the Player Side of Sport, we cover all kinds of jobs in sport related directly to athletes such as coaches, scouts, and agents. So basically any job that touches players is considered to be on the "player side of sport." When you're done reading through the unique NBA jobs that follow, consider scooting on over to the player side to learn about dozens of jobs.
Actually, most jobs in the NBA, whether it's for a team or the league itself are grounded in business. There are many ordinary business positions. Next, we've identified what we think are the most unique jobs in the NBA.
The Unique Job Roles In The NBA:
Event Manager
Events are a high-energy and extremely unique area of the sport industry. Being prepared for challenging and unpredictable situations is key to succeeding in this role.
Event managers are in charge of the planning and execution of all details of a certain event. This can include several responsibilities that fall under their oversight.
Within the NBA, these responsibilities include things like:
Hiring photographers
Ensuring the appropriate media setup and personnel
Hiring and training volunteers or temporary employees
Equipment set up and tear down
Proper signage
Creating and executing marketing and corporate partnership activations
Event mangers are also in charge of overseeing in-game events and presentations. In the NBA, this means setting up game presentation staff with the right tools to execute a successful game night.
Event managers are always on the go, ensuring that all activations and aspects of in-game entertainment run smoothly.
Take Josh Goshin, Miami Heat's Director of Game Presentation and Events, for example. Josh mentioned that event managers are always on the fly in his interview with SPMA Hub. He said their goal is to keep fans engaged while trying to pull off a live production during game time! Josh also discussed that one of the most important aspects of managing events in the NBA is providing innovative and engaging events for fans.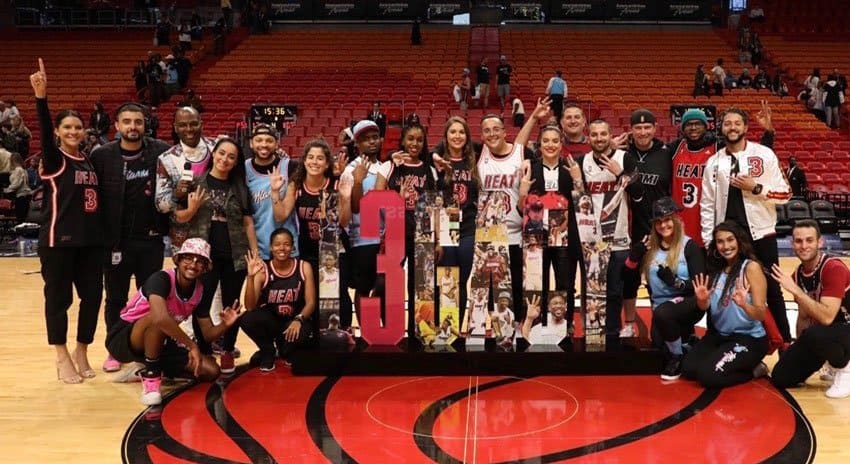 Event management in the NBA is unique in the way that no two days are the same. The COVID-19 pandemic has certainly challenged event managers to be prepared for the unknown. Event management is one of the jobs in the NBA that offers sport managers a chance to create innovative plans for events.
Arena Host
As an integral part of in-game events and game day operations, an arena host is a unique role in the NBA. This job requires a passion for creating a high-energy atmosphere, and also, a commitment to providing an exciting NBA game experience.
Arena hosts provide an exciting fan experience through interactive features such as on-court contests and sponsorship promotions. They also facilitate a welcoming and inclusive environment for fans to enjoy the in-game experience!
At SPMA Hub, we have had the pleasure of speaking with Sacramento Kings' Arena Host Katerina Kountouris about her experience working in the NBA.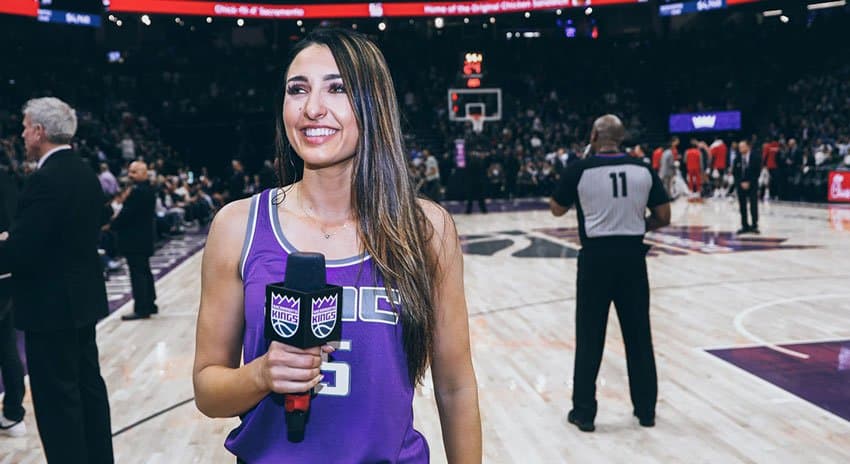 Katerina talked about the importance of rehearsing every entertainment aspect that goes on during a game. Arena hosts dedicate a lot of time to rehearsing, because they want to ensure execution is well thought out. They are often (literally) running around for hours during game time making sure each segment runs smoothly!
Katerina's experience as an arena host shows the energy that is needed to work in this role.
College Brand Ambassador
NBA teams are always looking for new ways to connect with their Millennial and Gen-Z audiences, and have created jobs for this purpose. A college brand ambassador's main job focus is to drive and shape a given team's image on various college campuses. As a result, students become engaged with the team's brand, and ticket sales at the collegiate level are increased!
A college brand ambassador is a unique position within the NBA. They are tasked with suggesting and creating sales and marketing initiatives that are specifically geared toward college students. This role requires an understanding of the college demographic. Further, it requires thorough knowledge about what this group connects with most in terms of branding.
The position of college brand ambassador is special, because those that work in this role get the unique opportunity to connect with fellow peers. Typically, to work in this role, you must be enrolled in a college or university surrounding the team's city (as with many jobs in the NBA).
It's incredible to think that as a college student, you can have the opportunity to work within one of the most well-known professional sport leagues. At the same time, you get to make connections and foster brand-based relationships with other college students!
Motion Graphics Manager/Designer
Motion graphics managers and/or designers lead the creative development for all motion graphics projects. These include in-arena motion graphics, and those across the digital and social channels of an NBA team.
Motion graphics management requires digitally savvy, strategic thinkers that act as a spark for innovative and creative designing across an NBA organization.
This role offers a unique opportunity to create and design graphics using material from the intriguing sport that is professional basketball. These graphics include things like live-action footage, still imagery, text, and sound.
Motion graphics managers are able to take the intensity, team culture, and show-stopping performances in NBA basketball and create unique digital content. As a result, they are able to create some of the most unique content across the sport industry!
Consider some of the NBA's high-energy moments… a 60-point game performance from Steph Curry, a strong playoff showing from Kawhi Leonard – it is the responsibility of motion graphics managers to turn these these moments into digital art!
If you are looking for jobs in the NBA full of digital fun, this is the one for you. This role also allows sport professionals to create engaging digital content for fans to enjoy. So, it is important for motion graphics managers to have a strong understanding of the type of basketball content that fans connect with. This keeps fans engaged with the team's overall brand and image.
People & Culture Manager
Out of all the jobs in the NBA, this seems to be one of the more popular ones these days. People & culture managers are committed to enriching the work culture of a given NBA team. In addition, they work to develop effective human resource and people strategies.
Sport managers working in this role realize that creating a great experience for fans starts with facilitating a strong and positive work culture for employees. Given the size and scope of the NBA, this job allows sport managers to guide and shape the cultural direction of an NBA team.
Some of the responsibilities of a people & culture manager in the NBA include:
Facilitating a culture in which the human resource department strategically supports the organization
Supervising and directing the day-to-day work of the human resource department
Ensuring department staffing needs are met
Supporting and facilitating the employee disciplinary process
Providing coaching, counselling and training to managers in regards to company policy and federal/state requirements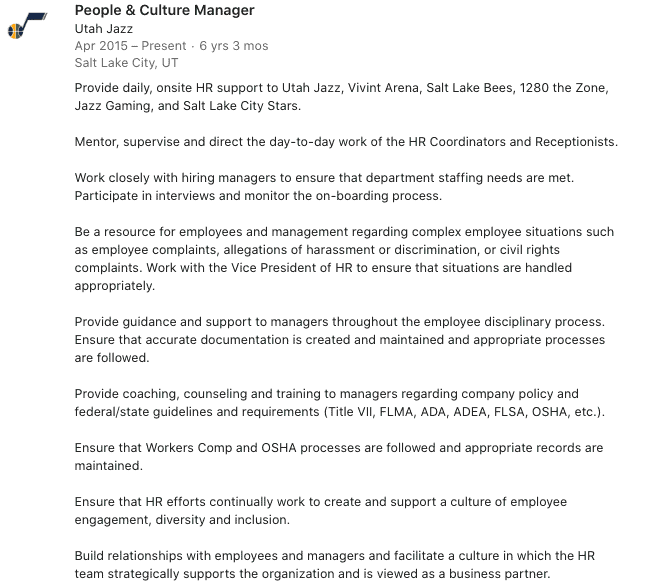 The role of people & culture manager seeks out people that have a true passion for people and creating a positive work culture. This is one of the jobs in the NBA that involves the use of human resource strategies and initiatives to support the organization's culture as a whole.
Final Thoughts: Unique Job Roles In The NBA
With approximately 860 people employed by the NBA, there are many other unique jobs that may be a perfect fit for you! We have formed a non-exhaustive list of some of the most unique roles available in the league.
Researching any potential job and networking with existing employees is crucial to finding that fit. This also ensures you are well prepared to step into a new role! Hopefully, this shortlist has narrowed down your search and helped provide some insight into what unique roles are offered throughout the available jobs in the NBA.
If you want to see what jobs are available in the NBA and sport industry, check out our Job Board!