When it comes to former NHL players, we tend to glamorize the players that give us those picture-perfect hockey moments. Similarly, sports fans are often most attracted to flashy, consistent scoring and guys that work incredibly hard to leave it all on the ice.
That's what we remember when we look back on the career of Jarome Iginla, one of Canada's hockey legends. Best known for his nearly 16 season-long stint with the Calgary Flames, Iginla proved himself a leader and an exceptional hockey talent during his time in the NHL. He also left Canadians beaming with pride after multiple appearances on the Olympic stage, representing the nation and bringing celebration to Canadian hockey.
Who is Jarome Iginla?
Born in Edmonton in 1977 and raised in St. Albert, Alberta, Jarome Iginla grew up with his mother and grandparents. Iginla enjoyed baseball growing up, so he served as catcher for the St. Albert Cardinals when they appeared in the Canadian National Bantam Baseball Championship in 1992.
Jarome started playing hockey at seven years old and credits his grandfather Rick Schuchard for his career. Jarome's grandfather, along with his grandmother, gave him the support he needed while his mother went to work and his father attended law school.
He began hockey as a goaltender, following in the footsteps of his favourite player, Edmonton Oilers' goaltender Grant Fuhr. Fuhr was an inspiration for many aspiring black hockey players, as he reached a number of firsts for black players in the NHL.
Jarome switched to right wing after two years, and played in the St. Albert minor hockey system until he was 15 years old. He also led the Alberta Midget Hockey League in scoring, with 87 points in the 1992-93 season.
Former NHL Players: Jarome's Hockey History
Junior Career & NHL Draft
Beginning in 1993, Jarome Iginla spent nearly three seasons with the Kamloops Blazers of the Western Hockey League (WHL). In his first full season in 1994-95, he tallied 33 goals and 71 points. He also helped lead the Blazers to back-to-back Memorial Cup championships.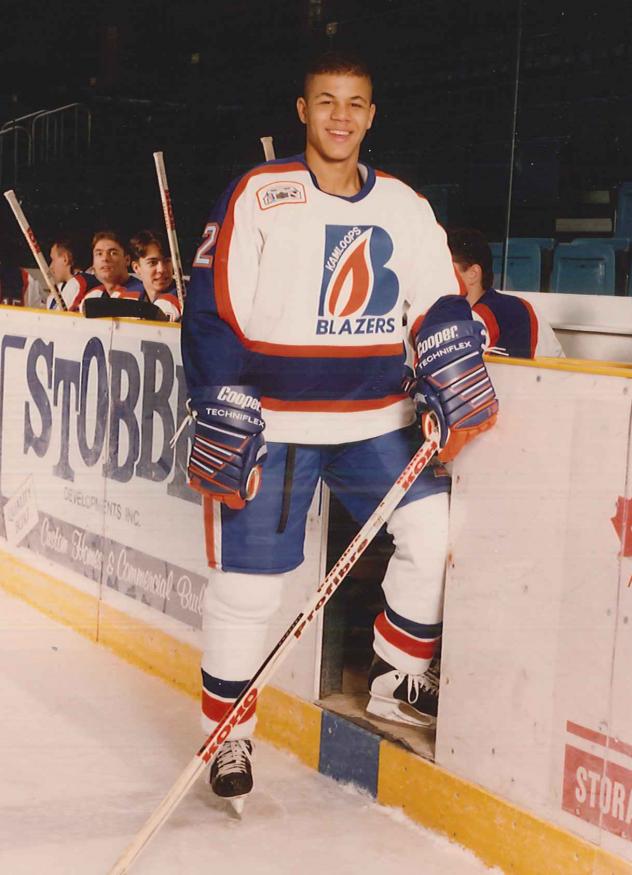 The 1995-96 season saw Jarome finish fourth in league scoring, where he earned 136 points and 63 goals across 63 games played. As a result, he was awarded the Four Broncos Memorial Trophy as the WHL's most outstanding player.
Jarome played for the Canadian team at the 1996 World Juniors. In addition to winning gold, he led the tournament in scoring with 12 points. From this, Jarome's legacy as one of the greatest to represent Canadian hockey was born.
In 1995, Jarome Igninla was selected 11th overall by the Dallas Stars in the NHL Entry Draft. He was traded to the Calgary Flames in December of 1995 in order to solve an existing contract dispute.
NHL Career: A Calgary Flames Legend
In 1996, Jarome Iginla made his NHL debut in the Stanley Cup playoffs, scoring an assist for the Calgary Flames.
The next year, in his first full season played, he earned a spot on the NHL All-Rookie team. Jarome also led the league in first year player scoring, and tallied 50 points. By his third season in 1998-99, he led the Flames in scoring with 28 goals.
After holding out for three games, Jarome signed a new contract with the Flames at the start of the 1999-2000 season. His stats continued on an upward trend through 2001, when he was propelled to superstardom.
In 2001-02, Jarome recorded a highly impressive 52 goal season, scoring 96 total points. He led the NHL in goals and points. He also won the Lester B. Pearson award for the league's MVP, as voted by his peers, which included many respected former NHL players.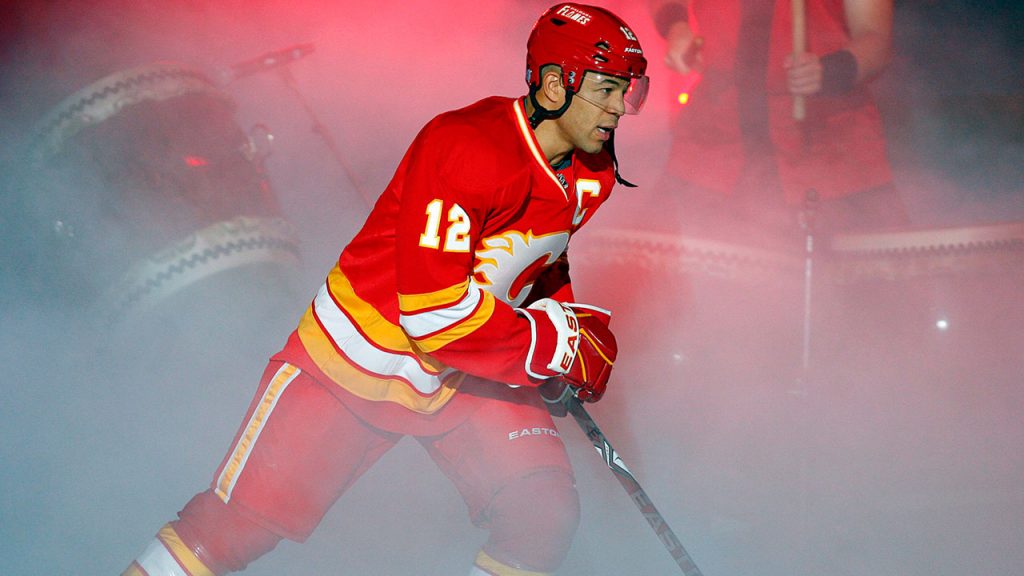 The 2003-04 season saw Jarome Iginla named captain of the Flames, making him the second black captain in NHL history behind Dirk Graham, who is of African decent. Jarome had another standout season – he won his second Rocket Richard Trophy, and tied for regular season scoring with 41 goals. He also led the Flames to their first Stanley Cup finals appearance in 15 years.
Jarome was a talented power forward and one of the most consistent scorers in the NHL. He had the toughness needed to be a standout leader, and recorded several Gordie howe had tricks. Requiring a goal, an assist, and a fight, The Hockey News named Jarome the leader of this unofficial statistic in 2012, with nine total.
Everything that happened, the way he played the game, he wanted it to matter. He wanted to win every night. He epitomized what you dreamed of in a hockey player – a guy who has skill, who sticks up for himself and his teammates, who competes his ass off and is afraid of nothing.

Greg Gilbert, former Calgary Flames Coach – NHL.com
Jarome Iginla had a monumental season in 2007-08, where he recorded 50 goals and a career-high 98 points. Jarome stood as a leader on the Calgary Flames team through 2013, appearing in six NHL All-Star games.
He was traded to the Pittsburgh Penguins in 2013, where he lost in the NHL's Eastern Conference Final. The next season, he inked a one-year deal with the Boston Bruins.
He left Boston after one year and signed a deal with the Colorado Avalanche in 2014. After three years of failing to make the post-season, he was traded to the L.A. Kings in 2017. Shortly after, he announced his retirement in 2018.
International Play
Jarome Iginla has worn the red and white for Canada on a few occasions, including three Olympic Games and three World Championships for a total of six sanctioned appearances.
He acted as alternate captain at the 2004 World Cup of Hockey. In short, Jarome helped push team Canada to capture the gold medal at this tournament.
Jarome is a three-time Canadian Olympian, playing in the 2002, 2006 and 2010 Winter Olympic Games. Notably, he is a two-time gold medal winner.
At the Salt Lake City 2002 Olympics, Canada defeated the U.S. to win gold in a 5-2 victory that saw Jarome score two goals.
Again, at the Vancouver 2010 Olympics, Jarome led team Canada to win gold. This time, he finished the tournament as leading scorer, and assisted Sidney Crosby's famous overtime-winning "Golden Goal" against the U.S.
Jarome's hardwork and leadership helped the Canadian Olympic men's hockey team capture the gold medal on home soil. This moment ignited Canadians watching their nation capture first place at the Olympics, and further solidified Jarome Iginla's status as a Canadian hockey legend.
Jarome's Impact
It's very clear that through Jarome's talent and performances, he has brought great pride to Canadian hockey.
His leadership and impressive statistics throughout his NHL career earned him many titles, trophies, and the respect of his hockey peers. As a result, the Calgary Flames retired Jarome's number 12 jersey in 2019.
The six-time NHL All-Star was inducted into the Hockey Hall of Fame in 2020, making him the fourth black player to ever be inducted.
Jarome always performed well on the international stage. He won two Olympic gold medals, a world championship, and came up huge in one of Canada's favourite hockey moments at the 2010 Olympic Games.
Beyond the Ice
Jarome is very well known for his kind hearted nature. He operated a hockey school in Calgary alongside Canadian women's hockey phenom Cassie Campbell, donating the proceeds to the Diabetes Research Association. Jarome also raised over $700,000 dollars when he partnered with KidSport, where he donated up to $2000 per each goal he scored in the NHL.
He doesn't carry himself with any attitude or arrogance. He's confident in his abilities…self-assured… genuine. He's a better person than he is a player, and we all know what kind of player he is.

Craig Button on Jarome Iginla – New York Daily News
He has been recognized for his charitable efforts, and was awarded the NHL Foundation Player Award in 2004 for his community service. He also served as the cover athlete and spokesperson for the EA Sports game, NHL 2003.
In addition to his achievements, Jarome is a part owner of his former junior team, the Kamloops Blazers. As of February, 2021, Jarome is also a youth hockey coach at RINK Hockey Academy in Kelowna, British Columbia.
Final Thoughts
Jarome Iginla is an exceptional hockey talent, a well respected leader, and class act both on and off the ice. Jarome has received praise from many former NHL players and coaches regarding his talent and leadership abilities. His accomplishments and kind demeanour have earned him the respect of Canadian hockey fans, as he's given them many moments to celebrate over the past twenty-five years.
It was truly my pleasure to be able to write about the life and career of this Canadian hockey legend. It's great to be able to celebrate one of our nation's best! Be sure to check out our previous instalments of our monthly Former NHL Players segment, on Greg Terrion and Jim Fox!