Marlee Shinoff is an Account Executive of Membership at MLSE. She's also one of several MLSE employees who help make GroundbreakHERs come to life. Time is ticking! The Summer Social is just a couple of sleeps away. So, it's only right that we chat with the remaining few individuals who take the initiative to make GroundbreakHERs come to fruition. Marlee Shinoff is one of them. We've actually known Marlee for over a year now, which is a luxury for us. She's a hard-working, meticulous, detail-oriented, and vivacious individual meant to work in sport in every way possible!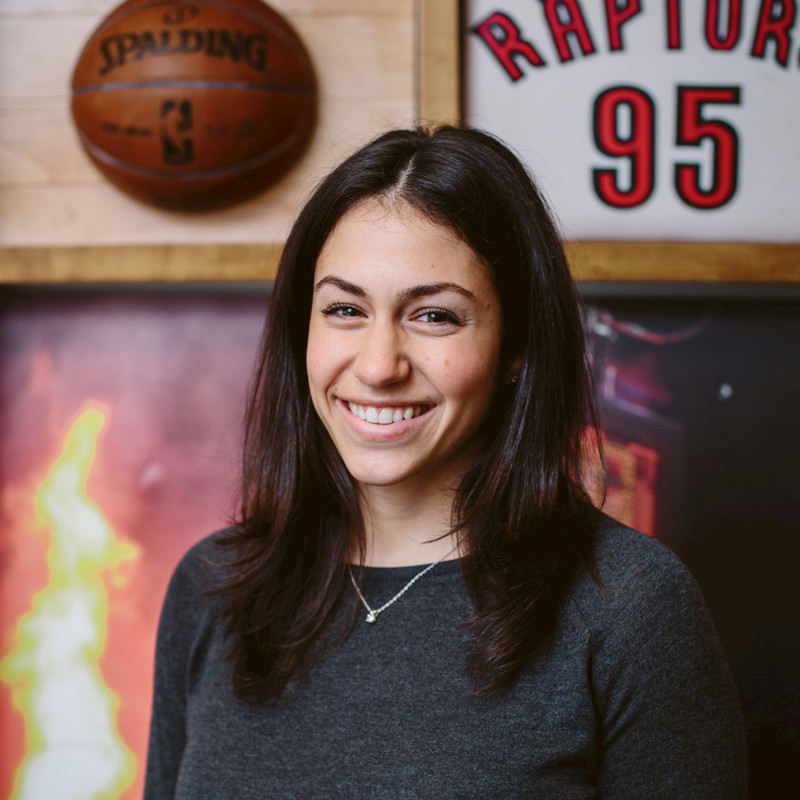 And just like Genadyne Charr, Nicole Sefarty, Danielle Henry, Ainsley Northam, Nico Serratore, and others, Marlee is a co-founder of GroundbreakHERs. We interviewed Marlee Shinoff all the way from the other side of the world (she's on vacation) about her role, being a camp counselor, sport motivations, internship, and GroundbreakHERs. The interview is short but captures plenty of what there is to know about Marlee Shinoff's journey to working for MLSE.
What is GroundbreakHERs?
A community full of "women empowering women, for the love of the game."
Females within MLSE's sales department meet and organize events.
The team currently consists of Genadyne Charr, Nicole Sefarty, Danielle Henry, Ainsley Northam, Nico Serratore, Melissa Robinson, Nicole Finelli, and Marlee Shinoff.
A female from each sales department within MLSE takes the initiative to meet and organize events.
1 female from each sales department (New Business, Suites Membership, Event Sales, etc.) gets together to organize several events per year.
It's a huge networking opportunity!
Please close this now so we can talk to Marlee Shinoff.
Tell us about your role as Account Executive, Membership at MLSE.
My role as an Account Executive, Membership entails looking after season ticket members and ensuring they have the best possible experience. I am responsible for managing accounts for clients with Leafs, Raptors and TFC season tickets and I am their point of contact for all their membership needs.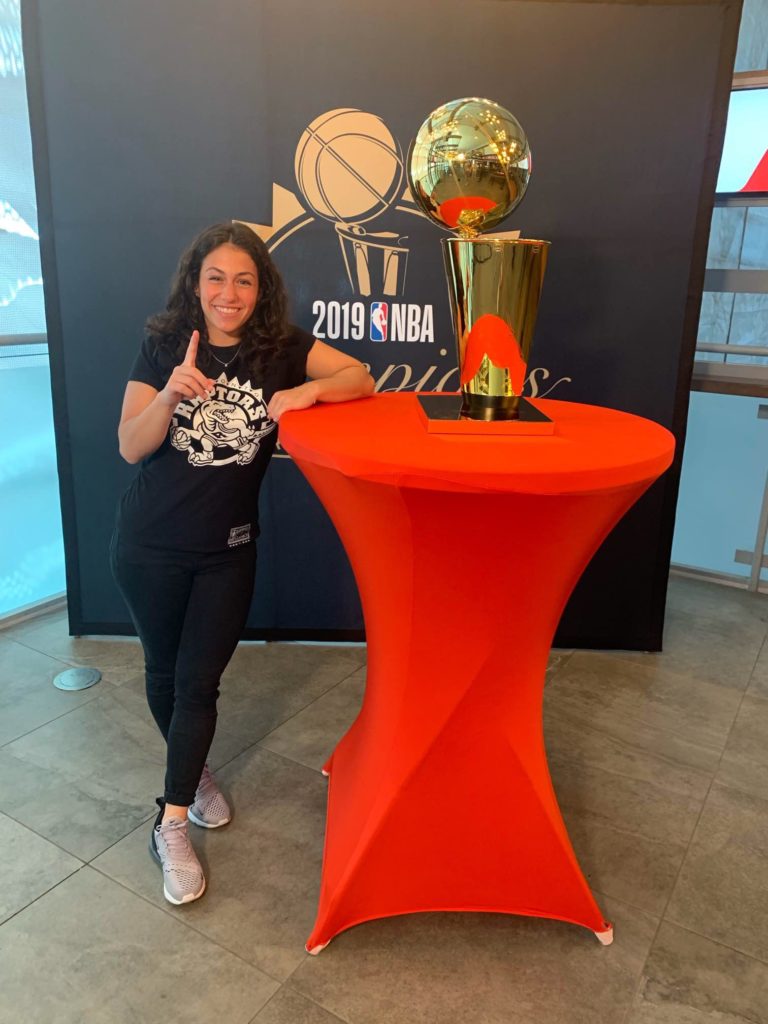 My day-to-day varies based on the time of year and what is going on at the time (regular season, playoffs, off-season, special events, etc). Each day consists of answering client questions and requests by phone and email, updating account information and reaching out to clients regarding special events and offers as well as checking in on their experience throughout the season.
What motivates you to work in sport?
I always wanted to work in sport but didn't take the straight path to get there. I was a competitive athlete growing up in numerous sports (gymnastics, hockey & soccer and participated in other sports recreationally as well) so sports really defined me and helped to shape me into the person I am today. Sport is my greatest passion so to be involved in the industry is a dream come true.
How did your internships help you prepare to work in sport?
My internships in the sports industry (at the Canadian Olympic Committee and MLSE) were great preparation for a career in sports and helped to get my foot in the door! I was excited to start the Sport Management program I was in to learn about the industry, however, what was most appealing to me was the internship component. It was a great way to experience the different avenues of the industry as a whole, experience amazing events, network and meet different sport professionals. I was given a lot of autonomy and opportunity to participate, shadow and network.
Tell us about being a camp counselor. What skills did you learn in that role that has transferred into the sport industry?
Being a camp counselor and landsports instructor gave me a lot of responsibility at a young age. I was responsible for hundreds of campers on a daily basis and did my best to ensure they enjoyed themselves each day. It challenged me to be creative by creating events and activities and look out for their safety and well-being at the same time. This helped to prepare me for a role in the sports industry as I learned to manage people and ensure they get the most out of their experience under my watch. It also helped to equip me with problem-solving skills and the ability to think outside the box.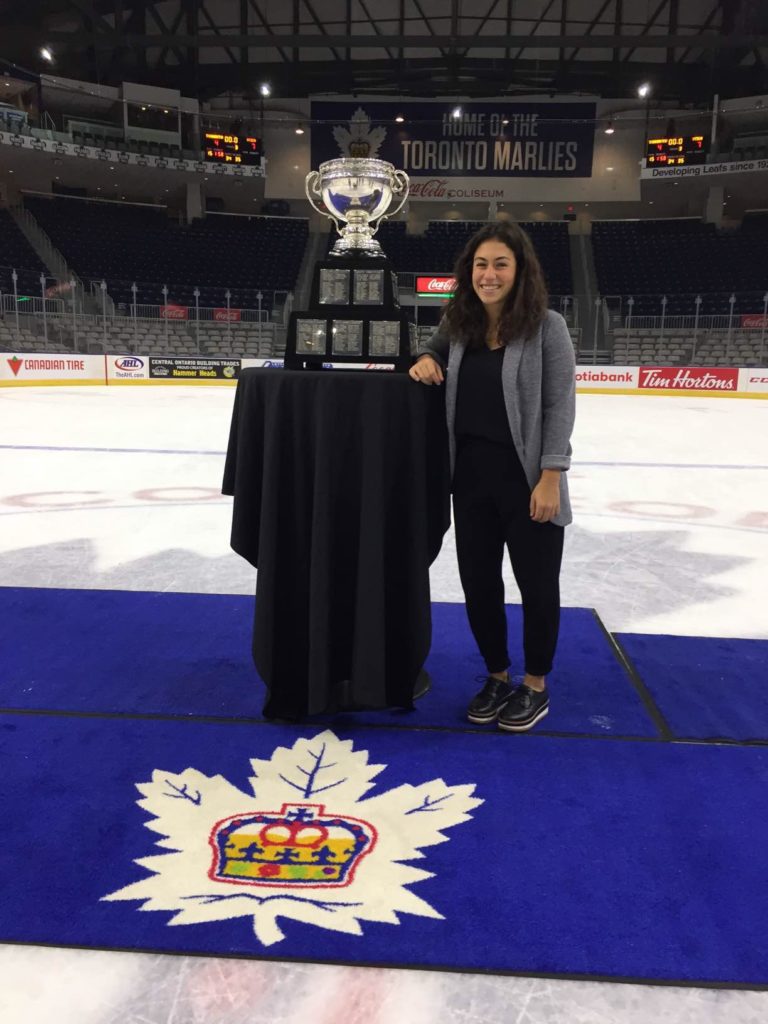 Tell us how you first became involved with GroundbreakHERs and what does it mean to you?
I first became involved with GroundbreakHERs when I started working at MLSE. I thought it was an amazing opportunity and could not wait to get involved! It is a great way to learn about and have the opportunity to meet with successful women in sport as well as expand the representation of women in the sports industry. I have learned from other women, expanded my network and met so many amazing people through GroundbreakHERs. I am so excited to watch it grow and empower women!
---
Marlee Shinoff
Interview by SPMA
Posted July 28, 2019 in Industry Profiles