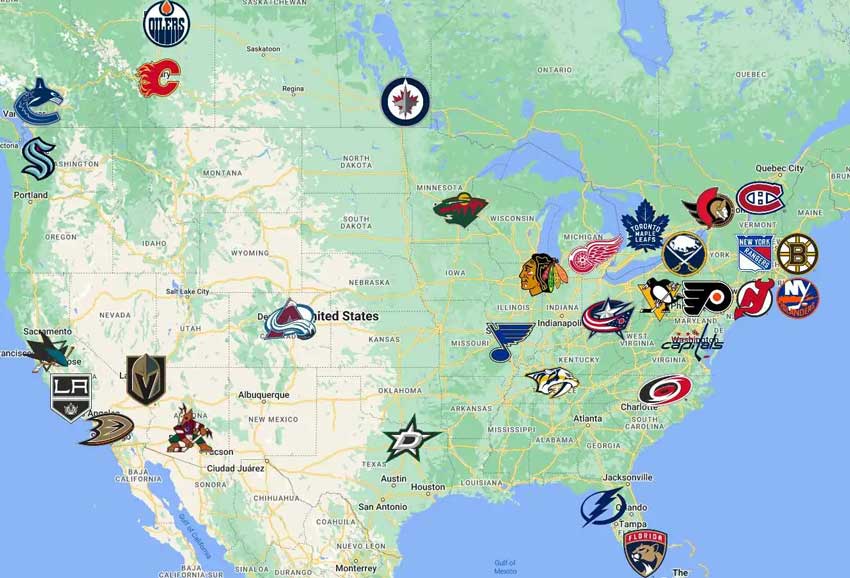 In the NHL, why do some teams represent a city but other teams represent an entire state?
There are 32 NHL teams and almost all represent a city. Of all NHL teams, 25% represent an entire state though, whereas the remaining 75% have their city in front of their nickname. Which NHL teams are represented by an entire state? Yes, that is 25% of NHL teams. And in this SPMA answer, we tell you those teams and explain some teams represent a city but other teams represent an entire state.
NHL Teams Representing A City
Anaheim Ducks
Boston Bruins
Buffalo Sabres
Calgary Flames
Chicago Blackhawks
Columbus Blue Jackets
Dallas Stars
Detroit Red Wings
Edmonton Oilers
Los Angeles Kings
Montreal Canadiens
Nashville Predators
Ottawa Senators
Philadelphia Flyers
Pittsburgh Penguins
San Jose Sharks
Seattle Kraken
St Louis Blues
Tampa Bay Lightning
Toronto Maple Leafs
Vancouver Canucks
Vegas Golden Knights
Washington Capitals
Winnipeg Jets
NHL Teams Representing An Entire State
Arizona Coyotes
Carolina Hurricanes
Colorado Avalanche
Florida Panthers
Minnesota Wild
New Jersey Devils
New York Islanders
New York Rangers
It's usually a team owner's choice, like a nickname.
Names are often chosen to help a club stand out. The Florida Panthers joined the Miami Dolphins, Miami Heat, and Miami Marlins in metro Miami. The team name could also be seen as an attempt to position the hockey club as "Florida's team," even though Florida already had an NHL team (the Tampa Bay Lightning) when the Panthers joined the league.
Giving the team a statewide name is often an attempt to broaden its appeal, especially in areas where the NHL has failed. Examples of teams include the Carolina Hurricanes and the Colorado Avalanche.
The Quebec Nordiques (Colorado Avalanche), Winnipeg Jets (Arizona Coyotes), and Hartford Whalers all gave up their city-specific names for statewide ones in the 1990s (Carolina Hurricanes).
When the original Winnipeg Jets left in 1996, a minor-league team with a provincial name took their place (the Manitoba Moose). When the Jets returned, the original name was so popular that the owners renamed the relocated NHL Thrashers (rather than the Manitoba Jets or Manitoba Thrashers).
But it's not just the NHL that has teams that represent an entire state. See below:
Tennessee Titans
Arizona Cardinals
Carolina Panthers
Minnesota Vikings
New England Patriots (represent the entire region)
Indiana Pacers
Utah Jazz
Minnesota Timberwolves
Minnesota Twins
Texas Rangers