Melissa Robinson is an Account Executive, Experience & Event Sales at MLSE. She's also one of several MLSE employees who help make GroundbreakHERs come to life. Time is ticking! The Summer Social is TONIGHT! So, it's only right that we chat with the lone GroundbreakHERs co-founder we haven't featured yet; Melissa Robinson.
[showmodule id="277368″]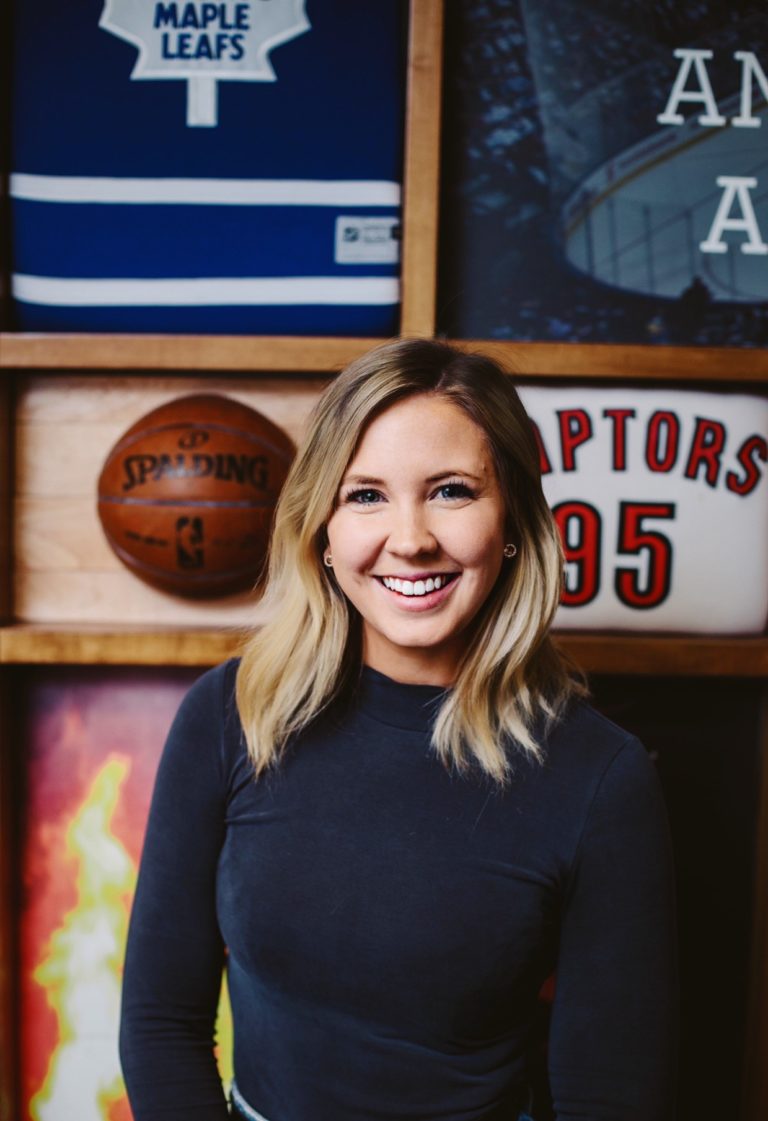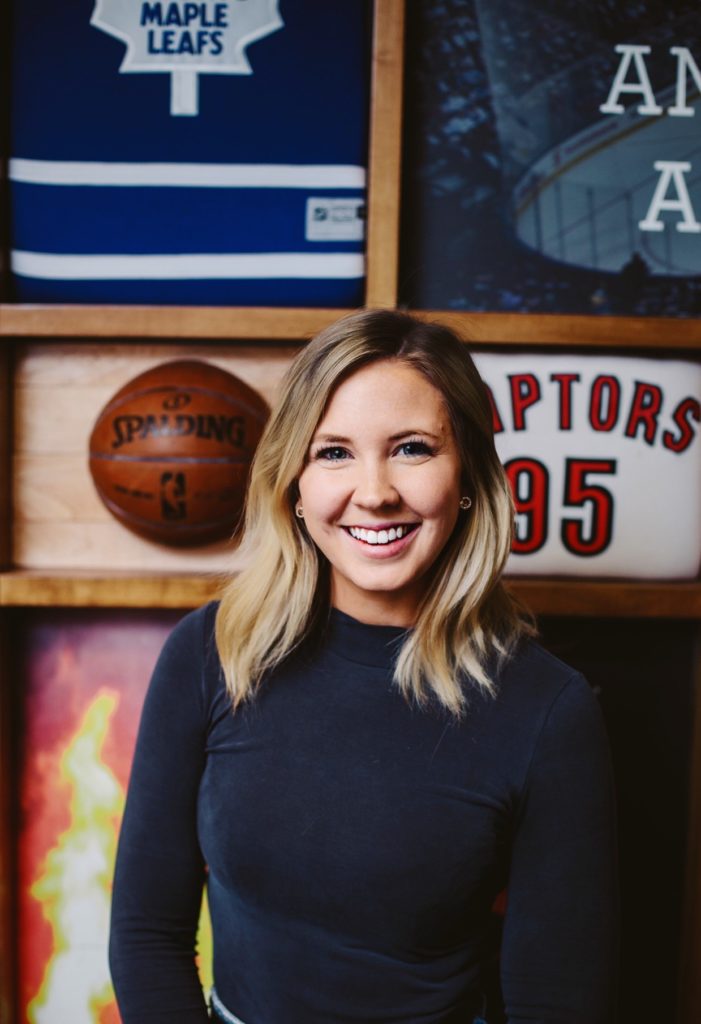 What is GroundbreakHERs?
A community full of "women empowering women, for the love of the game."
Females within MLSE's sales department meet and organize events.
The team currently consists of Genadyne Charr, Nicole Sefarty, Danielle Henry, Ainsley Northam, Nico Serratore, Marlee Shinoff, Nicole Finelli, Brittney Pagniello, and Melissa Robinson.
A female from each sales department within MLSE takes the initiative to meet and organize events.
1 female from each sales department (New Business, Suites Membership, Event Sales, etc.) gets together to organize several events per year.
The next event is on Tuesday, July 30 and will feature a pop-up market with local female entrepreneurs.
It's a huge networking opportunity!
Please close this now so we can talk to Melissa Robinson
Back to Melissa
We wanted to know more about Melissa's role with MLSE, interest in working in sport, previous experience with the Blue Jays, and involvement in GroundbreakHERs. So, we found out and share our conversation with you below!
Tell us about your role as Account Executive, Experience & Event Sales at MLSE
My role as an Account Executive, Experience & Event Sales with Maple Leaf Sports & Entertainment has a few different facets. In this role, I work specifically on the Toronto Argonauts focused sales team. In short, I build experiences through unique events that tie into Argos games and help sell tickets. For example, I created a halftime Dance Showcase in 2017, which is now on its 3rd season and brings out over 1,200 dancers and their families to a single Argos game each season.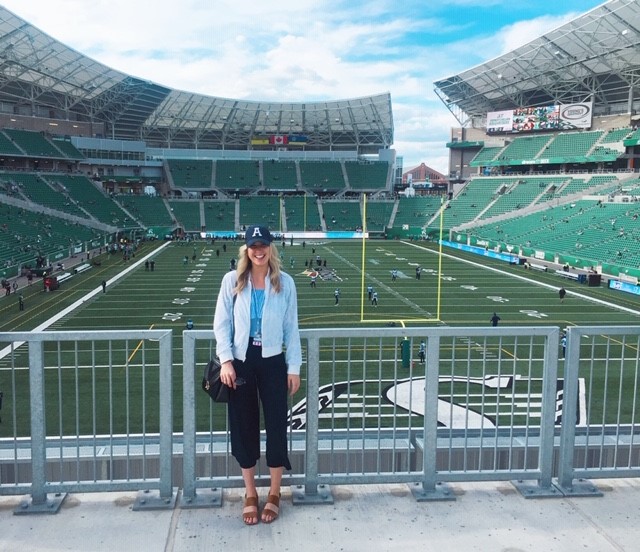 Day to day my responsibilities are always changing. I've been referred to as the "swiss army knife" of my team, taking on tasks that don't always fit into my job description. Overall, my day is often split into servicing current clients I'm working with on events or group outings, working with my team to come with new experience ideas that groups may be interested, searching and calling groups to come out to an event that I am looking to create, or managing relationships with past clients for future event possibilities.
When did you realize you wanted to work in sport?
I've always loved sports. I was one of those kids who looked forward to gym class, playing soccer at recess, and after school dance classes. After doing a lot of research in high school about different university programs and where graduates ended up after, I became fascinated with the idea of working in sport.
I went to Wilfrid Laurier University for Kinesiology. They had different "options" you could pick from which were equivalent to minors at that time. I decided to do a Business Management option because everyone in my family had studied business and I knew if anything it may be useful to have a basic understanding one day. By my 2nd year, I enjoyed my business courses more than my Kinesiology courses. This is when I decided that working in the Business Operations side of sport may be a better fit for me.
You volunteered A LOT before working at MLSE. Tell us all about it in as much detail as possible
Part of my university degree required a certain number of volunteer hours within the community (similar to what high schools do). I decided to take full advantage of this and join the Big Brothers Big Sisters Program. I was a big sister to a child for just under 2 years. It was an extremely rewarding experience and really allowed for that "perspective moment" each week when I was in school.
I've been fortunate that a lot of the job opportunities I've had also have a non-for-profit handle with them. I took advantage of being involved in any events that we could volunteer at. It was nice to find ways to give back while also connecting with others in the industry.
Talk about your internship with the Blue Jays (and working with them from 2014 – 2017). How did your experience there translate to your current position as Account Executive, Experience & Event Sales at MLSE?
I was hired for my first job in sports in 2014 has a part-time Guest Experience Ambassador. This was a summer role that I did while in university and allowed me to get my foot in the door with a major sports team in Toronto. I had an unbelievable supervisor and mentor at the Blue Jays, who ended up recommending me for the internship role with the Group Development Department.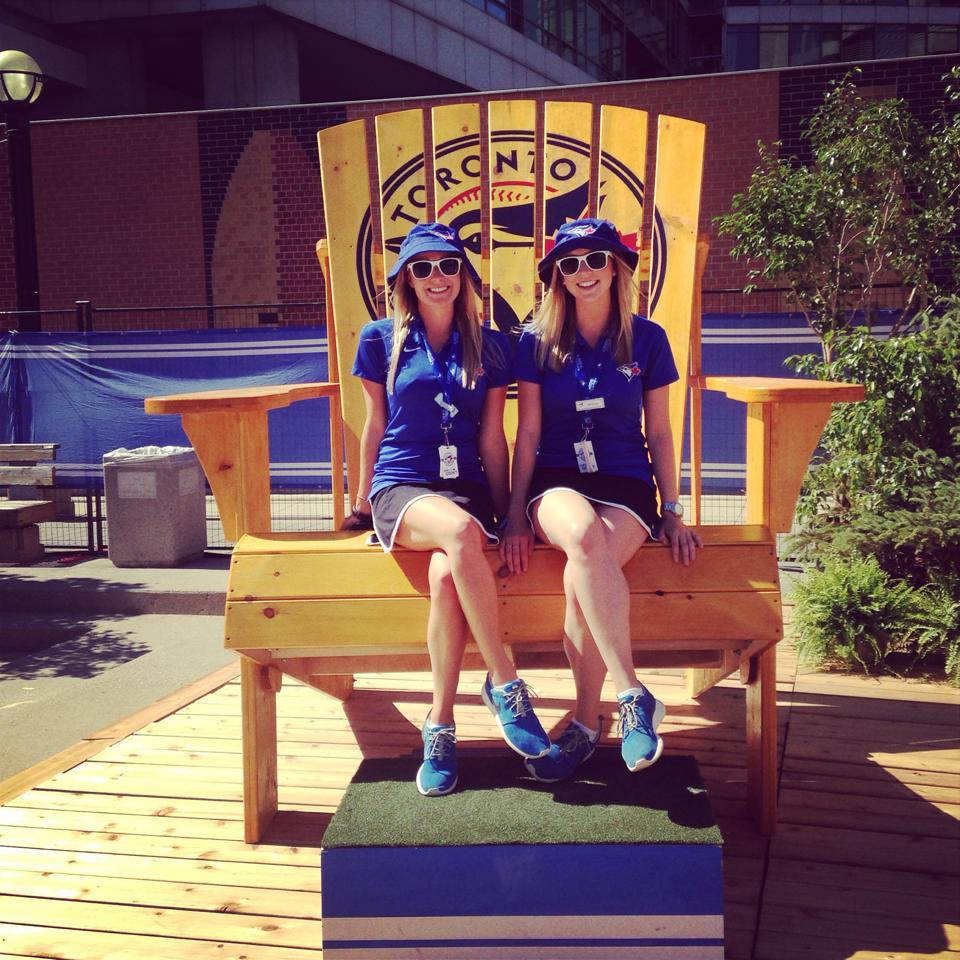 I learned A LOT about the industry during this internship and gained the utmost respect for the dedication and leadership within the organization. While walking away with experience was an important "check-mark" on my career path, it was not the most important thing. Learning and seeing what it would take to be successful in the industry was the biggest factor that led to my next career steps. This is what ultimately resulted in me landing a job with the Toronto Argonauts in 2017, and creating a role for myself within MLSE when we were acquired in 2018.
What's your favourite part about being an Account Executive, Experience & Event Sales at MLSE? And what's the most difficult part?
My favourite part is pretty easy! I love watching the events that we work on for months and months come together at a game. It's so rewarding. It's also fun to win…winning is fun! ?
The most difficult would have to be staying grounded. It's easy to get caught up in the atmosphere and excitement and lose sight of what exactly your role is and how you contribute each and every day to this team and company.
Tell us how you first became involved with GroundbreakHERs and what does it mean to you?
When the Toronto Argonauts were first acquired by MLSE, Danielle Henry approached me with the idea of a group of females from different MLSE team focuses all with one goal… to help each other and our community of strong female sport bosses step up our game in the industry. I LOVED IT and was excited to be the Argos representative for this team. I thought of myself 5 years ago as a young female trying to get into the industry and it instantly pulled the heartstrings. This is something I am passionate about and I really believe in it.
What will your role for TODAY'S Summer Social? Tell us what you'll be doing.
Leading up to the Summer Social I have been pushing all the details out to my personal and business network. We will be all hands on deck a head of time to set-up for yet another amazing event (our first off-site event…so exciting!!). Once our GroundbreakHERs community arrives, it will all be about meeting new people, catching up with familiar faces and ultimately celebrate the growth and strides that this initiative continues to make.
---
Melissa Robinson
Interview by SPMA
Posted July 23, 2019 in Industry Profiles